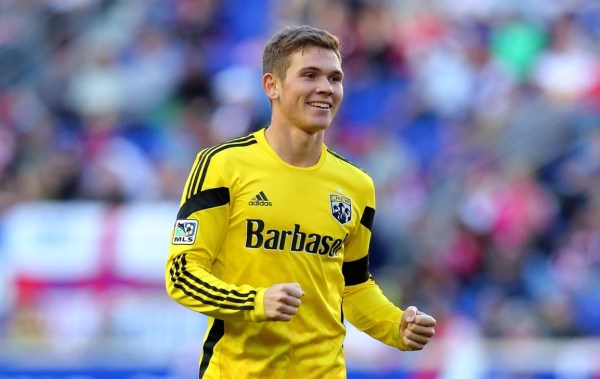 Photo by USA TODAY Sports
By RYAN TOLMICH
Just five years ago, the position of deep-lying central midfielder was all too foreign to Wil Trapp. Yet now, on the precipice of a crucial qualifying tournament, Trapp may soon be plying his trade in the Olympic games thanks to a switch that now appears to be predestined.
The Columbus Crew midfielder is one of 20 players called in to represent the U.S. Under-23 Men's National Team in the upcoming CONCACAF Olympic qualifying tournament. Projected as one of the key figures on the U.S. team, which begins its tournament on Thursday against Canada, Trapp will have a chance to continue his rapid rise as one of American soccer's best young midfield prospects.
It was just just three years ago that Trapp was plying his trade at Akron University, where current Portland Timbers head coach Caleb Porter moved Trapp into a new position that he has flourished in ever since.
"I feel like most players in the league, you start as a forward and naturally some guys move further and further back," Trapp told SBI, "and for me at Akron, I came in as more of an attack-minded midfielder and filled the role needed at the time. What Caleb (Porter) wanted from me was to be more of that balanced midfielder, the pivot guy. It took a lot of thought, a lot of tough practices, a lot of training where I was getting screamed at to kind of change my whole mentality of an attack-minded first player to more of a guy that's thinking about worst-case scenario, balance and defending.
"It wasn't an easy transition, but I think, for me, it does fit my strengths and looking back at what Caleb did at that time, I don't think I would have made it in the league playing a more attacking role. This is what I excel at, and kudos to him for seeing that and putting it into place."
Since his debut in 2013, Trapp has proven to be one of the more valuable players in the league in a position that takes years of experience to master due the discipline, physicality and soccer intelligence required to lock down the middle of the field.
On the defensive end, Trapp has proven a capable ball winner, despite standing at just 5-foot-8.  On the attacking side, Trapp is now viewed as one of the league's premier passers, connecting on 88 percent of his efforts throughout the 2015 season.
As impressive as Trapp's game has become, he is sees room for even more growth in his game.
"I've just always been a player that values possession, and sometimes it can be a little too square and back," Trapp told SBI.  "I've had to really fight my instincts in order to be a little more probing in balls forward in between the lines and with those longer balls. It's definitely a process that I'm still going through, and the coaching staff is always pushing me to see if I can be even more dangerous with my passes. It's a challenge I welcome and continue to try and perfect.
"You look at the positioning and the defensive work of a Sergio Busquets, who's always in the right place. He might go unnoticed the whole game, but he pops up when you need him. Watching him and taking things from him, or you look at a Michael Carrick and his range of passing; that's another guy I've watched a lot of. There's plenty of guys to watch, and I'm fortunate, but specifically, I just like to pick and choose what fits me best and work on those things."
For Trapp, much of that self-reflection came in the summer months, as a major injury put a damper what appeared to be a potential banner year in the making.
After earning his first senior call-up in January, the 22-year-old midfielder has endured a trying club season, to say the least. Left sidelined by a concussion that claimed 13 games from his regular season, Trapp was forced to find silver linings while dealing with the effects of an injury that could have easily proven to be life-changing.
Those silver linings, Trapp says, came naturally, despite all of the difficulties that came with watching from afar as the Crew limped to a record of 4-4-5 in his absence. A student of the game, Trapp watched and waited for the chance to retake his rightful place on the field once again.
"Any time you're out with an injury you're naturally forced into rethinking how you think," Trapp said, "and I found that there are some things that I can improve on, just little things off the field and in terms of how you're approaching every training, how you're approaching games from a preparation standpoint. It's cool to see those things already paying dividends in however long I've played since I've been back from the injury.
"I just feel at home again, where as when you're out and injured its easy to have some negative thoughts creep in for you to lose a little hope. There's always hope, so I was happy to get through it and now be back to normal, and even above normal. Playing well, feeling good."
Crew coach Gregg Berhalter was quick to note Trapp's impact on the team, especially as the team heads for another playoff run. Having lost in last season's conference quarterfinals, Berhalter, Trapp and the Crew are certainly ready for another opportunity at making a run for the league's ultimate crown.
In Trapp, Berhalter sees a lynchpin in the midfield, a player that can be counted on to do the right thing more often than not. Now, having won seven of 12 since the midfielder's return, the Crew are in prime position for a playoff push with a healthy Trapp helping to lead the charge.
"As he came back, we started hitting our stride a little, because he is important to our team," Berhalter said. "He sets the rhythm. He's a very controlled player who stays calm under pressure, and he really helps us achieve that balance we're looking for when we put numbers forward."
Before Trapp can help lead his club team to postseason glory, the 23-year-old midfielder is tasked with helping lead the U.S. to its first Olympic tournament since 20008.
Having witnessed the disappointments of last cycle from afar, Trapp knows the difficulties that lie ahead of him and his team. Qualifying is anything but a cakewalk, no matter how many talented players like Trapp litter the U.S. roster.
Yet, Trapp says he and his teammates are up for the challenge of achieving something special. For Trapp, October's tournament presents another step forward, one that seemed all but improbable while on the practice fields of Akron just a few short years ago.
"It's honestly still a little bit surreal," Trapp said. "We have a big task in, first of all, qualifying, but when we do, I think it's going to be pretty amazing. Growing up, you watch the Sydney Olympics, you watch the Athens Olympics and so on. It's a really, really big deal.
"It's an awesome tournament, and I think it's a dream for sure, but it's just one of the dreams of many, and I'm looking forward to it. It's a great platform for young players to perform, and we're welcoming it with open arms."