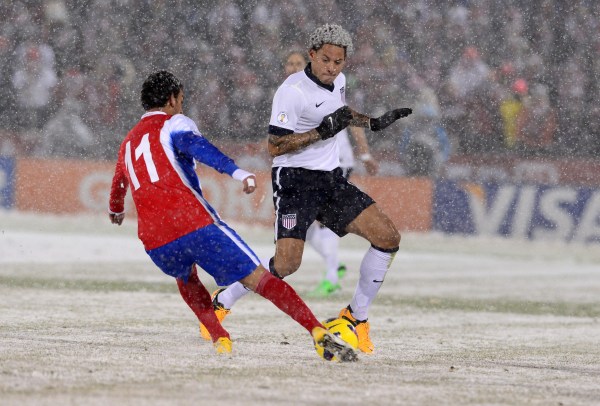 photo by Ron Chenoy/USA Today Sports
By FRANCO PANIZO
Win or lose against Mexico, the U.S. Men's National Team will play a second game against another familiar opponent in October.
It was announced on Saturday that the U.S. will receive an Oct. 13 visit from Costa Rica in a friendly at Red Bull Arena in Harrison, New Jersey. The match comes three days after the Americans play arch-rival Mexico in the CONCACAF Cup, and will serve as the final tune-up before the U.S. begins its World Cup qualifying campaign in November against either Aruba or St. Vincent & the Grenadines.
Jurgen Klinsmann's side, which is coming off a 2-1 friendly win over Peru on Friday, last played the Costa Ricans in 2013. The two CONCACAF nations met three times that year, with the most recent encounter coming in a World Cup qualifier in Costa Rica that the U.S. lost, 3-1.
The Americans defeated the Ticos via a pair of 1-0 scorelines prior to that, including in an unforgettable World Cup qualifier played in blizzard-like conditions at Dick's Sporting Goods Park in Commerce City, Colorado.
Costa Rica just played at Red Bull Arena on Saturday, falling, 1-0, to Brazil via a 10th-minute goal from Hulk. The match was Oscar Ramirez's first as manager of the Central American country.
Preparing for the Oct. 10 meeting with Mexico that will decide who reaches the 2017 Confederations Cup, the U.S. came from behind to defeat Peru on Friday night. Jozy Altidore bagged a brace in the win at RFK Stadium in Washington, D.C.
The Americans and Costa Ricans have met 32 times in their history, and are dead even with a 13-13-6 record.
—–
What do you think about the USMNT's October match with Costa Rica? Wondering why the friendly wasn't held before the CONCACAF Cup? How bad will the mood be going into the meeting with Costa Rica if the U.S. loses vs. Mexico?
Share your thoughts below.