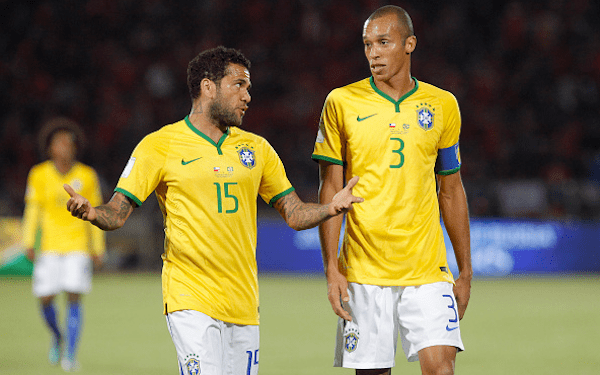 By FRANCO PANIZO
CONMEBOL World Cup qualifying might only be entering the second of 18 rounds, but there are already several teams facing plenty of pressure.
Brazil and Argentina are among the nations who are in need of a bounce-back performance after starting their World Cup qualifying campaigns with shutout defeats. Peru, Bolivia, and Venezuela are the other three teams that are currently 0-1, and picking up results whether at home or away is vital to avoid falling behind the pack.
Chile and Ecuador, meanwhile, will look to use the momentum gained from their victories last Thursday to try and stay perfect. Chile hits the road and plays rival Peru in a rematch of their semifinals bout in the Copa America, and Ecuador hosts underdog Bolivia.
Paraguay, Colombia, and Uruguay will also attempt to move to 2-0. Paraguay faces a Leo Messi-less Argentina, and Colombia and Uruguay square off in this round's only battle of unbeaten sides.
Here is a closer look at the rest of the second round of CONMEBOL World Cup qualifying:
ECUADOR vs. BOLIVIA
(5 pm ET – beIN Sports, beIN Sports Espanol, beIN Sports Connect)
Going into Argentina and picking up a stunning victory is impressive, but the high Ecuador is feeling will go down the drain if it cannot top a veritable underdog.
Ecuador welcomes Bolivia to Estadio Olimpico in Atahualpa, but will not be able to count on its advantage of playing at high altitude since La Verde is also accustomed to playing in those conditions. What the Ecuadorians will be able to lean on is the momentum picked up from their shock 2-0 road win over Argentina, and that could catapult them to a win at home that would have them sitting pretty through two rounds.
Off to an 0-1 start after a historic home loss to Uruguay, Bolivia needs to find a way to get a result in Ecuador in order to avoid having to play catch-up. The Bolivians had some good moments against Uruguay, and will need to build off of those positive plays in order to have a shot at picking up at least a point.
Bolivia can also take confidence from the fact that it defeated Ecuador the last time the two teams met, which was in the Group Stage of the summer's Copa America. The Bolivians won that match, 3-2.
URUGUAY vs. COLOMBIA
(7 pm ET – beIN Sports Espanol, beIN Sports Connect)
Two undefeated teams enter. Only one may prevail.
Uruguay and Colombia will meet at Estadio Centenario in Montevideo after picking up respective 2-0 victories over Bolivia and Peru. For many observers, this meeting will serve as a real barometer for where Uruguay and Colombia stand given their extremely talented rosters and World Cup experience.
Uruguay will still be without the services of strikers Luis Suarez and Edinson Cavani for this one because of suspension, and as such will need to rely on others to pick up the scoring load. Uruguay got goals from defensive-minded duo Martin Caceres and Diego Godin in the historic first win in Bolivia last week, but Colombia's defense should prove to be tougher and require the Los Charruas' current available attackers to show more.
Los Cafeteros, who are missing playmaker James Rodriguez through injury, will also be looking for improvements. Colombia struggled with sharpness in the attack vs. Peru, scoring on a set piece and a last-second counter, and will need to be better against Uruguay's physical back line to have a shot at picking up a result.
PARAGUAY vs. ARGENTINA
(8 pm ET – beIN Sports, beIN Sports Connect / 1:30 am ET tape delay – beIN Sports Espanol)
Conceding late goals was Argentina's curse. Scoring one was Paraguay's blessing.
Two tallies in the final 10 minutes doomed Argentina to a 2-0 home loss vs. Ecuador last week, and the albiceleste now need to pick up a win on the road vs. Paraguay in order to avoid creating panic back home. The good news for Argentina is that they smashed Paraguay, 6-1, the last time they met at this summer's Copa America, but the bad news is that Sergio Aguero has joined Leo Messi on the sidelines in this one after sustaining a knock in last Thursday's defeat.
Paraguay, meanwhile, is eager to keep things rolling after topping Venezuela, 1-0. Derlis Gonzalez scored an 85th-minute winner in that away fixture after capitalizing on a defensive error, but Los Guaranies know they have a tough test ahead of themselves with the likes of Carlos Tevez and Angel Di Maria likely to lead Argentina's talented attack.
BRAZIL vs. VENEZUELA
(9 pm ET – beIN Sports Espanol, beIN Sports Connect / 1:30 am ET tape delay – beIN Sports)
The pressure keeps piling on Brazil, and anything less than a victory will further fuel the flames of those who want head coach Dunga out.
Brazil returns home on Thursday for a World Cup qualifier that marks the first competitive match in the South American nation since its painful and embarrassing elimination from last summer's tournament. Brazil welcomes Venezuela in a match-up of teams that have begun this qualifying campaign with losses, and O Canarinho is fully expected to pick up three points.
Brazil, which had never before lost an opening qualifier, is coming off a 2-0 defeat on the road against reigning South American champion Chile. The result was undoubtedly bad, but the performance was not much better and the Neymar-less Brazilians need to bounce back in a big way on Thursday to help win over a seething fanbase.
Venezuela, meanwhile, will aim for a result at Estadio Castelao in Fortaleza after losing at home to Paraguay last Thursday. A blunder by veteran centerback Oswaldo Vizcarrondo in the 85th minute sunk La Vinotinto in that 1-0 affair, and a daunting task awaits as it takes on a talented Brazil side that it already lost to, 2-1, in this summer's Copa America.
PERU vs. CHILE
(10 pm ET – beIN Sports, beIN Sports Connect / joined in progress at 11pm on beIN Sports Espanol)
Chile's triumphant start has continued to make the case that it is the best team in South America right now, but one of the team's biggest rivals will look to change that perception even if only slightly.
Peru and Chile are set to lock horns at Estadio Nacional in Lima in a rematch of the Copa America semifinals clash from this summer that La Roja won controversially, 2-1. Peru began its qualifying campaign with a 2-0 loss away to Colombia, but is getting a boost for this home opener via the return of the dynamic Jefferson Farfan.
There are some other injury concerns for albirroja head coach Ricardo Gareca, however. Starting defenders Carlos Zambrano and Luis Advincula have been dealing with knocks in recent days, and their exact status for this second qualifier is unknown.
Chile should have all of its top weapons available for this one, including Alexis Sanchez and Arturo Vidal. Sanchez and Vidal were both big question marks before last week's 2-0 victory over Brazil, but went the distance in the match and figure to have prominent roles once again vs. Peru.
—–
What do you think about this round of CONMEBOL qualifying? Which teams do you see coming out on top? What will happen if Brazil and Argentina do not rebound with victories?
Share your thoughts below.