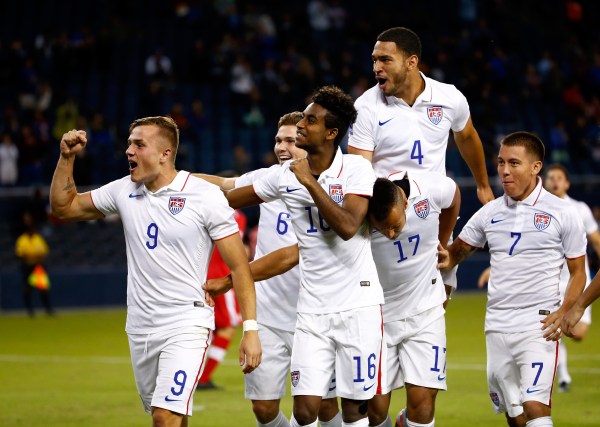 By SKYLAR ROLSTAD
KANSAS CITY, Kansas – The U.S. Under-23 Men's National Team is off to a ideal start to Olympic qualifying.
The U.S. defeated Canada, 3-1, in the opening Olympic qualifying match Thursday night at Sporting Park, as Jordan Morris scored a brace and Luis Gil added a penalty kick on the night to send the U.S. to the top of Group A.
Morris claimed the lead for the U.S. just 32 seconds in when he turned in a cross played into the box by Jerome Kiesewetter. Canada goalkeeper Maxime Crepeau came off his line to claim it, but failed to make the save.
In the 73rd minute, Morris sealed the win with another finish, coming off of a Wil Trapp assist from midfield. Trapp's pass was taken down by Morris, who battled past his defender and knocked his second of the night past Crepeau.
The Americans added a penalty kick goal in second half stoppage time. Luis Gil scored his spot kick to his right as Crepeau dove the other way. Kiesewetter, who recorded three shots on goal during the game, drew the penalty.
Michael Parasso pulled a goal back for Canada in the 81st minute. Christopher Manella's corner kick was headed in at the near post by Petrasso.
The United States overpowered Canada in the first half, but could not add to Morris's goal. The first half ended with the USA recording four shots on goal to Canada's zero. However, in the second half, Canada established some more attacking prowess, and the game ended with seven shots on goal for Canada to the U.S.'s eight.
Also at Sporting Park on Thursday, Panama and Cuba played to a 1-1 draw. The U.S. now sits atop Group A with three points and plays Cuba Saturday at Sporting Park.