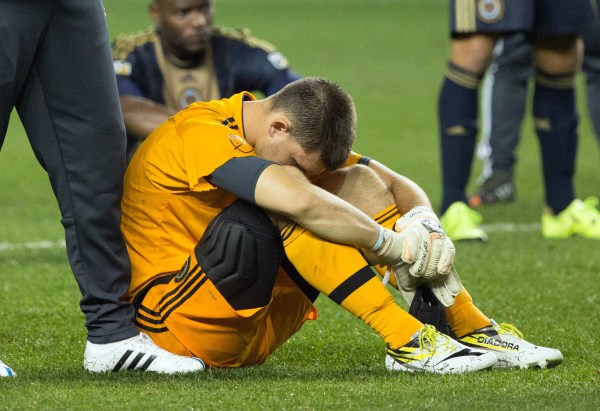 Photo by Bill Streicher/USA TODAY Sports
By JOE TANSEY
CHESTER, Pa — Philadelphia Union manager Jim Curtin admits winning a club's first trophy is one of the most difficult things to do in soccer.
For the second consecutive year, the Union fell short on home soil in the U.S. Open Cup final. A year after falling in extra time to the Seattle Sounders, Philadelphia dropped the championship match on penalties to Sporting Kansas City, 7-6, after playing to a 1-1 draw through 120 minutes.
"We continue to try and find our first. It's the hardest thing to do in our game," Curtin said. "The past two years have been an example of that. I think this year we were closer than Seattle. The building's ready to erupt, and we came up a little short in penalty kicks. At that stage, it can go either way."

The Union were on the front foot in the first half as they pounced for the opener in the 23rd minute by way of Sebastien Le Toux.
However, Philadelphia could not capitalize on another chance in the first half. Tim Melia made a pair of big saves in the 37th minute on Le Toux and Cristian Maidana to keep Sporting KC within one goal heading into the half.
Curtin's halftime talk centered around finding a second before the visitors struck for an equalizer.
"I was really happy with how we played in the first half. At halftime, we talked about having that killer instinct to get the second goal. I said to them I think there's going to be more goals in this game," Curtin said. 
"It's critical to get the next one. Us going up, 2-0, or them tying it, which is what wound up happening. It's a little bit execution, a little bit of the ball bouncing your way," Curtin said. "Their goalkeeper was good on the night. He made a few saves to bail them out. When you have a team a little bit scrambling, it is critical to take advantage and get the second goal."  
Krisztian Nemeth's equalizer took the wind out of the sails in PPL Park and the energy wasn't fully recovered until late in the second half, when Conor Casey entered as the team's first substitute.
Although Philadelphia did have a few chances to score in extra time, it ultimately came up short and went to a penalty shootout that featured a controversial decision at the goalkeeper position.
Curtin channeled his inner Louis van Gaal and replaced starter Andre Blake with penalty expert John McCarthy.
"Andre had a great game," Curtin said. "Johnny's in there for the PKs and made a save, but it just wasn't good enough tonight."
The change didn't have a major effect on the shootout as McCarthy stopped one of the seven kicks he faced. The last one he conceded was the game-winner to Jordi Quintilla. The final dagger in the Union's Open Cup hopes dealt a blow to team's psyche.
"We're double-devastated now. I don't know. It's bad. There's no worse feeling than losing a final, and we've done it now twice at home," Curtin said. "It's hard. It's hard to get the guys back up and motivated, but we have to. We have three games left in the year. It's just a challenge to try to find positives in what was again so close to being a really special night."