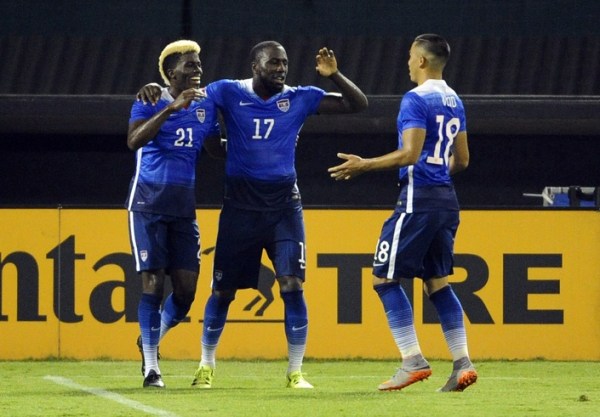 Photo by Brad Mills/USA TODAY Sports
By RYAN TOLMICH
The U.S. Men's National Team's CONCACAF Cup roster was narrowed down to 35 in mid-September. Now, it's time to figure out which 23 players will take the field against Mexico.
With rosters set for release Thursday, Jurgen Klinsmann's roster choices appear pretty clear-cut. Brad Guzan is set to start in goal, while the preferred fullback duo of Fabian Johnson and DaMarcus Beasley is back and ready to go. Clint Dempsey and Jozy Altidore look like shoe-ins up front, while Michael Bradley continues to be the first name on the team sheet.
Yet, Klinsmann does have some difficult decisions to make ahead of the crucial clash with Mexico. How will Klinsmann handle John Brooks' recent injury woes? How does the U.S. sort out a slew of midfield options? Has Lee Nugyen done enough to play himself back into the fold?
Those are just some of the questions left for Klinsmann to decide as the U.S. takes on Mexico with a berth in the 2017 Confederations Cup on the line.
Here are the 23 players SBI sees Klinsmann calling in for the upcoming CONCACAF Cup:
Projected USMNT CONCACAF Cup Roster
GOALKEEPERS:
Brad Guzan, Tim Howard, Nick Rimando
OUTLOOK: No real surprises on the goalkeeping front, as Klinsmann will all but certainly go with the tried-and-true method. Brad Guzan is penciled in as the No. 1, while Tim Howard waits in the wings for another opportunity.
Where things get slightly less obvious is the third spot, which Klinsmann will likely opt to use on a veteran presence in Nick Rimando. Bill Hamid is one of several goalkeepers knocking on the door for another USMNT look, but Rimando's experience makes him the more likely addition for a one-off game.
Missed the Cut: Bill Hamid
——————
DEFENDERS
Ventura Alvarado, DaMarcus Beasley, Matt Besler, Geoff Cameron, Omar Gonzalez, Fabian Johnson, Michael Orozco, Tim Ream
OUTLOOK: After missing the team's September friendlies, Klinsmann's preferred fullback duo appears ready to go. Both DaMarcus Beasley and Fabian Johnson have returned, and have experienced success, on the club level in recent weeks and should be penciled in to start. Versatile players like Tim Ream, Geoff Cameron and Michael Orozco provide cover on either flank.
Once again, Klinsmann will have some decisions at centerback, especially with the potential absence of John Brooks. The Hertha Berlin centerback has yet to feature since the Peru friendly, leaving his status up in the air for the CONCACAF Cup. His typical USMNT partner, Ventura Alvarado, should be in the mix, but Klinsmann will also have the options of veterans, like Matt Besler and Omar Gonzalez, as well as the aforementioned trio of Ream, Cameron and Orozco.
Missed the Cut: John Brooks, Brad Evans, Greg Garza, Jonathan Spector
——————
MIDFIELDERS 
Alejandro Bedoya, Michael Bradley, Joe Corona, Mix Diskerud, Jermaine Jones, Danny Williams, DeAndre Yedlin, Gyasi Zardes
OUTLOOK: A combination of Michael Bradley, Alejandro Bedoya, Jermaine Jones and Gyasi Zardes will all but certainly make up the USMNT midfield against Mexico. DeAndre Yedlin's speed out wide continues to make him a valuable late-game option, while Mix Diskerud remains a contributing regular despite this past summer's club struggles.
Klinsmann does have some choices to make, however, when it comes to selecting cover. Danny Williams impressed against Brazil, but the Reading midfielder will likely compete with Kyle Beckerman for the role of backup holding midfielder. Likewise, Joe Corona could provide valuable depth on the wings or in a more central role if need be.
The biggest question mark remains Klinsmann's penchant for surprises, and one might be coming in the form of Lee Nguyen. The New England Revolution midfielder is in good form on the club level, and was never given much of a chance during his call-ups earlier this year. With that said, Klinsmann likely leaves Nguyen away, at least for the time being, in favor of more familiar faces.
Missed the Cut: Kyle Beckerman, Alfredo Morales, Lee Nguyen, Graham Zusi
——————
FORWARDS
Jozy Altidore, Clint Dempsey, Aron Johannsson, Bobby Wood
Having looked slightly better in recent weeks with Toronto FC, Jozy Altidore is likely set to start up top for the USMNT. His preferred forward partner, Clint Dempsey, will join him, while an in-form Aron Johannsson inclusion looks certain as well. Jordan Morris will be left free to lead the Olympic qualifying run, while Alan Gordon's listing was never much more than a safety blanket should the team be without a physical presence.
The questions remain for that fourth spot, where Klinsmann will have a choice on his hands. On one side, Bobby Wood is doing very well for himself in Germany and has shown a knack for stepping up against tough opposition when called upon. On the other, Chris Wondolowski provides a veteran eye for goal. Look for Klinsmann to reward Wood for his recent successes, although an appearance remains unlikely.
Missed the Cut: Alan Gordon, Jordan Morris, Chris Wondolowski
—
What do you think of this 23-man roster? Which players would you like to see called in? What would be your go-to lineup against Mexico?
Share your thoughts below.