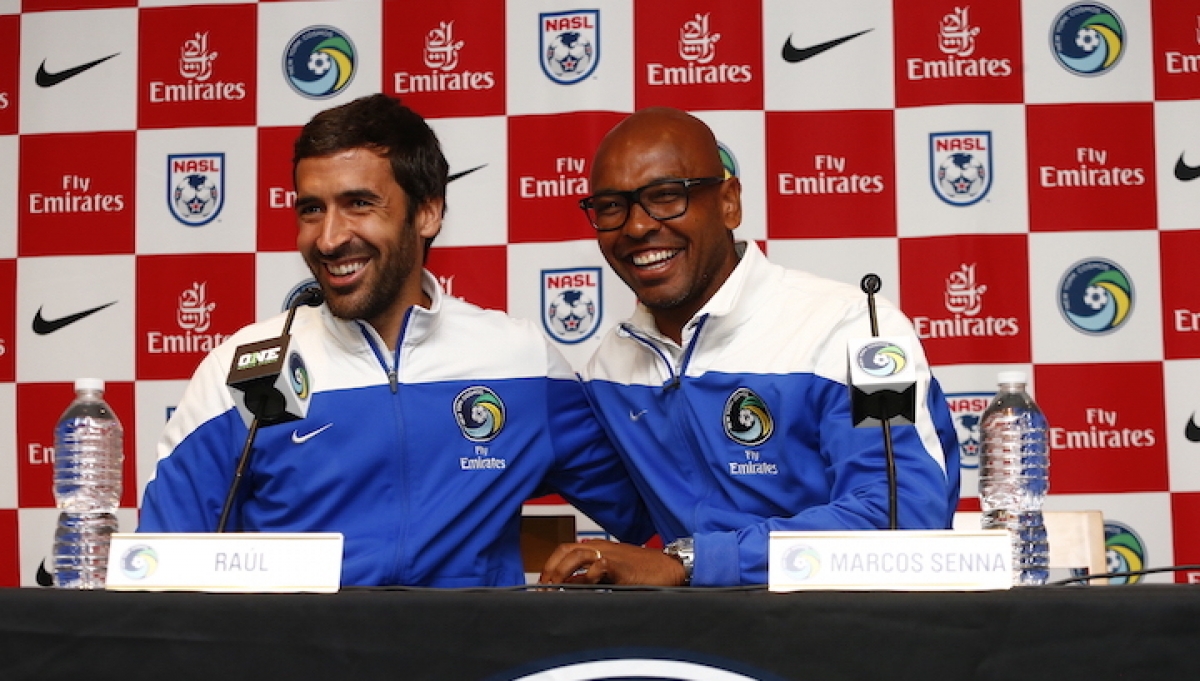 NEW YORK – Throughout their illustrious careers, Raul and Marcos Senna have battled as competitors and embraced as teammates. Now, just a few games remain before the duo exit the game, not alone, but together.
Both Raul and Senna are set to retire at the conclusion of the NASL season, ending distinguished careers that spanned a combined 39 years. Now members of the New York Cosmos, the two former Spanish National Team stars are glad to push on for one final adventure as teammates as the NASL season winds to a close.
"For me, it's been a privilege to be able to team up with him again," Senna said Tuesday at a press conference, "because we've had the chance to play together on the national team, and also against each other many times with Real Madrid and Villarreal. It is privilege for me to be here, to end my career alongside Raul, because everyone knows who he is, what he's done… For me, it's a privilege to be able to finish alongside him."
"It has also been a privilege to play alongside Marcos," Raul added. "When I decided to come to the Cosmos, I came because of two people: Giovanni Savarese and Marcos Senna. They explained the project and what it felt like to play in New York. Who would have thought we'd finish our careers together like this?"
With a pair of venerable careers set to come to a close, both Raul and Senna have a wealth of options when it comes to their post-playing endeavors.
Raul's decision to call it quits comes in the first year of a two-year deal with the Cosmos, one that the Spanish legend always said was going to be played by ear. For Raul, the time to get out of the game was now, as the 38-year-old star wanted to leave the game on as high a note as possible.
As for what's next, Raul says his only expectations are to finally play the position of parent and family man. After 21 years of playing in Spain, Germany, Qatar and the U.S., the striker is looking forward to enjoying all post-retirement life has to offer him and his family in the metropolis that is New York City. Just one year into his stay in the Big Apple, Raul is embracing the thought of finally getting a true New York experience, going so far as to start a "Let's go Mets" chant mid-press conference.
Still, the long-term expectancy from many is that Raul will someday get into coaching given his passion for developing the game's youth. The former Real Madrid star insists that that move is still some time away, although, when the day comes he'll have one style in mind: one that wins.
"I don't know why everyone is trying to push me into being a coach," Raul joked. "For now, I want to be a parent and enjoy life. When I'm ready to say, 'I'm going to be a coach,' I'll say, 'I'm going to be a coach." I can't talk about something that, for now, is not in my thoughts.
"I'm open to any possibility to start living a different life than a football player. First and foremost, my first project is to continue living here with my family."
As for Senna, the next step is a return to Spain, the country that adopted him as an international star. Born in Brazil, Senna forged an esteemed career in Spain for both club and country and is looking forward to returning home for at least the time being.
Still, Senna will remain as an ambassador for the Cosmos, a role Raul jokingly asked if he would ever be offered as well. At the end of the day, Senna will never be too far away from the Cosmos, or the game as a whole.
"It was more than I expected during these three years," Senna said of his time with the Cosmos. "Everything I had spoken to with the club about the project, before it all began, had convinced me a lot. Once I got here, It was better than I imagined. I could not be happier elsewhere than I was here.
"Something linked to football, that's definitely on the horizon," Senna added. "I still don't know exactly what I'm going to be doing when I retire. I still don't know exactly, but something linked to the game for sure. Of course, I'll return to Spain and become an ambassador for the Cosmos, so in a way I'll still be linked to this franchise. Definite plans? None so far."
No matter their future plans, goals or dreams, it was hard for Senna and Raul to resist the urge and reflect on how far they've come throughout their legendary careers.
European Championships, league championships, memorable goals. The careers of Marco Senna and Raul González have seen it all. After all of it, the two couldn't be more proud in how far they've come, both personally and together, in fulfilling the dreams of many a boy all over the world.
"I leave the game at peace knowing that I lived the dream of a child, that I have left friends in every country that I have played in," Raul said. "I leave the game at ease with myself and happy more than anything because I have won a lot. I could have won more things, but I also could have lost whatever I had won. I never had injuries that meant long pauses. I'm grateful."
Tuesday, as well as the ensuing two or three games that will complete the Cosmos season, was a celebration. Receiving gifts from local officials as well as the club, both Senna and Raul will be celebrated as their careers come to a close.
Yet, amid all the questions, camera flashes and future speculation, the two took a moment to joke as teammates yet again for all to see.
"We're still enjoying it right?" Senna asked his longtime teammate as the two reflected in front of dozens of reporters and officials.
Raul, with a smile on his face, responded quickly and emphatically: "The best is yet to come."