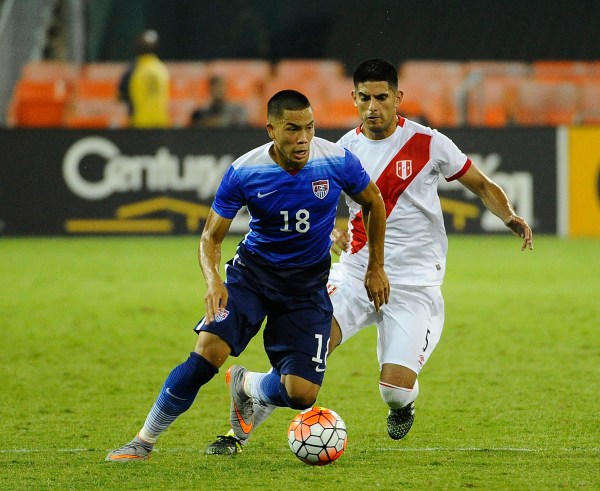 photo by Brad Mills/USA Today Sports
By FRANCO PANIZO
An illness to Alejandro Bedoya has forced the U.S. Men's National Team to make a roster change in the 11th hour.
Bedoya has been ruled out for Saturday's CONCACAF Cup bout with Mexico and replaced by forward Bobby Wood on the U.S. squad. Bedoya has been dealing with an illness this week, but did not make enough progress to be considered available for the much-anticipated battle of between the regional heavyweights.
The loss of Bedoya means U.S. head coach Jurgen Klinsmann will be without one of his regular midfielders. In Wood, the U.S. gets an in-form forward who will likely start on the bench vs. El Tri.
The U.S. and Mexico square off for a ticket to the 2017 Confederations Cup on Saturday night at the Rose Bowl in Pasadena, California. A sell-out crowd of 90,000-plus is expected.
What do you think of Bedoya being ruled out of the CONCACAF Cup? How will this change what the USMNT does vs. Mexico? Like the addition of Wood or would you have preferred a midfielder to be called in?
Share your thoughts below.