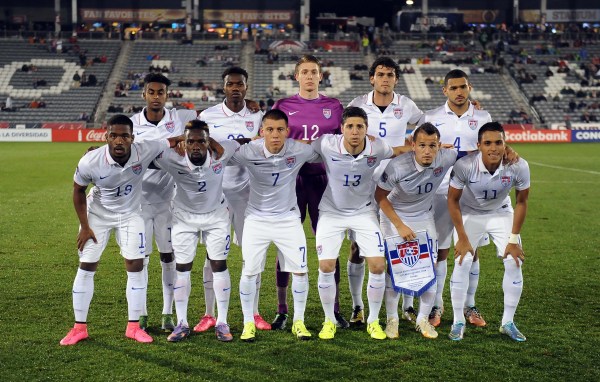 photo by Ron Chenoy/USA Today Sports
By FRANCO PANIZO
It is an uphill battle to reach the Olympics now, and the first hurdle to overcome is a do-or-die match against a familiar foe.
The U.S. Under-23 Men's National Team missed out on a chance to directly qualify for Rio 2016 on Saturday and now has to do things the hard way, beginning with Tuesday's CONCACAF Olympic qualifying third-place showdown vs. Canada (6 p.m. ET, NBC Universo) at Rio Tinto Stadium in Sandy, Utah.
A victory is needed there in order to advance to a play-off vs. Colombia for a spot in the Olympics, and U.S. head coach Andi Herzog has plenty of thinking to do with regards to his lineup after seeing his side fall flat in a disappointing and frustrating 2-0 defeat to Honduras over the weekend.
The U.S. already defeated Canada once in the group stage of the tournament, but Herzog could opt to go with a completely different look this time around given that the U.S. struggled so mightily with possession in the semifinals bout with Honduras. Regardless, the intense pressure is on Herzog and his players, as the Americans' Olympic dream depends, for now, on this match.
This is the group of 11 players Herzog could go with on Tuesday:
————Morris———————————–
———————————–Kiesewetter——
—Ariyibi———Zelalem———–Hyndman—
———————Trapp————————–
—Serna—–Packwood—-Miazga—–Polster–
——————–Horvath————————-
Some thoughts:
The U.S. failed to win the possession battle against Honduras and will need to improve in that regard in order to avoid a letdown vs. the Canadians. As such, U.S. head coach Herzog could go back to using the crafty Gedion Zelalem in place of Matt Polster in the midfield.
Luis Gil might also be sacrificed here to make room for Gboly Ariyibi, who offers a change of pace and is a more dynamic weapon to the U.S. attack. If that is the case, expect Ariyibi to man his usual left midfield spot while Emerson Hyndman flips to the right side. Zelalem would operate between them.
Another change that may be in the cards is young centerback Cameron Carter-Vickers being replaced by Will Packwood. Carter-Vickers is coming off his roughest performance in a U.S. jersey, and Packwood showed well in his lone start thus far vs. Panama. Herzog could easily chalk up Carter-Vickers' struggles against Honduras to just one bad game and keep him in the lineup, however, especially given the chemistry he has with fellow projected starting centerback Matt Miazga.
A second alteration that we might see in the defense is Matt Polster taking Boyd Okwuono's right back spot. Okwuono came off after the first half vs. Honduras, with Polster dropping from midfield to fill the void. Polster held his own at that position, just as he did in the Americans' 3-1 win vs. Canada in the tournament opener, and that should give Herzog plenty of confidence in the Chicago Fire rookie.
The rest of the team will likely be what we have seen so far in the tournament. Jordan Morris and Jerome Kiesewetter figure to lead the attack again, U.S. captain Wil Trapp appears set to continue to serve as the defensive midfielder despite a less-than-stellar outing vs. Honduras, and Ethan Horvath is probably going to be given the nod in goal for the third straight match. Dillon Serna would be the left back, but there is a chance he could sit this one out if Marc Pelosi is healthy.
—–
What do you think about this projected lineup for the U.S. U-23s? Would you prefer to see something else or different players? See the Americans coming out on top?
Share your thoughts below.