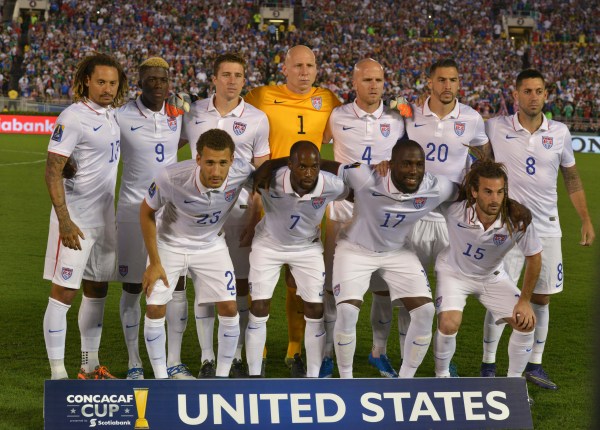 Photo by Kirby Lee/ USA Today Sports
By RYAN TOLMICH
In the aftermath of Saturday's CONCACAF Cup loss to Mexico, the U.S. Men's National Team faces an immediate return to action, for better of worse.
Head coach Jurgen Klinsmann will face some tough lineup decisions Tuesday as the USMNT takes on Costa Rica just three days after Saturday's 120-minute defeat to Mexico. In the USMNT's last friendly game before the start of World Cup qualifying, Tuesday's clash will represent a chance for several players to make an impression ahead of another slate of meaningful games.
Bill Hamid, Mix Diskerud, Lee Nguyen, Brek Shea and Andrew Wooten have been added to the squad while eight players from Saturday's roster have departed for their respective clubs. Now boasting a new-look squad, Klinsmann will have one final opportunity to mix and match, while also being tasked with balancing tired legs after an extra time marathon.
Which players will we see Klinsmann start and how will he line them up? Here's the starting XI SBI think the USMNT will use against Costa Rica on Tuesday: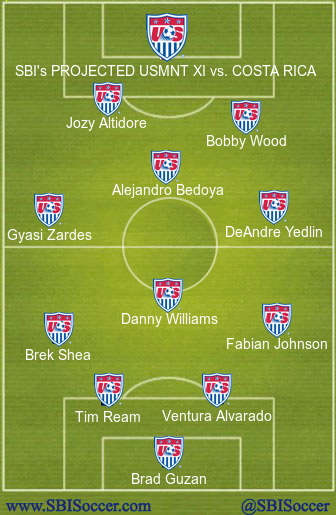 Some thoughts:
Starting with the goalkeeper position, Klinsmann has repeatedly reiterated his commitment to Brad Guzan as the team's No.1 and Saturday's performance did little to impact Guzan's standing. The USMNT goalkeeper was left out to dry on the first two Mexico finishes, while Paul Aguilar's strike was one that could have been stopped by few goalkeepers in the world. Generally blameless for the goals he surrendered, Guzan's status as starter should be safe for now, as starting Tim Howard so quickly after Saturday's defeat would surely sound many alarms on a potential goalkeeper controversy.
The players in front of Guzan will all but certainly change going into Tuesday, though. DaMarcus Beasley's departure opens up a hole at left back, and Brek Shea looks to be the natural fit. Klinsmann has long seen Shea as a potential solution at left back and the Orlando City star certainly deserves a look Tuesday night. On the other end, Fabian Johnson remains Klinsmann's first choice, although his starting spot depends on tired legs after playing 111 minutes. If he doesn't start, Michael Orozco and Brad Evans will be in contention as replacement options.
Orozco and Evans could also figure into the centerback competition, but Klinsmann will likely opt to go with a different duo. Ventura Alvarado has always been viewed highly by Klinsmann, who will likely give him a chance to redeem himself after a frustrating Gold Cup. Alongside him, Klinsmann could opt to go with Tim Ream or Geoff Cameron, the latter of which will certainly not be available for a full 90 after playing 120 hard minutes Saturday evening. With that being said, Ream will likely be competing with Orozco for centerback minutes.
The defensive midfield position seems to be all set for Danny Williams following Kyle Beckerman's departure. On his right, DeAndre Yedlin could use some additional games in the midfield ahead of November's World Cup qualifiers, while Gyasi Zardes figures to be a key part of qualifying from his left midfield spot, even after playing 78 minutes Saturday.
Following Michael Bradley's departure, questions do arise over who should lead the midfield unit from a more attacking position. Lee Nguyen is an option after being added to the roster, but Klinsmann hasn't exactly given the New England Revolution midfielder moments to shine in the past. Mix Diskerud could also plug in anywhere in the central midfield, while Alejandro Bedoya is an option to be placed in a more attacking midfield role after missing the Mexico clash due to illness.
At the forward position, Bobby Wood should be penciled in for a start after scoring yet another big goal on Saturday. The 22-year-old forward has really come into his own in 2015 after initially struggling in his first several call-ups. Wood should see time Tuesday as he competes for further looks throughout World Cup qualifying.
If Wood is to factor into the coming qualifying round, Klinsmann may want to get a look at how he pairs up with Jozy Altidore. The Toronto FC forward went 98 minutes Saturday and shouldn't be expected to play more than a half. However, getting a look at how he and Wood play off of each other will certainly be beneficial.
Other than Altidore, the U.S. has slightly slim pickings at the forward position with Clint Dempsey's departure and Aron Johannsson's injury issues. Andrew Wooten, who has scored six goals in 10 games in the 2. Bundesliga, could earn a well-deserved first cap as the only other recognized striker on the U.S. roster. Other than Wooten, Zardes remains an emergency option, although Klinsmann is unlikely to take his focus off the left midfield position.
—
What do you think of this lineup? Is there a player who is not listed here that you think will/should be? What type of formation would you choose against Costa Rica?
Share your thoughts below.