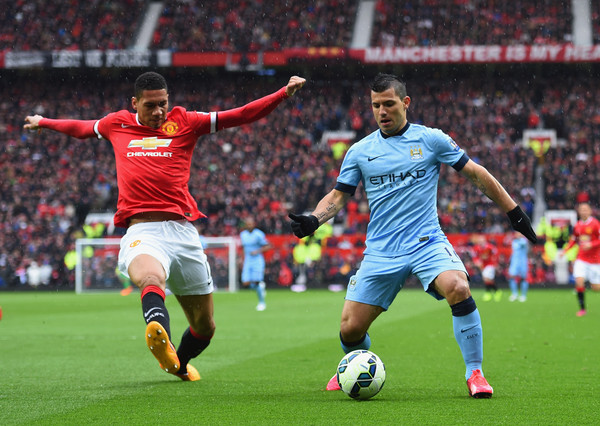 If you are a fan of English derbies, then Sunday's English Premier League action has just what you are looking for.
Not only does the Manchester derby kick off, but the always exciting Tyne-Wear derby between Sunderland and Newcastle takes center stage.
At Old Trafford, fourth-place Manchester United hopes to start a new Premier League win streak after defeating Everton, 3-0, in the team's last league contest. While Manchester City has controlled the series as of late, winning three out of the last four league meetings between the two city rivals, the Red Devils defeated the Citizens, 4-2, during the pair's last meeting in April 2015.
Meanwhile at the Stadium of Light, Sunderland are in a tough spot on the EPL table after nine games in league competition, and it is in desperate need of a win against fierce rivals Newcastle. If history is anything to go on, the Black Cats are the favorites, however, because Sunderland has won the previous four meeting between the two sides.
Elsewhere in Europe, an important Serie A battle between two heavyweights kicks off at Stadio Artemio Franchi. Current league leaders Fiorentina hosts Roma, which is hoping Egyptian winger Mohamed Salah can continue his fine form against the team he was a member of in 2014.
In the evening, the MLS regular season ends with all teams playing. Playoff positions are still up for grabs and a the sixth seed in the Western Conference is still to play for.
If you will be watching today's soccer, please feel free to share your thoughts, opinions and some play-by-play in the comments section below.
Enjoy the action (Today's TV schedule is after the jump):
SOCCER SUNDAY
ENGLISH PREMIER LEAGUE
8 a.m. — NBCSN/NBC Sports Live Extra — Sunderland vs. Newcastle United
10:05 a.m. — NBCSN/Telemundo/NBC Sports Live Extra — Manchester United vs. Manchester City
10:05 p.m. — DirecTV/NBC Sports Live Extra — Bournemouth vs. Tottenham
12:15 p.m. — NBC Sports Live Extra — Liverpool vs. Southampton
FIFA U-17 WORLD CUP
3 p.m. — Fox Sports 2/Fox Sports Go/Fox Soccer 2Go/NBC Deportes en Vivo Extra — France vs. Syria
3 p.m. — Fox Soccer Plus/Fox Soccer 2Go/NBC Deportes en Vivo Extra — Paraguay vs. New Zealand
6 p.m. — Fox Sports 2/Fox Sports Go/Fox Soccer 2Go/NBC Deportes en Vivo Extra — Costa Rica vs. Korea DPR
6 p.m. — Fox Soccer Plus/Fox Soccer 2Go/NBC Deportes en Vivo Extra — Russia vs. South Africa
SPANISH LA LIGA
7 a.m. — beIN Sports en Español/beIN Sports Connect — Levante vs. Real Sociedad
11 a.m. — beIN Sports en Español/beIN Sports Connect — Las Palmas vs. Villarreal
1:15 p.m. — beIN Sports USA/beIN Sports en Español/beIN Sports Connect — Barcelona vs. Eibar
3:30 p.m. — beIN Sports en Español/beIN Sports Connect — Atlético Madrid vs. Valencia
GERMAN BUNDESLIGA
10:30 a.m. — Fox Sports 2/Fox Sports Go — Borussia Dortmund vs. Augsburg
12:30 p.m. — Fox Sports 1/Fox Sports Go — Borussia Mönchengladbach vs. Schalke 04
ITALIAN SERIE A
7:30 a.m. — beIN Sports USA/beIN Sports Connect — Sampdoria vs. Hellas Verona
10 a.m. — beIN Sports USA/beIN Sports Connect — Juventus vs. Atalanta
10 a.m. — beIN Sports Connect — Milan vs. Sassuolo
10 a.m. — beIN Sports Connect — Udinese vs. Frosinone
1 p.m. — beIN Sports Connect — Fiorentina vs. Roma
1 p.m. — beIN Sports Connect — Lazio vs. Torino
3:45 p.m. — beIN Sports Connect — Chievo Verona vs. Napoli
FRENCH LIGUE 1
9 a.m. — beIN Sports Connect — Stade de Reims vs. AS Monaco
Noon — beIN Sports Connect — Lille vs. Marseille
Noon — beIN Sports Connect — Bordeaux vs. Troyes
4 p.m. — beIN Sports USA/beIN Sports Connect — Paris Saint-Germain vs. Saint-Étienne
MEXICAN LIGA MX
2 p.m. — Univision Deportes/Univision — Pumas UNAM vs. Chiapas
7 p.m. — Univision Deportes — Puebla vs. León
SCOTTISH CHAMPIONSHIP
8:30 a.m. — Fox Soccer 2Go — St. Mirren vs. Rangers
MLS
5 p.m. — YES Network/Fox Sports Go/DirecTV — New York City FC vs. New England Revolution
5 p.m. — DirecTV/MLS live — Montreal Impact vs. Toronto FC
5 p.m. — DirecTV/MLS Live — Philadelphia Union vs. Orlando City SC
5 p.m. — Fox Sports 1/Fox Sports Go/Fox Deportes — Columbus Crew vs. D.C. United
7 p.m. — ESPN/ESPN Deportes/WatchESPN/MLS Live — Sporting Kansas City vs. LA Galaxy
7 p.m. — DirecTV/ESPN3/MLS Live — Vancouver Whitecaps vs. Houston Dynamos
7 p.m. — DirecTV/MLS Live — Chicago Fire vs. New York Red Bulls
7 p.m. — DirecTV/ESPN3/MLS Live — Portland Timbers vs. Colorado Rapids
7 p.m. — DirecTV/ESPN3/MLS Live — FC Dallas vs. San Jose Earthquakes
7 p.m. — DirecTV/ESPN3/MLS Live — Seattle Sounders vs. Real Salt Lake
NASL
3 p.m. — ESPN3/WatchESPN — Edmonton vs. Jacksonville Armada
NCAA MEN
1 p.m. — ESPN3 — Notre Dame vs. Duke
1 p.m. — ESPN3 — Kent State vs. Toledo
1 p.m. — ESPN3 — Louisville vs. NC State
1 p.m. — ESPNU — Florida State vs. Virginia
1 p.m. — Big Ten Network — Rutgers vs. Ohio States
3 p.m. — ESPNU — Mississippi State vs. Alabama
6 p.m. — Pac-12 Network — California vs. UCLA
NCAA WOMEN
2 p.m. — Pac-12 Network — USC vs. Colorado
2 p.m. — SEC Network + — Missouri vs. Vanderbilt
3 p.m. — SEC Network + — Georgia vs. Auburn
3 p.m. — Big Ten Network — Michigan State vs. Indiana
5 p.m. — SEC Network + — Tennessee vs. Kentucky
5 p.m. — Longhorn Network — Texas vs. Baylor
6 p.m. — SEC Network + — Arkansas vs. Florida
7 p.m. — SEC Network + — Ole Miss vs. Texas A&M
8 p.m. — Pac-12 Network — Washington vs. Stanford
INTERNATIONAL FRIENDLY (WOMEN)
3 p.m. — Fox Sports 1/Fox Sports Go — United States vs. Brazil