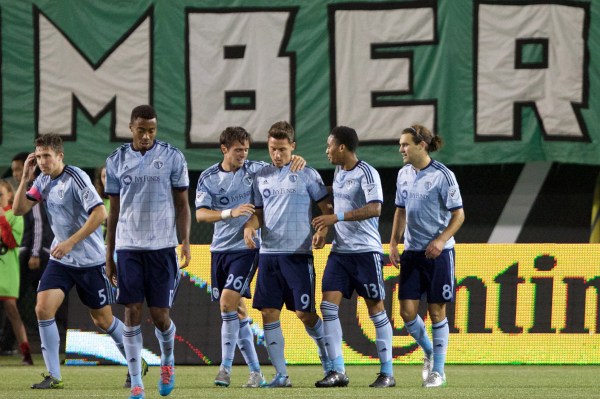 Photo by Jaime Valdez/USA TODAY Sports
By SBI SOCCER
Riding high from a U.S. Open Cup final victory during the week, Sporting KC stormed into the pacific northwest and took down a Western Conference contender in impressive fashion.
Sporting KC entered Providence Park Saturday and shut out the Portland Timbers, 1-0, leading to recognition as SBI MLS Team of the Week.
The most remarkable part of the Sporting KC takedown was the team's defensive performance, which included a handful of spectacular saves from goalkeeper Tim Melia. Hungarian international Krisztian Nemeth scored the late winner for the recent U.S. Open Cup champions.
With the crucial road win, Sporting KC now has 48 points on the year, three less than current Supporters' Shield leaders New York Red Bulls.
Kansas City's performance beat out the Red Bulls, Orlando City SC and the Chicago Fire for this weeks honors as SBI MLS Team of the Week.
What did you think of Sporting KC's win? Which team stood out the most to you?
Share your thoughts below.