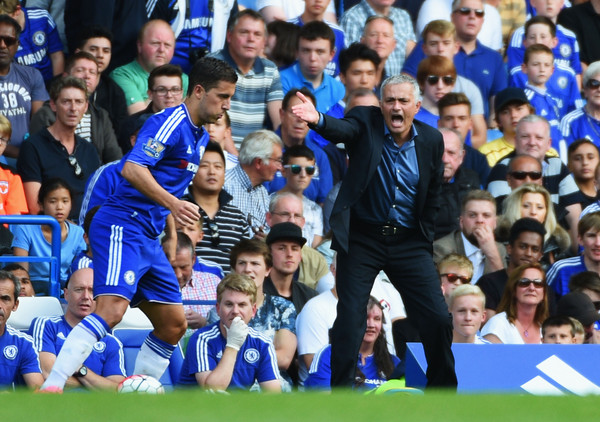 Jose Mourinho may not be worried about his job security, but with rumors continuing to swirl about an imminent exit for the Chelsea manager, the Blues will face a tough task ahead in Liverpool on Saturday to headline the weekend's soccer action.
Chelsea had won just once over its last four English Premier League outings and is coming off of a penalty shootout loss to Stoke City in the Football League Cup Round of 16 on Tuesday. Liverpool, meanwhile, picked up its first victory under Jurgen Klopp with a 1-0 win over Bournemouth while extending its unbeaten streak across all competitions to 10.
In other EPL action, Manchester United and Manchester City will take on Crystal Palace and Norwich City, respectively, while a Sunday matchup could feature two U.S. Men's National Team members squaring off. DeAndre Yedlin, who had a full outing last week for Sunderland in a 3-0 win, will travel to Goodison Park to take on Tim Howard and Everton.
Elsewhere, Real Madrid fans may see their team regain some of its star power as James Rodriguez, Karim Benzema and Pepe are all likely to make their returns from respective injuries. Los Blancos remain the lone undefeated team in La Liga and will take on 18th-place Las Palmas at Santiago Bernabeu on Saturday.
On the same day in the Bundesliga, Hertha Berlin-Borussia Mönchengladbach and VfL Wolfsburg-Bayer Leverkusen provide two of the more enticing fixtures in German soccer this weekend.
At the international level, the FIFA U-17 World Cup continues to roll on as a pair of quarterfinals matchups will take place on Sunday in Brazil-Nigeria and Croatia-Mali.
Rounding out the weekend will be a quadruple-header of MLS Playoffs action as the first leg of the conference semifinals gets underway.
Here is a full rundown of this weekend's soccer action on TV.
FRIDAY
GERMAN BUNDESLIGA
3:30 p.m. — Fox Sports 2/Fox Sports Go — Eintracht Frankfurt vs. Bayern Munich
SPANISH LA LIGA
3:30 p.m. — beIN Sports en Español/beIN Sports Connect — Deportivo La Coruña vs. Atlético Madrid
FRENCH LIGUE 1
3:30 p.m. — beIN Sports USA/beIN Sports Connect — Rennes vs. Paris Saint-Germain
MEXICAN LIGA MX
9:30 p.m. — Univision Deportes — Querétaro vs. Monterrey
11:30 p.m. — Azteca America — Tijuana vs. Pumas UNAM
ENGLISH LEAGUE CHAMPIONSHIP
3:45 p.m. — beIN Sports Connect — Brentford vs. Queens Park Rangers
NASL
7:30 p.m. — ESPN3/WatchESPN — Carolina RailHawks vs. Indy Eleven
NCAA MEN
7 p.m. — ESPN3 — Wake Forest vs. Louisville
7 p.m. — ESPN3 — Clemson vs. NC State
7 p.m. — ESPN3 — Green Bay vs. Northern Kentucky
8 p.m. — ESPN3 — Cleveland State vs. Valparaiso
9 p.m. — Pac-12 Network — Washington vs. California
NCAA WOMEN
2 p.m. — ESPN3 — Stetson vs. Kennesaw State
3 p.m. — ESPN3 — Wright State vs. Detroit
5 p.m. — Pac-12 Network — Colorado vs. Arizona
7 p.m. — Pac-12 Network — Oregon vs. Washington State
7 p.m. — ESPN3 — Virginia Tech vs. Notre Dame
7 p.m. — ESPN3 — North Florida vs. Jacksonville
7 p.m. — ESPN3 — Youngstown State vs. Oakland
SATURDAY
ENGLISH PREMIER LEAGUE
8:45 a.m. — NBCSN/NBC Sports Live Extra/Telemundo — Chelsea vs. Liverpool
11 a.m. — NBCSN/NBC Sports Live Extra — Crystal Palace vs. Manchester United
11 a.m. — NBC Sports Live Extra — Manchester City vs. Norwich City
11 a.m. — USA Network/NBC Sports Live Extra — Swansea City vs. Arsenal
11 a.m. — NBC Sports Live Extra — West Bromwich Albion vs. Leicester City
11 a.m. — NBC Sports Live Extra — Watford vs. West Ham United
11 a.m. — NBC Sports Live Extra — Newcastle United vs. Stoke City
SPANISH LA LIGA
11 a.m. — beIN Sports USA/beIN Sports en Español/beIN Sports Connect — Real Madrid vs. Las Palmas
1:15 p.m. — beIN Sports en Español/beIN Sports Connect — Villarreal vs. Sevilla
1:15 p.m. — beIN Sports Connect — Valencia vs. Levante
3:30 p.m. — beIN Sports USA/beIN Sports en Español/beIN Sports Connect — Getafe vs. Barcelona
5:05 p.m. — beIN Sports en Español/beIN Sports Connect — Real Sociedad vs. Celta de Vigo
GERMAN BUNDESLIGA
10:30 a.m. — Fox Sports 2/Fox Sports Go/Fox Soccer 2Go — Werder Bremen vs. Borussia Dortmund
10:30 a.m. — Fox Soccer Plus/Fox Deportes/Fox Soccer 2Go — Schalke 04 vs. Ingolstadt
10:30 a.m. — Fox Soccer 2Go — Hertha Berlin vs. Borussia Mönchengladbach
10:30 a.m. — Fox Soccer 2Go — Augsburg vs. Mainz 05
10:30 a.m. — Fox Soccer 2Go — Cologne vs. Hoffenheim
1:30 p.m. — Fox Sports 2/Fox Sports Go/Fox Deportes/Fox Soccer 2Go — VfL Wolfsburg vs. Bayer Leverkusen
FRENCH LIGUE 1
Noon — beIN Sports Connect — Saint Étienne vs. Reims
3 p.m. — beIN Sports Connect — Bastia vs. Caen
3 p.m. — beIN Sports Connect — Troyes vs. Lyon
3 p.m. — beIN Sports Connect — Gazélec Ajaccio vs. Bordeaux
ITALIAN SERIE A
1 p.m. — beIN Sports USA/beIN Sports Connect — Juventus vs. Torino
MEXICAN LIGA MX 
7 p.m. — Univision Deportes — Cruz Azul vs. Veracruz
9 p.m. — Univision Deportes — Tigres UANL vs. Santos Laguna
10 p.m. — NBC Universo/NBC Deportes En Vivo Extra — León vs. Atlas
10:30 p.m. — Azteca America — Morelia vs. Dorados
11 p.m. — Univision Deportes — Chiapas vs. Puebla
ENGLISH LEAGUE CHAMPIONSHIP
8:30 a.m. — beIN Sports USA/beIN Sports en Español/beIN Sports Connect — Birmingham City vs. Wolverhampton Wanderers
11 a.m. — beIN Sports Connect — Sheffield Wednesday vs. Nottingham Forest
2 p.m. — beIN Sports Connect — Preston North End vs. Bolton Wanderers
SCOTTISH PREMIER LEAGUE
8:30 a.m. — beIN Sports Connect — Fox Soccer Plus/Fox Soccer 2Go — Celtic vs. Aberdeen
NASL
4 p.m. — ESPN3/WatchESPN — Atlanta Silverbacks vs. Ottawa Fury
7 p.m. — ESPN3/WatchESPN/One World Sports — New York Cosmos vs. Tampa Bay Rowdies
8 p.m. — ESPN3/WatchESPN — Minnesota United vs. San Antonio Scorpions
NCAA MEN
1 p.m. — ESPN3 — Milwaukee vs. Detroit
5 p.m. — Big Ten Network — Michigan vs. Michigan State
7 p.m. — ESPN3 — Pittsburgh vs. Notre Dame
7 p.m. — ESPN3 — Manhattan vs. Canisius
7 p.m. — ESPN3 — San Diego State vs. Wright State
7 p.m. — SEC Network + — Old Dominion vs. South Carolina
NCAA WOMEN
7 p.m. — ESPN3 — North Carolina vs. Miami
SUNDAY
MLS
3 p.m. — ESPN — D.C. United vs. New York Red Bulls
5 p.m. — ESPN — Portland Timbers vs. Vancouver Whitecaps
7 p.m. — Fox Sports 1/Fox Sports Go/Fox Soccer 2Go — Montreal Impact vs. Columbus Crew
9:30 p.m. — Fox Sports 1/Fox Sports Go/Fox Soccer 2Go — Seattle Sounders vs. FC Dallas
ENGLISH PREMIER LEAGUE
8:30 a.m. — NBCSN/NBC Sports Live Extra — Everton vs. Sunderland
11 a.m. — USA Network/NBC Sports Live Extra — Southampton vs. Bournemouth
SPANISH LA LIGA
6 a.m. — beIN Sports Connect — Eibar vs. Rayo Vallecano
10 a.m. — beIN Sports en Español/beIN Sports Connect — Espanyol vs. Granada
12:15 p.m. — beIN Sports en Español/beIN Sports Connect — Sporting Gijón vs. Málaga
2:30 p.m. — beIN Sports en Español/beIN Sports Connect — Real Betis vs. Athletic Bilbao
GERMAN BUNDESLIGA
9:30 a.m. — Fox Sports 2/Fox Sports Go — VfB Stuttgart vs. Darmstadt 98
11:30 a.m. — Fox Sports 1/Fox Deportes/Fox Sports Go — Hamburg vs. Hannover 96
FRENCH LIGUE 1
8 a.m. — beIN Sports Connect — Nice vs. Lille
11 a.m. — beIN Sports USA/beIN Sports Connect — AS Monaco vs. Angers
3 p.m. — beIN Sports Connect — Nantes vs. Marseille
ITALIAN SERIE A
6:30 a.m. — beIN Sports USA/beIN Sports en Español/beIN Sports Connect — Fiorentina vs. Frosinone
9 a.m. — beIN Sports USA/beIN Sports Connect — Genoa vs. Napoli
9 a.m. — beIN Sports Connect — Carpi vs. Hellas Verona
9 a.m. — beIN Sports Connect — Bologna vs. Atalanta
9 a.m. — beIN Sports Connect — Udinese vs. Sassuolo
2:45 p.m. — beIN Sports USA/beIN Sports Connect — Lazio vs. Milan
MEXICAN LIGA MX
1 p.m. — Univision Deportes/Univision — Toluca vs. Club América
6 p.m. — Univision Deportes/UniMás — Guadalajara vs. Pachuca
FIFA U-17 WORLD CUP
2 p.m. — Fox Sports 1/Fox Sports Go/NBC Deportes En Vivo Extra — Brazil vs. Nigeria
5 p.m. — Fox Sports 2/Fox Sports Go/NBC Deportes En Vivo Extra — Croatia vs. Mali
SCOTTISH LEAGUE CHAMPIONSHIP
7:30 a.m. — Fox Soccer Plus/Fox Soccer 2Go — Hibernian vs. Rangers
NASL
3 p.m. — ESPN3/WatchESPN — Jacksonville Armada vs. Fort Lauderdale Strikers
NCAA MEN
1 p.m. — Big Ten Network — Penn State vs. Northwestern
3 p.m. — ESPN3 — Boston College vs. Florida State
4:30 p.m. — Pac-12 Network — Oregon State vs. California
NCAA WOMEN
6:30 p.m. — Pac-12 Network — Stanford vs. UCLA