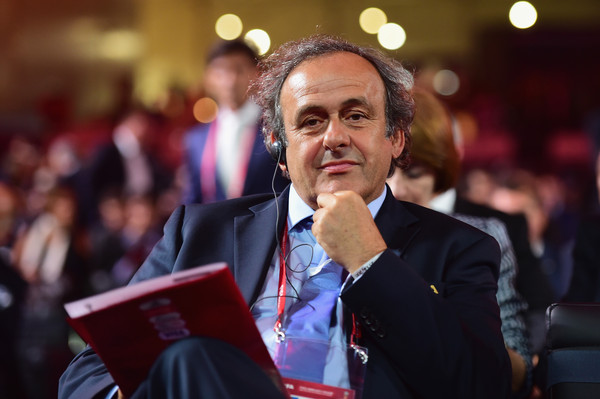 Despite all of the recent controversy, Michel Platini remains focused on becoming FIFA president.
FIFA confirmed Tuesday that the presidential election will go on as planned on Feb. 26, despite Sepp Blatter and Michel Platini's current 90-day suspensions. FIFA will not rule on Platini's eligibility until after the ban is lifted, even though the Frenchman's bid came before the discipline was determined.
Platini's lawyer, Thibaud d'Ales, says that the Frenchman will use that time to plan his appeal, while FIFA's desicion not to ban him from running proved that Platini remained a "fully-fledged candidate."
D'Ales went on to say that Platini remains "calm, determined and impatient," regarding his proposed presidential run.
Here are some more news and notes to kick off your Friday morning:
MOURINHO BLASTS REFEREE FOLLOWING UCL LOSS
Settling for yet another a lackluster European result, Jose Mourinho opted to take his frustrations out on the referee yet again.
Mourinho stated that he believes referee Damir Skomina is "weak and naive" following Chelsea's 0-0 draw with Dynamo Kiev on Tuesday. The criticisms come on the heels of a $77,200 fine and one-game suspension from Premier League play following criticisms of an official following a  3-1 home loss to Southampton.
"The referee was weak and naive. It was a big penalty," Mourinho said of an incident that saw Cesc Fabregas taken down by Dynamo defender Sergiy Rybalka.
"I do not understand what the referee behind the goal does – he doesn't make a decision," Mourinho added. "When it's 0-0 and such a penalty is not given it's a huge moment. Once more it was a game without luck. A little bit of luck and we would win."
ENGLAND TO PLAY HOME GAMES AWAY FROM WEMBLEY AHEAD OF EURO 2016
For years, England have called Wembley Stadium the official home of the national team, and that appears to be set to change, at least temporarily.
The English FA revealed that the national team is set to play friendly games outside of Wembley in the run up to Euro 2016. The news comes on the heels of 100 staff cuts at the FA as the organization moves a large part of its operations from Wembley to St. George's Park.
"The England brand is more than London," said FA chief executive Martin Glenn. "We've effectively refinanced the stadium which gives us a lot more financial stability, so from next year we will be holding some England games out of Wembley and that is as good a guarantee as you are going to get. As part of that set of friendlies before the Euros, we would be anticipating using it then. Roy [Hodgson] would love to do it, because we will get a real buzz behind the team. We have not got contracts lodged, but that's what we would like to do.
"What you don't get at Wembley is, we have not got a home atmosphere. It's a bit quiet, partly because we have that middle tier of Club Wembley. It's not Fortress Wembley — in a way that actually if you go to Old Trafford or the Stadium of Light or the Etihad you will get a lot more buzz, and for 20,000 less people you will get that atmosphere."
In addition, Glenn revealed the possibility that Chelsea and Tottenham could share Wembley while their own stadiums are under development.
QUICK KICKS
Arsenal's Aaron Ramsey could miss six weeks after suffering a hamstring injury. (REPORT)
Inter Milan posted $84 million in losses in 2015 as the team pushes towards a Champions League qualification. (REPORT)
Norway's Molde has hired Ole Gunnar Solskjaer for a second stint as manager. (REPORT)
Borussia Dortmund midfielder Henrikh Mkhitaryan did not travel to Azerbaijan with the team due to security concerns. (REPORT)
—
What do you think of the latest Platini news? Surprised by Mourinho's comments? What stadiums should England play in going forward?
Share your thoughts below.