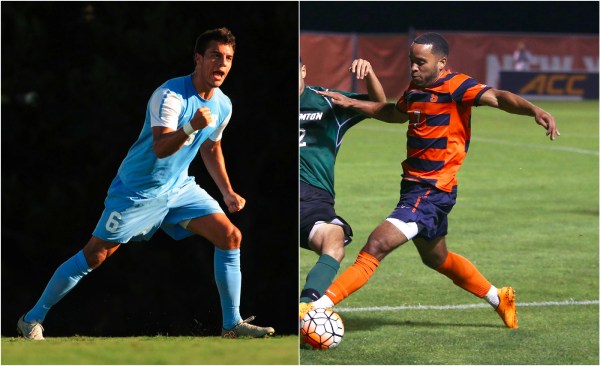 Photos by UNC, Syracuse Athletic Communications
By AARON CRANFORD
Another ACC showdown headlines this week's college soccer action, but two crucial games on the West Coast are also must-see.
SBI No. 2 North Carolina hosts No. 15 Syracuse, which jumped back into the SBI Top 25 this week after winning its fifth consecutive game, at Fetzer Field Saturday.
No. 3 Stanford arguably has the toughest weekend out of any team across the nation, and its most difficult test comes Sunday against Oregon State.
Friday, the Cardinal host Washington, and they'll look to add to their second-longest active win streak, eight games. Under head coach Jeremy Gunn, Stanford hasn't lost to the Beavers since 2011, winning five of the six contests since.
Meanwhile, No. 13 Old Dominion and No. 23 New Mexico meet in an intriguing C-USA battle at the ODU Soccer Complex. The Monarchs are on a seven-game unbeaten run and can improve that number against a struggling Lobos side that has dropped its first two conference games and is in dire need of a win.
Here is a rundown of where all of the top teams will be playing during the sixth weekend in men's college soccer:
THIS WEEKEND'S COLLEGE SOCCER SCHEDULE
FRIDAY
6 p.m. – Buffalo vs. (9) Akron
7 p.m. – South Carolina vs. Florida Atlantic
7 p.m. – Boston College vs. (6) Virginia
7 p.m. – North Carolina State vs. (4) Wake Forest
7 p.m. – (5) Clemson vs. Louisville
8:30 p.m. – Houston Baptist vs. (12) Seattle
9:30 p.m. – California vs. Oregon State
11 p.m. – (3) Stanford vs. Washington
SATURDAY
12 p.m. – (7) Notre Dame vs. Duke
12 p.m. – (10) Georgetown vs. Butler
1 p.m. – Campbell vs. (25) Radford
7 p.m. – (2) North Carolina vs. (15) Syracuse
7 p.m. – UNC Asheville vs. (8) Coastal Carolina
7 p.m. – (13) Old Dominion vs. (23) New Mexico
7 p.m. – (19) South Florida vs. Cincinnati
7 p.m. – (20) Hofstra vs. Delaware
7 p.m. – (17) UNC-Wilmington vs. Drexel
7 p.m. – (24) New Hampshire vs. Stony Brook
7 p.m. – (16) Xavier vs. Providence
8 p.m. – (22) Elon vs. Lipscomb
8 p.m. – (1) Creighton vs. St. John's
8 p.m. – Oral Roberts vs. (11) Denver
8 p.m. – (21) SMU vs. Connecticut
8 p.m. – UAB vs. (18) Florida International
10 p.m. – (14) UC Santa Barbara vs. Cal State Fullerton
SUNDAY
2 p.m. – UT Rio Valley Grande vs. (12) Seattle
4 p.m. – (3) Stanford vs. Oregon State