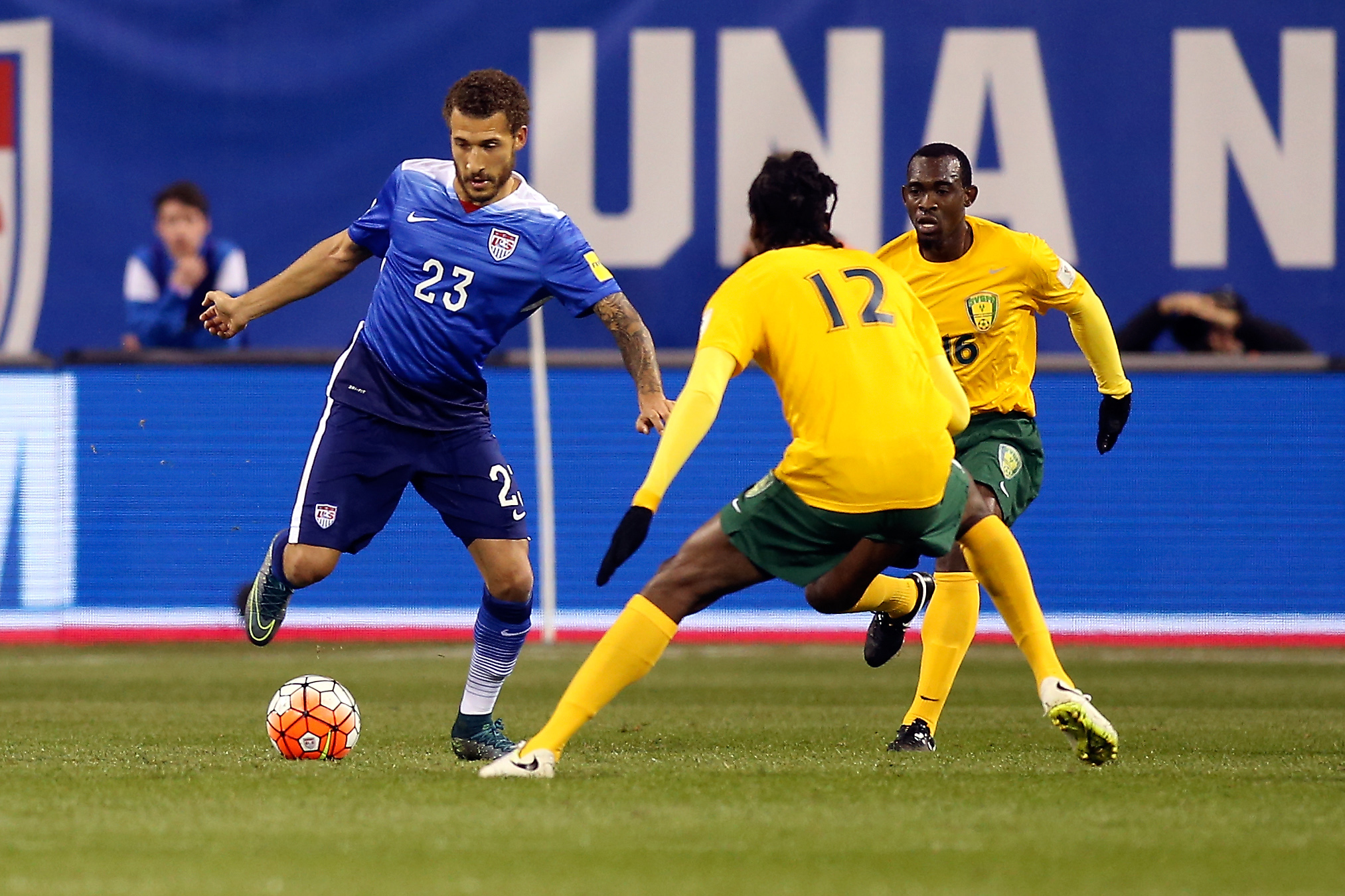 That is one way to stay out of the dog house.
After being sent home early and publicly criticized in the U.S. Men's National Team's October camp for a perceived lack of commitment, Johnson made a strong impression in his return to the field for the Americans on Friday. Johnson not only scored the game-winning goal in the U.S.'s first 2018 World Cup qualifier, a 6-1 home rout of St Vincent and the Grenadines, but he also stood out in the left-midfield role that he is currently thriving in at the club level.
The versatile Johnson was much more involved than at right back – where he has predominantly been deployed for the U.S. in recent years – and, naturally, found himself in more dangerous positions up the field. Johnson made the most of those opportunities at Busch Stadium in St Louis, Missouri, too, aggressively going at St Vincent and the Grenadines back line with a steady dose of his patented dribbling runs.
"Fabian is the type of player that when you ask him where he wants to play, he says, 'Anywhere.' (He can play) right back, left back, left midfield, right midfield, which is a nice thing to have," said U.S. head coach Jurgen Klinsmann. "Right now, he seems to really have his starting spot with Borussia Moenchengladbach in the left midfield, so we thought it might be a good idea to keep that consistency. He has a good run of games right now with his team, and we left it that way and we decided to (use) DeAndre Yedlin as a right back in a more attacking position because we know that he always wants to go forward anyway."
Klinsmann's tactical alteration initially looked like a big mistake, as Yedlin was at least partially to blame for the fifth-minute opener that Oalex Anderson scored. It proved effective, however, once the Americans settled into the match and found their attacking rhythm.
Johnson was a key figure in helping make that happen, taking turns exploiting the space down the left flank and cutting in to penetrate down the middle. On one play in the 15th minute with the score even at 1-1, the 27-year-old midfielder dribbled down St Vincent and the Grenadines' gut to draw the attention of several defenders. Johnson then astutely slipped a pass to a wide open Bobby Wood, who wasted the opportunity by floating his shot wide of the mark.
Johnson took matters into his own hands, or feet, and delivered his biggest contribution just before the half-hour mark. He fired a free kick from 19 yards out towards goal, and a drastic deflection from the St Vincent and Grenadines wall allowed the ball to nestle into the back of the net. The U.S. never trailed again.
"I said to Fabian before the game, 'It would be nice if you put one of your free kicks in the net,' because in training he (scores) four out of five," Klinsmann said. "It's about time to do that here, too, in a game. It was deflected, we saw that, too, but it's still nice that it's a goal."
Johnson's goal and overall performance at left midfield make it a safe bet that he is used in that position again on Tuesday when the Americans travel to Trinidad & Tobago for their second qualifier. Sure, it might be misguided to draw too many conclusions from a game as lopsided as Friday's, but Johnson has shown at the club level for weeks that he can make a real impact from the midfield.
It is not just his willingness to go at players that makes him stand out either.
"You want to have guys who are easy to play with, who give you the ball when it's good for you, who know how to move," said U.S. captain Michael Bradley. "When it's right to play one-touch, they play one-touch. When it's right to dribble, they dribble. Fabian's a good football player. He's smart. He has a football brain. You see that at times in terms of his versatility. He's able to play a number of different spots, and I think tonight, what he gave us tilted onto the left, was very good."
A tougher challenge awaits Johnson on Tuesday in the Caribbean, but another solid outing vs. T&T would further add to the argument that he should play primarily in the midfield and not in defense. It would also put last month's headline-grabbing incident with Klinsmann further in the rearview mirror.
"We have talked about it," said Johnson. "We are leaving it behind us and I'm glad that I'm here."