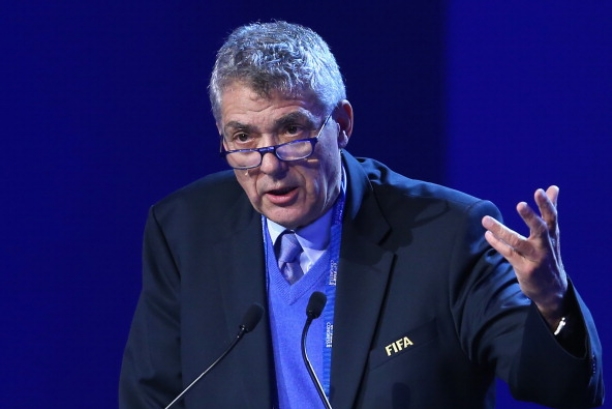 FIFA's Ethics Committee has had a busy week.
A day after narrowing the field for the current FIFA presidency race to five candidates, FIFA's Ethics Committee fined and warned Spanish soccer chief Angel Maria Villar.
Villar, who is the current vice president of FIFA, as well as vice president of UEFA, was fined $25,000 for his alleged misconduct in the contest to host the 2018 and 2022 World Cups. FIFA did not disclose which particular incident led to the fine, though.
Russia and Qatar will host the next two World Cups, respectively, but the Swiss attorney general's office is currently investigating the bidding process for both contests.
Villar has been president of the Spanish soccer federation since 1988 and a member of FIFA's executive committee since 1998.
Here are some more news and notes:
RONALDO PREDICTS MESSI WILL WIN BALLON D'OR
Cristiano Ronaldo may think of himself as the best player in the world, but he also believes the FIFA Ballon d'Or award will not be his this year.
In spite of winning the Ballon d'Or the previous two years, the Portuguese star, 30, says that Lionel Messi will claim the annual award after winning the treble — a Liga BBVA title, a Copa del Rey title and a UEFA Champions League title — with Barcelona during the 2014-15 campaign.
"To be honest I think Messi is going to win this year because this kind of trophy, it depends on votes," Ronaldo said on ITV's The Jonathan Ross Show, which will air on Saturday.
"You win competitions, you win Champions League, you win the league in terms of individual. I did probably the best season of my career which is good and I was the highest scorer in Europe [but] it's all about votes, it's difficult and to be honest I'm not very worried about that because as I said many times, I never thought I'd win three times to be honest."
FABREGAS STANDS BEHIND MOURINHO
Jose Mourinho and Chelsea may not be finding good results on the field, but the players, including a crucial member, have apparently not given up on their coach.
Chelsea has lost seven games out of its 12 EPL contests this season, but midfielder Cesc Fabregas told Goal.com that he is in full support of his boss.
"I am the first to defend our manager tooth and nail from the first minute when some began to doubt and I will continue to do so," Fabregas said. "The manager has helped me a lot in the year and a half I have been at Chelsea and I will always be grateful to him.
"The only thing I want is for the team to be strong, to keep winning and to get better, because right now we are not going through a great moment."
Fabregas has failed to register a goal and has only recorded one assist to the start of the 2015-16 campaign.
QUICK KICKS:
Hungary shocked Norway with a 1-0 win in Oslo, as Laszlo Kleinheisler's first-half goal gave his side the advantage in the pair's Euro 2016 playoff match.
Borussia Monchengladbach has permanently hired Andre Schubert as head coach after he was appointed interim manager for the German club in September. (REPORT)
Despite ending the game with 10 men, Morocco topped Equatorial Guinea, 2-0, in the first leg of the second round of CAF World Cup qualifying.
Andorra fell, 1-0, to Caribbean side Saint Kitts and Nevis, thanks to a lone goal from Devaughn Elliott.
Jurgen Klopp will have an opportunity to examine first-team players in a friendly against Wolverhampton, as Philippe Coutinho and Roberto Firmino are a couple of players who will start on Friday. (REPORT)
Macedonia recorded a 4-1 win against Montenegro during a friendly in front of an empty stadium. (REPORT)