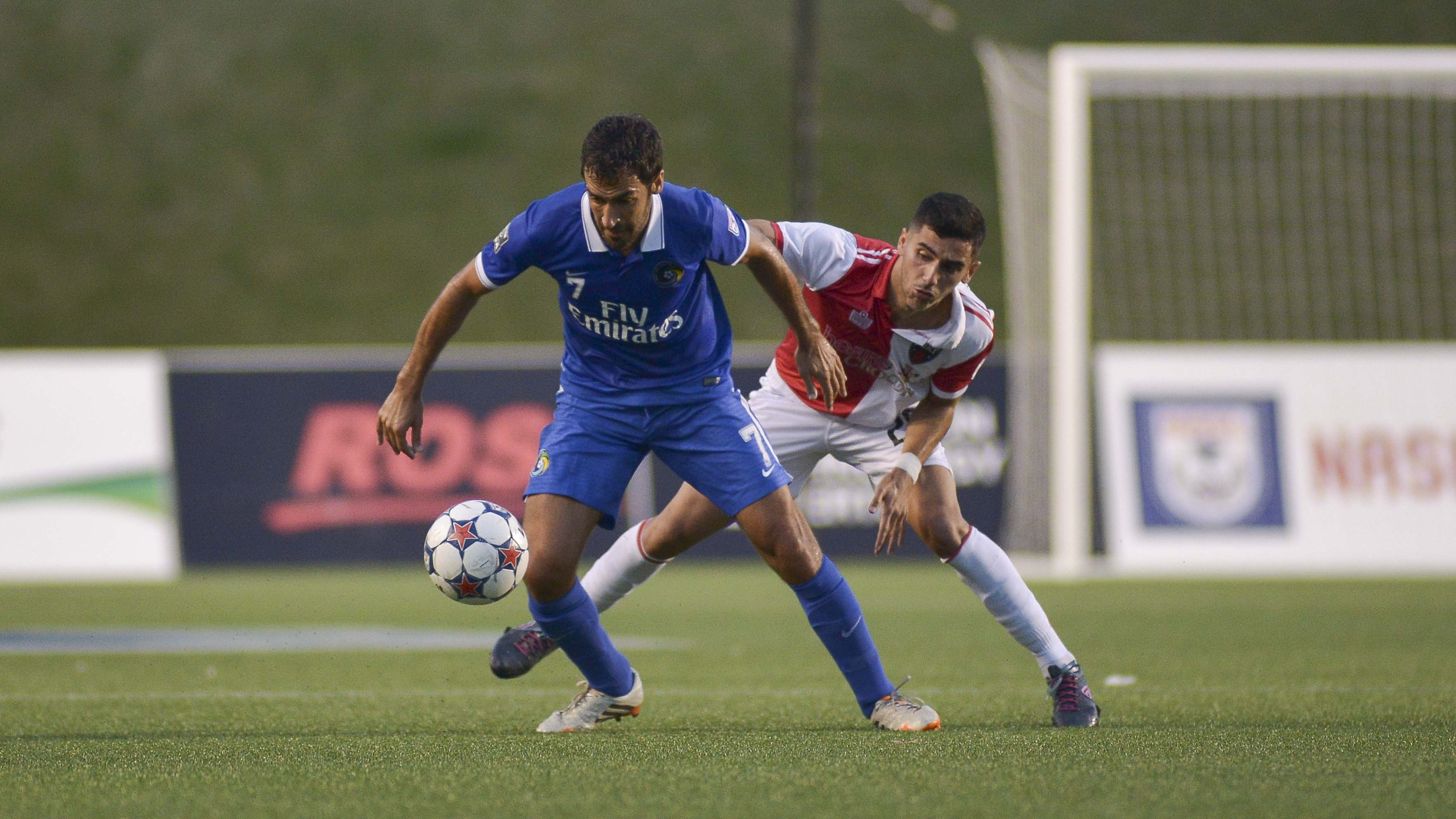 NEW YORK – Sunday's NASL finale between the New York Cosmos and Ottawa Fury FC has all the feel of a potential storybook ending.
Pitting the league's top two teams, each of which boasts vastly different styles and budgets, Sunday's championship game appears to be a matchup of the right teams.
On one hand, the Cosmos ran away with the Spring Season, utilizing big-money players and a supremely talented roster to dominate throughout the entire campaign. On the other, sophomore Fury FC rode a team mentality and an unprecedented hot-streak all the way to a spectacular Fall run that yielded just one loss in 20 games.
Meanwhile, Cosmos stars Marcos Senna and Raul enter what will be their final games. With retirement looming, what better way would there be to go out then by lifting one final trophy to register an emphatic ending to their illustrious careers?
Unfortunately for the Cosmos, Fury FC is far from ready to concede their first-ever final because of any storybook endings and feel-good moments.
"We respect them a lot," head coach Marc Dos Santos said in a press conference Friday. "What can we say about Raul and Senna? There's a lot of respect for those players. We're in a bubble. At the moment, the Ottawa Fury are in their world and are very focused on winning.
"There's nothing wrong with Raul retiring and us winning the league. We say that with a lot of respect, but we want to make sure it's a big day for the Ottawa Fury, and that's what we have to think about."
Fury FC have their own endings to plan, as Dos Santos takes charge of his final NASL game before leaving for a job in MLS. Under Dos Santos, Fury FC vaulted from ninth in the Spring all the way to Sunday's title game, earning Dos Santos recognition as NASL Coach of the Year.
Fury FC's turnaround, captain Richie Ryan says, comes down to execution in the final third. Always stout on defense, Fury FC's attack came alive in the summer and fall months led by Tom Heinneman, who netted twice in the NASL semifinal to lead Fury FC past Minnesota United.
Throughout the memorable Fall campaign, one of Fury FC's biggest statements came against Sunday's opponents. In a battle of two of the league's contenders, Fury FC thrashed the Cosmos, 4-1, to reveal themselves as true contenders.
"As I always say, for me, every game is a new game," Savarese said. "Every game has to be prepared for by itself. We cannot look at history or all of the games we have played against each other. We plan accordingly for this game.
"Nevertheless, there are some things we take from that night, but I think it's going to be a different game. It's going to be a final. It's going to be at home, which is exciting, so I think it will be a very good match for the two teams to be in."
While Fury FC may have recent history on their side, the Cosmos enter Sunday with the experience of a championship run.
Having claimed the 2013 championship, the Cosmos knew how valuable it could be to lock up the top overall seed, something the club did in its final game by earning a tiebreaker over Fury FC.
With that home game now on the horizon, the Cosmos return several players from their title-winning roster, including captain Carlos Mendes.
"I think, for me, a final is controlling your emotions," Mendes said. "Everybody is excited, obviously. Everyone is motivated. I think, for us, the key is to stick to the game plan and to do what we do well. That's the hardest part because emotions are running high. Guys are extra motivated so those are very key."
"When you have guys who have been there before, they know the expectations," Savarese added. "They have played with a lot of people in the stadium in important matches. They understand how to manage the emotions that Carlos is talking about."
Savarese said playing at home should be a key to managing those emotions, given the familiarity that comes with taking the field at Shuart Stadium. The Cosmos head coach insists that the locker room is as calm as could be given the circumstances, citing a general "good feeling" among the players and team.
Those good vibes extend to Fury FC, as both teams enter Saturday with all of the momentum and confidence in the world.
"I think that, all year, we were two teams that battled very close with each other in a very fair battle," Dos Santos said. "We're the two teams that deserve to be in the final. For fans, it's an exciting one. It's a final between two teams that are different, that play with a lot of very good quality.
"We're at the right place at the right time," Dos Santos added. "This is where we want to be."