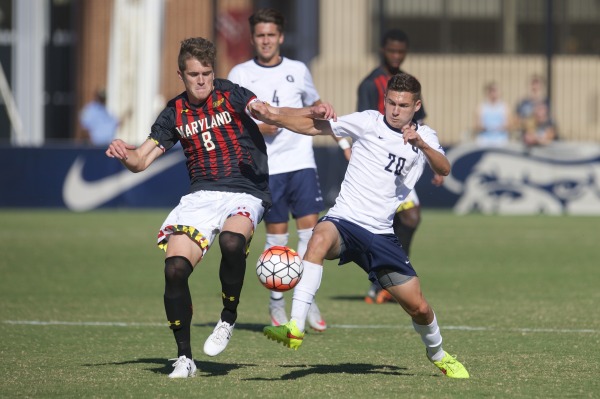 Reigning national champions Virgina Cavaliers begin their run at a repeat title, as the NCAA Tournament kicks off today with First Round matches.
There are a handful of teams, including five from the ACC, that have proven to be superb this season, but this competition is known to have a few surprises each and every year. Georgetown, Syracuse and Maryland enter this year's tournament on a high after winning their respective conference tournament titles.
Meanwhile, the competition has no shortage of pro prospects to keep an eye on, with Stanford forward Jordan Morris, Georgetown defender Joshua Yaro, Creighton forward Fabian Herbers and UCLA attacker Abu Danladi all in the mix.
Here is a closer look at how the tournament stacks up, including the schedule, our sleeper picks, players to watch and tournament predictions:
2014 NCAA TOURNAMENT
WAKE FOREST BRACKET
(1st Round matches in bold)
7:30 p.m. – Charlotte vs. Radford; winner at (1) Wake Forest on Sunday.
12:30 p.m. – UConn vs. Boston U.; winner at (16) Indiana on Sunday.
7 p.m. – Dayton vs. Oakland; winner at (9) Ohio State on Sunday.
10 p.m. – CSU Fullerton vs. Santa Clara; winner at (8) Stanford on Sunday.
PLAYERS TO WATCH – Jack Harrison (Wake Forest), Jordan Morris (Stanford), Corey Baird (Stanford), Tanner Thompson (Indiana), Andrew Gutman (Indiana)
SLEEPER – Indiana. The Hoosiers had a rocky start to their season, but finished strong and are currently on a seven-game unbeaten run. History is also on the Hoosiers' side. In the past three NCAA tournaments, two champions were the No. 16 seed, including the 2012 title-winners — the Indiana Hoosiers.
FAVORITE – Wake Forest. While the Demon Deacons were unable to claim the ACC tournament, they showed throughout the year that they are a force to be reckoned with. Freshman Jack Harrison, senior Michael Gamble and sophomore Jon Bakero have been great this campaign.
SBI PICKS – Stanford beats Wake Forest in Elite Eight; Indiana and Ohio State fall in Round of 16; Radford, UConn, Dayton and CSU Fullerton win the first-round matches.
——————————
GEORGETOWN BRACKET
7 p.m. – Hofstra vs. Lehigh; winner at (3) Georgetown on Sunday.
6 p.m. – Boston College vs. Vermont; winner at (14) South Florida on Sunday.
10 p.m. – UCLA vs. Cal Poly; winner at (11) Seattle on Sunday.
5 p.m. – Dartmouth vs. Hartwick; winner at (6) Syracuse on Sunday.
PLAYERS TO WATCH – Julian Buescher (Syracuse), Abu Danladi (UCLA), Alex Muyl (Georgetown), Joshua Yaro (Georgetown)
SLEEPER – UCLA. One could argue that a historic powerhouse and 2014 College Cup runner-up cannot enter a tournament as an underdog, but inevitably the Bruins do. Despite a roller-coaster season, the offense has been clicking day in, day out for the Bruins. If Abu Danladi, Jose Hernandez and Seyi Adekoya keep scoring more than the Bruis concede, this team can go far.
FAVORITE – Georgetown. What is there more to say? The Hoyas enter this postseason tournament on a 16-game unbeaten streak and just won both the Big East regular season title and conference tournament title.
SBI PICKS – Georgetown beats Syracuse; South Florida and UCLA fall in Round of 16; Hofstra, Boston College, UCLA and Dartmouth win the first-round matches.
——————————
AKRON BRACKET
7 p.m. – Rutgers vs. LIU Brooklyn; winner at (4) Akron on Sunday.
8 p.m. – SMU vs. Utah Valley; winner at (13) Denver on Sunday.
6 p.m. – Coastal Carolina vs. North Florida; winner at (5) North Carolina on Sunday.
7 p.m. – Kentucky vs. Drake; winner vs. (12) Creighton, 1:30pm on Sunday.
PLAYERS TO WATCH – Jonathan Campbell (North Carolina), Callum Irving (Kentucky), Fabian Herbers (Creighton), Adam Najem (Akron)
SLEEPER – Denver. The nation's only unbeaten team can't possibly be an underdog, but when it's paired with national powerhouses like Akron, North Carolina and Creighton, the Pioneers are just that. Still, they have proven that they can compete, and usually come out on top, with anyone they face up against.

FAVORITE – North Carolina. Akron may be the highest seed on this side of the bracket, but the Tar Heels have only lost once this whole season. The Tar Heels have a two-fold attack in the pacey Alan Winn and the physical Tucker Hume that has proven to be devastating at times, and senior Jonathan Campbell has been a rock in defense.

SBI PICKS – North Carolina beats Denver in Elite Eight; Creighton and Akron fall in Round of 16; Rutgers, SMU, Kentucky and North Florida win the first-round matches.
——————————
CLEMSON BRACKET
7 p.m. – Elon vs. Winthrop; winner vs. (2) Clemson on Sunday.
7 p.m. – South Carolina vs. Furman; winner vs. (15) UC Santa Barbara on Sunday.
8 p.m. – Tulsa vs. FIU; winner vs. (7) Notre Dame on Sunday.
7 p.m. – Virgina vs. Rider, winner vs. (10) Maryland on Sunday.
PLAYERS TO WATCH – Mael Corboz (Maryland), Jake Rozhansky (Virginia), T.J. Casner (Clemson), Patrick Hodan (Notre Dame)
SLEEPER – Elon. The Phoenix did not finish their season on the strongest of notes, but the NCAA Tournament is a different beast altogether. They have shown that they are capable of taking down tops dogs, as the Phoenix defeated No. 1 overall seed Wake Forest on the road earlier this season. Can they produce similar results now?

FAVORITE – Clemson. With 15 wins and just two losses thus far, the Tigers are another ACC member that can beat anyone all over the field. T.J. Casner, Kyle Murphy and Austen Burnike are just a few among the many on this Tigers squad that can cause problems for any opponent.
SBI PICKS – Maryland beats Clemson in Elite Eight; UC Santa Barbara and Notre Dame fall in Round of 16; Tulsa, Virginia, Furman, Winthrop win first-round matches.
——————————
COLLEGE CUP
SBI NCAA FINAL FOUR PICKS – Georgetown beats Maryland, Stanford beats North Carolina.
SBI NCAA FINAL PICK – Georgetown beats Stanford.
————–
Which team do you see winning the NCAA title this year? Which match-ups are you most looking forward to? What players are you most interested in seeing play?