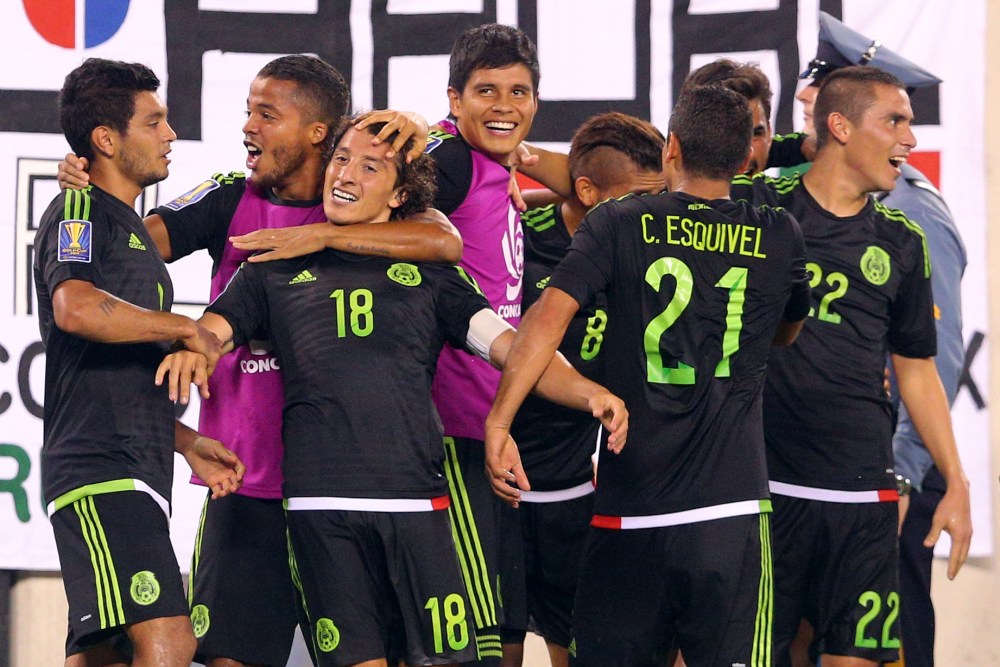 The Juan Carlos Osorio era officially begins for Mexico this weekend as El Tri competes in its first match under the new head coach when it hosts El Salvador at Estadio Azteca to begin its World Cup qualifying process.
That contest will be one of the six CONCACAF fixtures on Friday night, with the U.S. Men's National Team-St. Vincent and the Grenadines fixture leading things off at 6:30 p.m. before Peru-Paraguay caps the evening with a kickoff at 10 p.m.
Meanwhile in Europe, eight countries will begin their battles for the last four tickets to France for Euro 2016. Bosnia and Herzegovina, the highest FIFA-ranked team among the playoff teams, will be in action when it takes on Robbie Keane and Ireland. Zlatan Ibrahimovic and Sweden, meanwhile, will host Denmark.
As for some of those who have already secured a spot to next year's continental tournament, they will participate in a couple of enticing friendlies that will feature matches such as Spain-England, Belgium-Italy and France-Germany.
To wrap the weekend action up on Sunday, the U.S. U-23s team will look to have a better outing against the Brazil U-23s during their second meeting in five days, while NASL crowns a new champion between the New York Cosmos and Ottawa Fury.
Here is a rundown of this weekend's soccer on TV.
FRIDAY
FIFA WORLD CUP QUALIFYING
7 a.m. — beIN Sports Connect — Comoros vs. Ghana
8:30 a.m. — beIN Sports Connect — Libya vs. Rwanda
10 a.m. — beIN Sports Connect — Niger vs. Cameroon
11 a.m. — beIN Sports Connect — Liberia vs. Ivory Coast
Noon — beIN Sports Connect — Mauritania vs. Tunisia
Noon — beIN Sports Connect — Swaziland vs. Nigeria
6:30 p.m. — ESPN2/WatchESPN/UniMás/Univision Deportes — United States vs. St. Vincent and the Grenadines
8:06 p.m. — NBC Universo — Guatemala vs. Trinidad and Tobago
9 p.m. — UniMás/Univision Deportes — Mexico vs. El Salvador
9 p.m. — beIN Sports Connect — Costa Rica vs. Haiti
9 p.m. — beIN Sports USA/beIN Sports Connect — Jamaica vs. Panama
10 p.m. — beIN Sports en Español/beIN Sports Connect — Peru vs. Paraguay
UEFA EURO QUALIFYING
2:45 p.m. — ESPN2/WatchESPN/ESPN Deportes — Bosnia and Herzegovina vs. Ireland
INTERNATIONAL FRIENDLY
2:30 p.m. — ESPN3/WatchESPN/ESPN Deportes + — Czech Republic vs. Serbia
2:45 p.m. — ESPN3/WatchESPN/ESPN Deportes + — Spain vs. England
2:45 p.m. — ESPN3/WatchESPN/ESPN Deportes + — Belgium vs. Italy
2:45 p.m. — beIN Sports Connect — Poland vs. Iceland
2:45 p.m. — ESPN3/WatchESPN — Slovakia vs. Switzerland
3 p.m. — ESPN3/WatchESPN/ESPN Deportes + — France vs. Germany
NCAA MEN
1 p.m. — Big Ten Network — Ohio State vs. Rutgers
3:30 p.m. — Big Ten Network — Indiana vs. Maryland
NCAA WOMEN
6 p.m. — SEC Network + — UNC-Wilmington vs. South Carolina
8 p.m. — SEC Network + — Washington vs. Texas A&M
8:30 p.m. — SEC Network + — Murray State vs. Ole Miss
SATURDAY
FIFA WORLD CUP QUALIFYING
8:30 a.m. — beIN Sports USA/beIN Sports Connect — Tanzania vs. Algeria
9:30 a.m. — beIN Sports en Español/beIN Sports Connect — Chad vs. Egypt
UEFA EURO QUALIFYING
Noon — ESPN3/WatchESPN/ESPN Deportes — Ukraine vs. Slovenia
2:45 p.m. — Fox Sports 2/Fox Sports Go/Fox Soccer 2Go/Fox Deportes — Sweden vs. Denmark
INTERNATIONAL FRIENDLY
9 a.m. — ESPN3/WatchESPN/ESPN Deportes — Portugal vs. Russia
7 p.m. — WatchESPN/ESPN Deportes — Cuba vs. Santos Laguna
MEXICAN LIGA MX
9 p.m. — NBC Universo/NBC Deportes en Vivo Extra — Pachuca vs. Cruz Azul
NCAA MEN
7 p.m. — ESPN3 — USC Upstate vs. North Florida
NCAA WOMEN
7 p.m. — SEC Network + — Western Michigan vs. Florida
7 p.m. — SEC Network + — Southeastern Louisiana vs. Auburn
SUNDAY
FIFA WORLD CUP QUALIFYING
8 a.m. — beIN Sports USA/beIN Sports en Español/beIN Sports Connect — Zambia vs. Sudan
10 a.m. — beIN Sports USA/beIN Sports en Español/beIN Sports Connect — Equatorial Guinea vs. Morocco
2 p.m. — beIN Sports USA/beIN Sports en Español/beIN Sports Connect — Guinea vs. Namibia
UEFA EURO QUALIFYING
2:45 p.m. — ESPN/WatchESPN/ESPN Deportes — Hungary vs. Norway
INTERNATIONAL FRIENDLY
4 p.m. — Fox Sports 1/Fox Sports Go — Brazil U-23 vs. United States U-23
CLUB FRIENDLY
7 p.m. — WatchESPN/ESPN Deportes — Pumas UNAM vs. Morelia
NASL CHAMPIONSHIP
5 p.m. — ESPN3/WatchESPN/One World Sports — New York Cosmos vs. Ottawa Fury