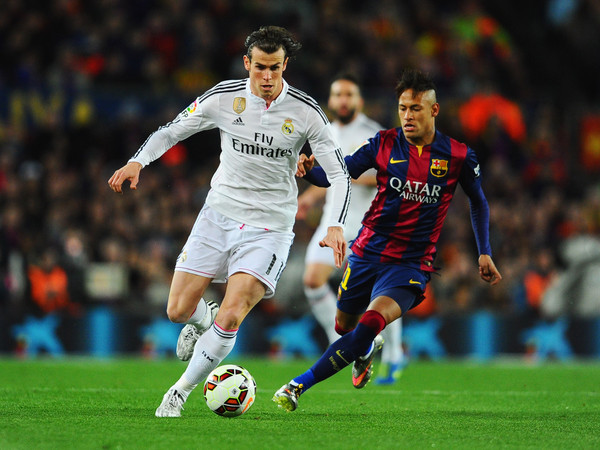 It's El Clasico weekend in European soccer and the 263rd meeting between Real Madrid and Barcelona is not short of storylines leading up to the match.
The biggest of them all, of course, is the status of Lionel Messi. The Barça talisman suffered an internal collateral ligament injury to his left knee on Sept. 26, and his role for Saturday's clash has yet to be confirmed as of Thursday.
Similar injury concerns surround Real Madrid as well, as Los Blancos are still waiting to see whether No. 1 goalkeeper Keylor Navas and striker Karim Benzema will be fit to take the pitch and help them close the three-point gap with Barcelona atop the league table.
The referee for this highly anticipated contest draws some interesting attention as well, as David Fernandez Borbalan will oversee a Clasico for the third time in his career. Borbalan was the official in the second leg of the Spanish Super Cup in 2011, where he handed out seven yellow cards and three reds in a contest that had no shortage of tensions flaring. How he will manage the physicality during Saturday's match could play somewhat of a factor again.
Meanwhile in England, Manchester City will look to create some separation atop the English Premier League table when it hosts Jürgen Klopp and Liverpool. City is currently tied with Arsenal, which is visiting West Brom, at the top while leading third-place Leicester City (at Newcastle) and fourth-place Manchester United (at Watford) by one and two points, respectively.
Elsewhere in Europe, despite all the recent world events developing in the countries on the continent, leagues like the Bundesliga and Ligue 1 will carry on as scheduled, though under the condition that no away fans will be allowed for the French competitions.
Bayern Munich and Paris Saint-Germain will lead the way for those two leagues in matches against Schalke 04 and Lorient, respectively.
Stateside, MLS Playoffs resume with the first leg of the conference finals when Columbus hosts New York Red Bulls and FC Dallas visits Portland Timbers.
Here is the rundown for this weekend's Soccer on TV:
FRIDAY
GERMAN BUNDESLIGA
2:30 p.m. — Fox Sports 2/Fox Sports Go/Fox Soccer 2Go/Fox Deportes — Hamburg SV vs. Borussia Dortmund
MEXICAN LIGA MX
8:30 p.m. — Univision Deportes — Querétaro vs. Puebla
ENGLISH LEAGUE CHAMPIONSHIP
2:45 p.m. — beIN Sports USA/beIN Sports Connect — Middlesbrough vs. Queens Park Rangers
SCOTTISH LEAGUE CHAMPIONSHIP
2:45 p.m. — Fox Soccer Plus/Fox Soccer 2Go — St. Mirren vs. Greenock Morton
SATURDAY
ENGLISH PREMIER LEAGUE
7:45 a.m. — NBCSN/NBC Sports Live Extra/NBC Universo — Watford vs. Manchester United
10 a.m. — NBCSN/NBC Sports Live Extra/NBC Universo — Chelsea vs. Norwich City
10 a.m. — NBC Sports Live Extra — Everton vs. Aston Villa
10 a.m. — NBC Sports Live Extra — West Bromwich Albion vs. Arsenal
10 a.m. — NBC Sports Live Extra — Swansea City vs. Bournemouth
10 a.m. — NBC Sports Live Extra — Newcastle United vs. Leicester City
10 a.m. — NBC Sports Live Extra — Southampton vs. Stoke City
12:30 p.m. — NBCSN/NBC Sports Live Extra/NBC Universo/Telemundo — Manchester City vs. Liverpool
SPANISH LA LIGA
10 a.m. — beIN Sports Connect — Real Sociedad vs. Sevilla
12:15 p.m. — beIN Sports USA/beIN Sports en Español/beIN Sports Connect — Real Madrid vs. Barcelona
2:30 p.m. — beIN Sports Connect — Espanyol vs. Málaga
4 p.m. — beIN Sports Connect — Valencia vs. Las Palmas
4:05 p.m. — beIN Sports Connect — Deportivo La Coruña vs. Celta de Vigo
GERMAN BUNDESLIGA
9:30 a.m. — Fox Soccer 2Go — Borussia Mönchengladbach vs. Hannover 96
9:30 a.m. — Fox Soccer Plus/Fox Soccer 2Go — VfL Wolfsburg vs. Werder Bremen
9:30 a.m. — Fox Soccer 2Go — VfB Stuttgart vs. Augsburg
9:30 a.m. — Fox Sports 1/Fox Sports Go/Fox Soccer 2Go/Fox Deportes — Eintracht Frankfurt vs. Bayer Leverkusen
9:30 a.m. — Fox Soccer 2Go — Cologne vs. Mainz
12:30 p.m. — Fox Soccer Plus/Fox Soccer 2Go — Schalke 04 vs. Bayern Munich
FRENCH LIGUE 1
11 a.m. — beIN Sports Connect — Lorient vs. Paris Saint-Germain
2 p.m. — beIN Sports Connect — AS Monaco vs. Nantes
2 p.m. — beIN Sports Connect — Guingamp vs. Toulouse
2 p.m. — beIN Sports Connect — Montpellier vs. Reims
ITALIAN SERIE A
Noon — beIN Sports Connect — Bologna vs. AS Roma
2:45 p.m. — beIN Sports USA/beIN Sports en Español/beIN Sports Connect — Juventus vs. Milan
MEXICAN LIGA MX
6 p.m. — Univision Deportes/Univision — Club América vs. Pumas UNAM
8 p.m. — Univision Deportes — Tigres UANL vs. Cruz Azul
9 p.m. — NBC Universo/NBC Deportes en Vivo Extra — León vs. Dorados
10 p.m. — Univision Deportes — Chiapas vs. Pachuca
ENGLISH LEAGUE CHAMPIONSHIP
7:30 a.m. — beIN Sports USA/beIN Sports Connect — Bristol City vs. Hull City
10 a.m. — beIN Sports Connect — Leeds United vs. Rotherham United
DUTCH EREDIVISIE
2:45 p.m. — Univision Deportes — Willem II vs. PSV Eindhoven
SUNDAY
ENGLISH PREMIER LEAGUE
11 a.m. — NBCSN/NBC Sports Live Extra/Telemundo — Tottenham vs. West Ham United
SPANISH LA LIGA
6 a.m. — beIN Sports Connect — Sporting Gijón vs. Levante
10 a.m. — beIN Sports en Español/beIN Sports Connect — Villarreal vs. Eibar
12:15 p.m. — beIN Sports en Español/beIN Sports Connect — Granada vs. Athletic Bilbao
2:30 p.m. — beIN Sports en Español/beIN Sports Connect — Real Betis vs. Atlético Madrid
GERMAN BUNDESLIGA
9:30 a.m. — Fox Sports 1/Fox Sports Go/Fox Soccer 2Go — Hertha Berlin vs. Hoffenheim
11:30 a.m. — Fox Sports 2/Fox Sports Go/Fox Soccer 2Go/Fox Deportes — Ingolstadt vs. Darmstadt
FRENCH LIGUE 1
11 a.m. — beIN Sports USA — Rennes vs. Bordeaux
ITALIAN SERIE A
6:30 a.m. — beIN Sports USA — Hellas Verona vs. Napoli
9 a.m. — beIN Sports USA — Fiorentina vs. Empoli
2:45 p.m. — beIN Sports USA — Inter vs. Frosinone
MEXICAN LIGA MX
1 p.m. — Univision Deportes/Univision — Toluca vs. Monterrey
6 p.m. — Univision Deportes/UniMas — Guadalajara vs. Santos Laguna
MLS
5 p.m. — ESPN/ESPN Deportes/WatchESPN/MLS Live — Columbus Crew vs. New York Red Bulls
7:30 p.m. — Fox Sports 1/Fox Sports Go/Fox Deporte/MLS Live — Portland Timbers vs. FC Dallas
SCOTTISH LEAGUE CHAMPIONSHIP
7:30 a.m. — Fox Soccer Plus/Fox Soccer 2Go — Hamilton Academical vs. Aberdeen