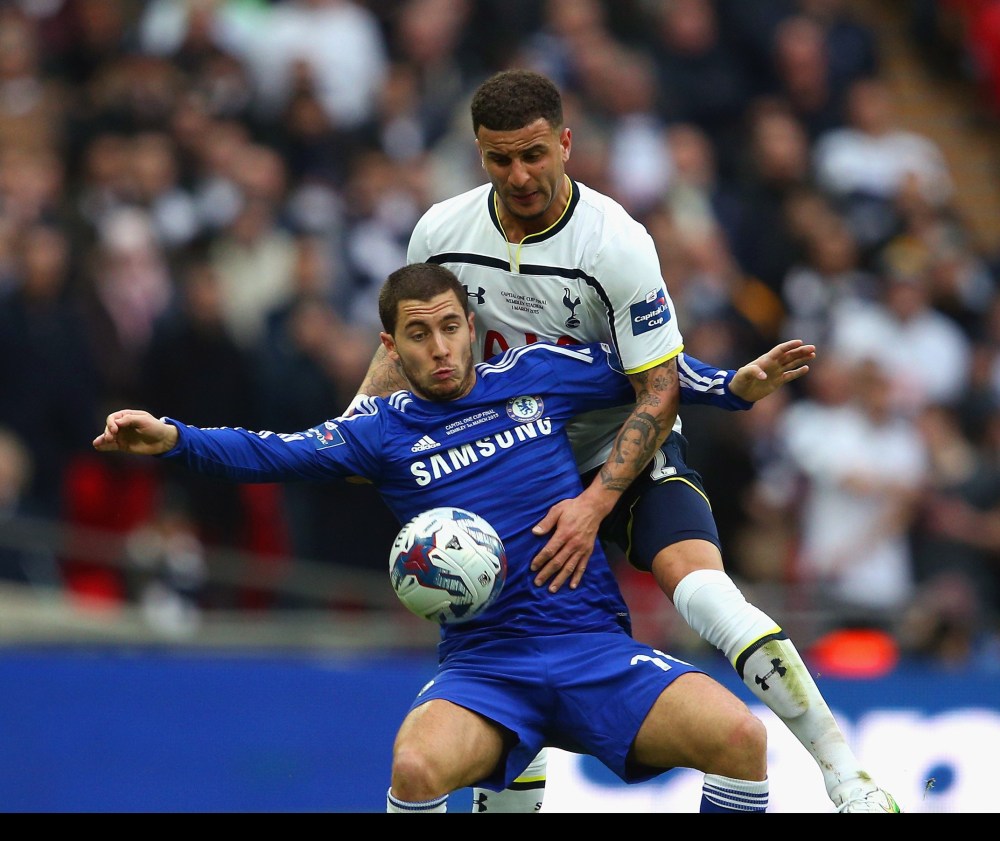 When the current English Premier League season began, Chelsea and Leicester City would have been expected to wind up on opposite ends of the standings. That has become the case, though neither team is where many would have expected them to be.
Chelsea is in 15th place in the EPL, and will be looking to continue its climb toward more familiar territory when it faces arch-rival Tottenham on Sunday. Tottenham is on a roll, having won three of four matches to close the gap on the top four to just two points, but beating a desperate Chelsea side may not be easy.
Leicester City will look to continue its improbable start to the season by beating Manchester United in a battle of the top two teams in the league. The Foxes have won four straight behind the highest-scoring attack in the league, but Manchester United's stingy defense could cause problems for the most surprising team in European soccer.
In Germany, Bayern Munich puts its perfect league record on the line against a surprising Hertha Berlin side
FC Barcelona returns to action on Saturday, with a clash against Real Sociedad. Luis Enrique's men are playing some of the best soccer in the world and will look to put on another show after destroying AS Roma in mid-week UEFA Champions League action.
The MLS playoffs will determine the finalists for the 2015 MLS Cup on Sunday with the second legs of the conference finals. The New York Red Bulls will look to erase a 2-0 first-leg deficit against the Columbus Crew, while FC Dallas will attempt to overcome a 3-1 first-leg deficit against the Portland Timbers.
Here is a rundown of This Weekend's Soccer on TV:
SATURDAY
7:15 a.m. – Fox Soccer Plus/Fox Soccer 2 Go – Glasgow Rangers vs. St. Mirren
7:30 a.m. – beIN Sports – Charlton Athletic vs. Ipswich Town
9:30 a.m. – Fox Sports 1 – Bayern Munich vs. Hertha BSC
9:30 a.m. – Fox Sports 2 – Hoffenheim vs. Borussia Moenchengladbach
9:30 a.m. – GolTV / Fox Soccer 2 Go – Werder Bremen vs. Hamburg
9:30 a.m. – Fox Soccer 2 Go – Hannover 96 vs. FC Ingolstad
9:30 a.m. – Fox Soccer 2 Go – Mainz 05 vs. Eintracht Frankfurt
10 a.m. – beIN Sports – Barcelona vs. Real Sociedad
10 a.m. – NBC Sports – Manchester City vs. Southampton
10 a.m. – NBC Sports Live Extra – AFC Bournemouth vs. Everton
10 a.m. – NBC Sports Live Extra – Crystal Palace vs. Newcastle United
10 a.m. – NBC Sports Live Extra – Sunderland vs. Stoke City
10 a.m. – NBC Sports Live Extra – Aston Villa vs. Watford
11 a.m. – beIN Sports Connect – Paris St. Germain vs. Troyes
12 p.m. – beIN Sports Connect – Torino vs. Bologna
12:30 p.m. – NBC – Leicester City vs. Manchester United
2 p.m. – beIN Sports Connect – Angers vs. Lille
2 p.m. – beIN Sports Connect – Nantes vs. Bastia
2 p.m. – beIN Sports Connect – Toulouse vs. Nice
2:45 p.m. – beIN Sports – AC Milan vs. Sampdoria
3:45 p.m. – Univision Deportes – Tondela vs. FC Porto
4:30 p.m. – ESPN3 – Fluminense vs. Internacional
5 p.m. – GolTV – Plaza Colonia vs. Penarol
7 p.m. – Univision/Univision Deportes – Chiapas vs. Tigres UANL
9 p.m. – Telemundo/NBC Universo – Club Leon vs. Club America
SUNDAY
6 a.m. – beIN Sports Connect – Getafe vs. Villarreal
7 a.m. – USA Network/Telemundo/NBC Sports Live Extra – Tottenham vs. Chelsea
7:15 a.m. – Fox Soccer Plus/Fox Soccer 2 Go – Inverness vs. Celtic
8 a.m. – beIN Sports Connect – Saint Etienne vs. Guingamp
9 a.m. – USA Network/NBC Sports Live Extra – West Ham United vs. West Bromwich Albion
9 a.m. – beIN Sports Connect – Chievo vs. Udinese
9 a.m. – beIN Sports Connect – Frosinone vs. Hellas Verona
9 a.m. – beIN Sports Connect – Genoa vs. Carpi
9 a.m. – beIN Sports Connect – AS Roma vs. Atalanta
9:30 a.m. – Fox Sports 1 – Borussia Dortmund vs. Stuttgart
10 a.m. – beIN Sports – Eibar vs. Real Madrid
10:45 a.m. – Univision Deportes – PSV Eindhoven vs. AZ Alkmaar
11 a.m. – beIN Sports Connect – Bordeaux vs. Caen
11:15 a.m. – NBC Sports Network/Telemundo – Liverpool vs. Swansea City
11:15 a.m. – DirecTV / NBC Sports Live Extra – Norwich City vs. Arsenal
11:30 a.m. – Fox Sports 1 – Bayer Leverkusen vs. Schalke 04
11:30 a.m. – Fox Sports 2 – Augsburg vs. Wolfsburg
12 p.m. – beIN Sports Connect – Empoli vs. Lazio
12:15 p.m. – beIN Sports Espanol – Rayo Vallecano vs. Athletic Bilbao
1 p.m. – Univision/Univision Deportes – Pumas UNAM vs. Veracruz
1 p.m. – ESPN3 – Indiana vs. Wake Forest
2 p.m. – GolTV – Vasco da Gama vs. Santos
2 p.m. – ESPN3 – Maryland vs. Notre Dame
2:30 p.m. – beIN Sports Espanol – Sevilla vs. Valencia
2:45 p.m. – beIN Sports – Palermo vs. Juventus
3 p.m. – beIN Sports Connect – Olympique Marseille vs. Monaco
5 p.m. – ESPN/ESPN Deportes – FC Dallas vs. Portland Timbers
6 p.m. – Univision/Univision Deportes – Toluca vs. Puebla
6 p.m. – ESPN3 – UC Santa Barbara vs. Clemson
7:30 p.m. – Fox Sports 1 / Fox Soccer 2 Go – New York Red Bulls vs. Columbus Crew