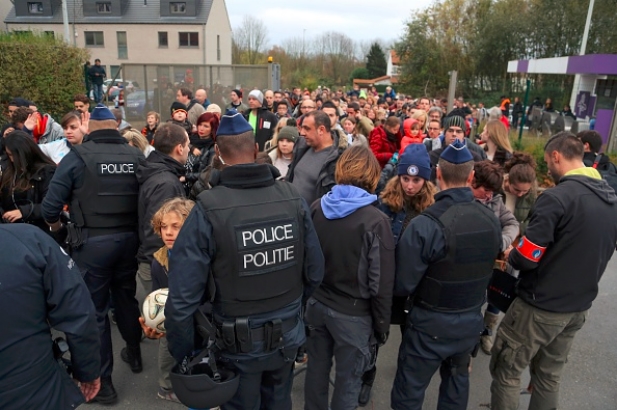 The effects of last Friday's attacks in Paris, France, are still being felt by many around the world, including those involved with international soccer.
Tuesday's friendly match between Belgium and Spain has officially been postponed, according to the Belgian Football Association, due to security concerns.
According to reports, Salah Abdeslam, who is from Belgium, was allegedly involved in the attacks that occurred in Paris last Friday evening. He reportedly is still on the run from police after he rented a car which was used to park outside the Bataclan concert hall where 89 people died. One of his brothers blew himself up at the concert hall during the attacks, while another brother of his has already been arrested in Belgium.
"In consultation with the competent authorities and the Spanish national team, the Belgian FA has decided to cancel the match," a statement from the Belgian FA reads. "At the very end of the evening the Belgian FA was contacted by the government, who made the recommendation not to play tomorrow's match. This is because the terror alert level is high and with the current leakage of a suspicious person.
"We deeply regret that such a friendly match between two motivated teams has been cancelled so late and we understand the disappointment of many supporters. However, taking into account the exceptional circumstances, we cannot take any security risk with players and fans."
Here are some more news and notes:
REPORT: RONALDO OR BALE MIGHT BE SOLD NEXT SUMMER
One of Real Madrid's best players may be leaving come next summer.
According to ESPN FC, one of either Cristiano Ronaldo or Gareth Bale is likely to be sold by the Spanish club during the summer of 2016. Real Madrid has reportedly received interest from Manchester United, which wants to ink a deal with the Welsh international.
Meanwhile, Ronaldo has been linked with a move to Ligue 1 side Paris Saint-Germain, and his agent, Jorge Mendes, has allegedly held consistent talks with PSG despite previously saying the Portuguese star would end his career at Real Madrid.
REPORT: BLATTER, PLATINI LIKELY TO FACE FIVE-YEAR SUSPENSIONS
FIFA's Ethics Committee has been hard at work divvying out suspensions and fines to soccer officials around the world, and two of the most high-profile members are apparently facing long-term bans.
Long-time FIFA president Sepp Blatter and UEFA president Michel Platini are currently serving a 90-day ban from FIFA, but according to Sky Sports, the two will likely face five-year suspensions. A final decision is expected to come before the end of the year.
The pair are appealing the current 90-day bans, and a decision on that is expected to come from FIFA's Appeals Committee by the end of this week.
QUICK KICKS:
In the aftermath of the Paris attacks, armed police will patrol at Wembley during the England vs. France friendly match on Tuesday. (REPORT)
The Republic of Ireland advanced to Euro 2016 after Jon Walters scored two goals to help the Irish defeat Bosnia and Herzegovina, 2-0 (3-1 on aggregate), on Monday.
Alexis Sanchez is experiencing pain in his calf and is doubtful for Chile against Uruguay on Tuesday. (REPORT)
France's Secretary of State for Sport Thierry Braillard has confirmed that Ligue 1 and Ligue 2 matches will be played this weekend. (REPORT)