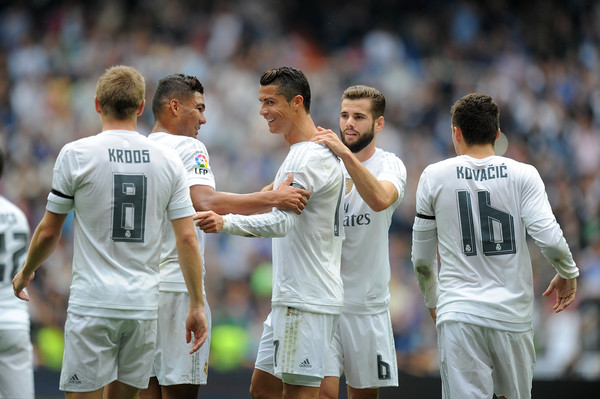 The UEFA Champions League rolls into the second half of its group stage this week and every fixture will be a return game from Matchday 3 action.
After the highly anticipated contest between the two sides ended in a 0-0 draw at Parc des Princes, Real Madrid and Paris Saint-Germain will square off again on Tuesday at Santiago Bernabéu, with both sides looking to create some separation between each other in Group A.
Elsewhere, following a surprising upset by Arsenal over Bayern Munich two weeks ago, the Gunners will pay a visit to the German Bundesliga leaders on Wednesday looking to build upon that result and get back into the race in Group F.
As for clubs like Chelsea, AS Roma, Manchester United and Borussia Mönchengladbach, each of them will look to emerge victorious at home after drawing with Dynamo Kiev, Bayer Leverkusen, CSKA Moscow and Juventus, respectively, two weeks prior.
Here is a rundown of all the UCL action this week:
TUESDAY
10 a.m. — Fox Sports 1/ESPN3/Fox Deportes/Fox Sports Go/Fox Soccer 2G0 — Astana vs. Atlético Madrid
2:45 p.m. — ESPN3/Fox Soccer 2Go — Shakhtar Donetsk vs. Malmö FF
2:45 p.m. — Fox Sports 2/Fox Sports Go/Fox Soccer 2Go/ESPN Deportes — Real Madrid vs. Paris Saint-Germain
2:45 p.m. — Fox Sports 1/Fox Sports Go/FOx Soccer 2Go — Manchester United vs. CSKA Moscow
2:45 p.m. — ESPN3/Fox Soccer 2Go/Fox Deportes — PSV Eindhoven vs. VfL Wolfsburg
2:45 p.m. — ESPN3/Fox Soccer 2Go — Benfica vs. Galatasaray
2:45 p.m. — ESPN2/Fox Soccer 2Go — Borussia Mönchengladbach vs. Juventus
2:45 p.m. — ESPN3/Fox Soccer 2Go — Sevilla vs. Manchester City
WEDNESDAY
2:45 p.m. — Fox Sports 2/Fox Sports Go/Fox Soccer 2Go — Barcelona vs. BATE Borisov
2:45 p.m. — ESPN2/Fox Deportes/Fox Soccer 2Go — AS Roma vs. Bayer Leverkusen
2:45 p.m. — Fox Sports 1/Fox Sports Go/Fox Soccer 2Go/ESPN Deportes — Bayern Munich vs. Arsenal
2:45 p.m. — ESPN3/Fox Soccer 2Go — Olympiacos vs. Dinamo Zagreb
2:45 p.m. — ESPN3/Fox Soccer 2Go — Maccabi Tel Aviv vs. FC Porto
2:45 p.m. — ESPN3/Fox Soccer 2Go — Chelsea vs. Dynamo Kiev
2:45 p.m. — ESPN3/Fox Soccer 2Go — Lyon vs. Zenit
2:45 p.m. — ESPN3/Fox Soccer 2Go — KAA Gent vs. Valencia