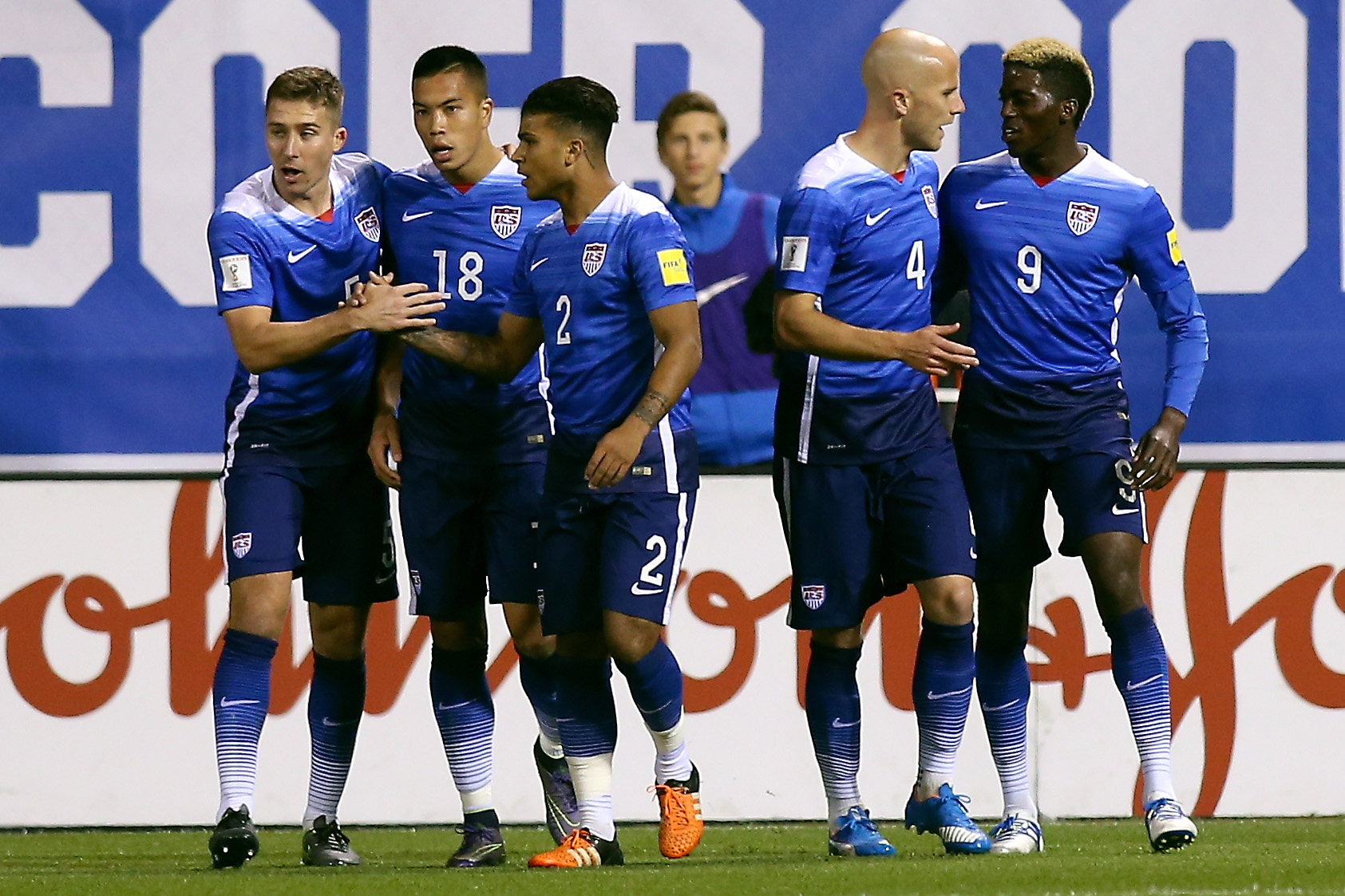 The U.S. Men's National Team picked up a convincing victory in its initial 2018 World Cup qualifier, and head coach Jurgen Klinsmann has vowed not to make many changes to his lineup ahead of the tougher challenge that awaits.
The U.S. routed St Vincent & the Grenadines, 6-1, on Friday night, but the sole focus now is on looking ahead to Tuesday's road qualifier against Trinidad & Tobago (6:30 pm, beIN Sports/NBC Universo). The Americans are anticipating a more difficult game than the one they played last week, especially since the Soca Warriors are coming off a confidence-boosting 2-1 victory in Guatemala in their first qualifier in Group C.
First place in the group will be up for grabs at Hasely Crawford Stadium in Port of Spain, and Klinsmann will surely consider at least a couple of tweaks to the starting lineup he used against St Vincent & the Grenadines. We already know that Brad Guzan will make way for Tim Howard in goal, as the duo rotate starts, but Klinsmann may also want to modify the back line given the strength and physical nature of some of Trinidad & Tobago's attackers.
Klinsmann may opt to keep his front six together after seeing the group put up a half-dozen goal, but may also be tempted to go with Fabian Johnson at right fullback after seeing DeAndre Yedlin have a costly error in Friday's win. If the U.S. coach goes that route, that would leave an opening in midfield that could be filled by someone like dynamic newcomer Darlington Nagbe.
Which 11 players will Klinsmann go with? Here is a lineup that could take the field:
Some thoughts:
The one change that we could see and that surely would surprise plenty of people is Fabian Johnson returning to right back. Johnson had a stellar game as a left midfielder vs. St Vincent & the Grenadines, but the U.S.'s need to be more cautious defensively vs. Trinidad & Tobago's physical attackers may force Jurgen Klinsmann into replacing DeAndre Yedlin with Johnson.
A prime candidate to fill that vacant spot in left midfield left behind by Johnson would be Darlington Nagbe, who earned his first cap as a substitute in last week's rout. Starting his first international game in a road qualifier would surely be a challenge for Nagbe, but his speed and technical abilities are the type of qualities that Klinsmann likes. If Klinsmann were to deem it too early to throw Nagbe into the deep end, he could swap Gyasi Zardes from the right to the left and insert Yedlin in front of Johnson.
Aside from goal, where we know Tim Howard will replace Brad Guzan, the lineup will likely stay exactly the same. Forwards Jozy Altidore and Bobby Wood worked well off one another in the lopsided victory over Vincy Heat, as Wood's speed allowed Altidore to play off of someone quicker than him and drop to become more involved in the Americans' build-up. Both of them got on the scoresheet as well, and Klinsmann will surely want to rely on their confidence while allowing them to continue to build chemistry.
In the midfield, the central duo of captain Michael Bradley and Jermaine Jones will again lead the way. Bradley and Jones were heavily involved in the attack on Friday, but there will need to be a very good understanding between them in terms of who attacks and who defends in order for the U.S. to be successful against the Soca Warriors.
The U.S. defense would also stay mostly untouched. Geoff Cameron and Matt Besler seem locks to start again in central defense given their experience, and will need to be sharp and alert in order to contain physical and crafty striker Kenwyne Jones.
Tim Ream, who has quietly turned in a string of very solid defensive performances in his last few  appearances under Klinsmann, is also a safe bet to get the nod again at left back.
—–
What do you think of this projected lineup? Would it be a good move or a mistake for Klinsmann to drop Johnson to right back in this one? How would you see Nagbe faring if he started? Do you see Bradley and Jones doing well in terms of finding the right balance in the middle?
Share your thoughts below.