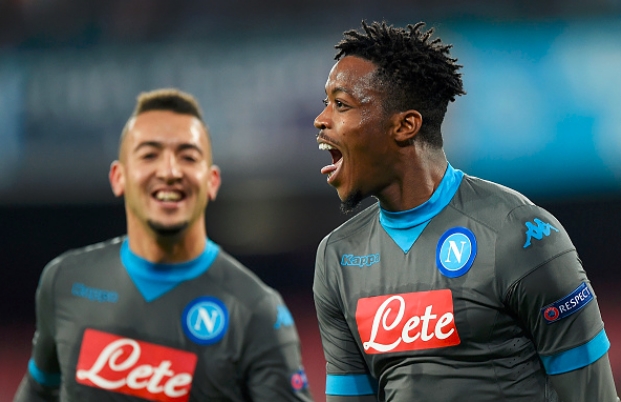 The Derby of the Sun kicks off on Sunday, and Serie A title hopes are on the line.
Napoli, just two points behind Inter Milan on the table entering the weekend, hosts AS Roma at Stadio San Paolo. Roma is only three points behind Napoli, and while it enters the weekend on a high after advancing into the knockout phase of the UEFA Champions League, it has been unable to secure a win in its last five games.
On the other side of the ball, Lorenzo Insigne is bound to be a handful, especially after he scored one of the team's five goals against Legia Warsaw on Thursday in the Europa League.
Meanwhile, in-form Fabian Johnson and Borussia Monchengladbach turn their focus on the German Bundesliga after being eliminated from UEFA Champions League play during the week. The third-place side visits Bayer Leverkusen on Saturday. Javier 'Chicharito' Hernandez has been one the best goal-scorers in Germany, scoring 14 goals for Leverkusen this campaign.
Elsewhere in Europe, Barcelona, Atlético Madrid and Real Madrid — who are all separated by four points — will take on Deportivo La Coruña, Athletic Bilbao and Villarreal, respectively, while Paris Saint-Germain-Lyon provides plenty of entertainment for Ligue 1 fans.
On this side of the Atlantic, three trophies will be lifted on Sunday.
The 2015 College Cup takes place first with the winner to be determined between Clemson, Akron, Syracuse and Stanford. Then, the CONCACAF Women's U-20 Championship comes to close with the U.S., Honduras, Canada and Mexico left to battle it out.
In the nightcap, the champion of the Liga MX Apertura will be crowned following the second leg match between top-seeded Pumas UNAM and fifth-seeded Tigres UANL.
Here is a rundown of all the action on TV this weekend:
FRIDAY
NCAA MEN
6 p.m. — ESPNU — Clemson vs. Syracuse
8:30 p.m. — ESPNU — Akron vs. Stanford
SPANISH LA LIGA
2:30 p.m. — beIN Sports en Español/beIN Sports Connect — Getafe vs. Real Sociedad
GERMAN BUNDESLIGA
2:30 p.m. — Fox Sports 1/Fox Sports Go/Fox Soccer 2Go — Mainz 05 vs. VfB Stuttgart
ENGLISH LEAGUE CHAMPIONSHIP
2:45 p.m. — beIN Sports USA/beIN Sports Connect — Wolverhampton Wanderers vs. Nottingham Forest
SCOTTISH LEAGUE CHAMPIONSHIP
2:45 p.m. — Fox Soccer 2Go/Fox Soccer Plus — Queen of the South vs. Raith Rovers
CONCACAF WOMEN'S U-20 CHAMPIONSHIP SEMIFINALS
6 p.m. — Fox Sports 2/Fox Sports Go — United States vs. Honduras
9 p.m. — Fox Sports 2/Fox Sports Go — Canada vs. Mexico
SATURDAY
ENGLISH PREMIER LEAGUE
7:45 a.m. — NBCSN/NBC Sports Live Extra — Norwich City vs. Everton
10 a.m. — NBCSN/NBC Sports Live Extra — Manchester City vs. Swansea City
10 a.m. — USA Network/NBC Sports Live Extra — Crystal Palace vs. Southampton
10 a.m. — NBC Sports Live Extra — West Ham United vs. Stoke City
10 a.m. — NBC Sports Live Extra — Sunderland vs. Watford
12:30 p.m. — NBC/NBC Sports Live Extra/NBC Universo — Bournemouth vs. Manchester United
SPANISH LA LIGA
10 a.m. — beIN Sports USA/beIN Sports en Español/beIN Sports Connect — Barcelona vs. Deportivo La Coruña
12:15 p.m. — beIN Sports en Español/beIN Sports Connect — Levante vs. Granada
12:15 p.m. — beIN Sports en Español/beIN Sports Connect — Celta de Vigo vs. Espanyol
2:30 p.m. — beIN Sports en Español/beIN Sports Connect — Sevilla vs. Sporting Gijón
4:05 p.m. — beIN Sports en Español/beIN Sports Connect — Las Palmas vs. Real Betis
GERMAN BUNDESLIGA
9:30 a.m. — Fox Sports 1/Fox Sports Go/Fox Soccer 2Go — Bayern Munich vs. FC Ingolstadt
9:30 a.m. — Fox Sports 2/Fox Sports Go/Fox Soccer 2Go — VfL Wolfsburg vs. Hamburg SV
9:30 a.m. — Fox Deportes/Fox Soccer 2Go — Werder Bremen vs. Cologne
9:30 a.m. — Fox Soccer 2Go — Hoffenheim vs. Hannover 96
9:30 a.m. — Fox Soccer 2Go — Darmstadt 98 vs. Hertha Berlin
12:30 p.m. — Fox Sports 2/Fox Sports Go/Fox Deportes/Fox Soccer 2Go — Bayer Leverkusen vs. Borussia Mönchengladbach
ITALIAN SERIE A
Noon — beIN Sports USA/beIN Sports Connect — Sassuolo vs. Torino
2:45 p.m. — beIN Sports USA/beIN Sports Connect — Udinese vs. Inter
FRENCH LIGUE 1
10 a.m. — beIN Sports Connect — Reims vs. Nice
2 p.m. — beIN Sports Connect — Lille vs. Lorient
2 p.m. — beIN Sports Connect — Nantes vs. Toulouse
PORTUGUESE PRIMEIRA LIGA
3:45 p.m. — Univision Deportes — Vitória Setúbal vs. Benfica
ENGLISH LEAGUE CHAMPIONSHIP
7:30 a.m. — beIN Sports USA/beIN Sports Connect — Milton Keynes Dons vs. Ipswich Town
10 a.m. — beIN Sports Connect — Derby County vs. Brighton & Hove Albion
DUTCH EREDIVISIE
1:45 p.m. — Univision Deportes — PSV Eindhoven vs. Roda JC
SCOTTISH LEAGUE CHAMPIONSHIP
7:30 a.m. — Fox Soccer 2Go/Fox Soccer Plus — Aberdeen vs. Heart of Midlothian
SUNDAY
NCAA MEN
2 p.m. — ESPNU — College Cup final
ENGLISH PREMIER LEAGUE
8:30 a.m. — NBCSN/NBC Sports Live Extra/NBC Universo — Aston Villa vs. Arsenal
11 a.m. — NBCSN/Telemundo/NBC Sports Live Extra — Tottenham vs. Newcastle
11 a.m. — NBC Sports Live Extra — Liverpool vs. West Bromwich Albion
FIFA CLUB WORLD CUP QUARTERFINALS
2 a.m. — Fox Sports 2/Fox Sports Go/Fox Deportes/Fox Soccer 2Go — Club América vs. Guangzhou Evergrade
5:30 a.m. — Fox Sports 1/Fox Sports Go/Fox Deportes — TP Mazembe vs. TBD
SPANISH LA LIGA
6 a.m. — beIN Sports Connect — Rayo Vallecano vs. Málaga
10 a.m. — beIN Sports en Español/beIN Sports Connect — Eibar vs. Valencia
12:15 p.m. — beIN Sports en Español/beIN Sports Connect — Atlético Madrid vs. Athletic Bilbao
2:30 p.m. — beIN Sports USA/beIN Sports en Español/beIN Sports Connect — Villarreal vs. Real Madrid
GERMAN BUNDESLIGA
9:30 a.m. — Fox Sports 1/Fox Sports Go/Fox Deportes/Fox Soccer 2Go — Augsburg vs. Schalke 04
11:30 a.m. — Fox Sports 2/Fox Sports Go/Fox Deportes/Fox Soccer 2Go — Borussia Dortmund vs. Eintracht Frankfurt
ITALIAN SERIE A
9 a.m. — beIN Sports USA/beIN Sports Connect — Milan vs. Hellas Verona
9 a.m. — beIN Sports Connect — Empoli vs. Carpi
Noon — beIN Sports USA/beIN Sports USA — Napoli vs. AS Roma
FRENCH LIGUE 1
8 a.m. — beIN Sports Connect — AS Monaco vs. Saint-Étienne
11 a.m. — beIN Sports Connect — Marseille vs. Gazélec Ajaccio
11 a.m. — beIN Sports Connect — Angers vs. Bordeaux
3 p.m. — beIN Sports Connect — Paris Saint-Germain vs. Lyon
MEXICAN LIGA MX
9:30 p.m. — Univision Deportes — Pumas UNAM vs. Tigres UANL
PORTUGUESE PRIMEIRA LIGA
11 a.m. — Univision Deportes — Nacional vs. FC Porto
SCOTTISH PREMIER LEAGUE
7:30 a.m. — Fox Soccer 2Go/Fox Soccer Plus — St. Johnstone vs. Celtic
FIFA WOMEN'S INTERNATIONAL FRIENDLY
7 p.m. — ESPN2/WatchESPN — United States vs. China
CONCACAF WOMEN'S U-20 CHAMPIONSHIP
6 p.m. — Fox Sports 2/Fox Sports Go — Third place game
9 p.m. — Fox Sports 2/Fox Sports Go — Final