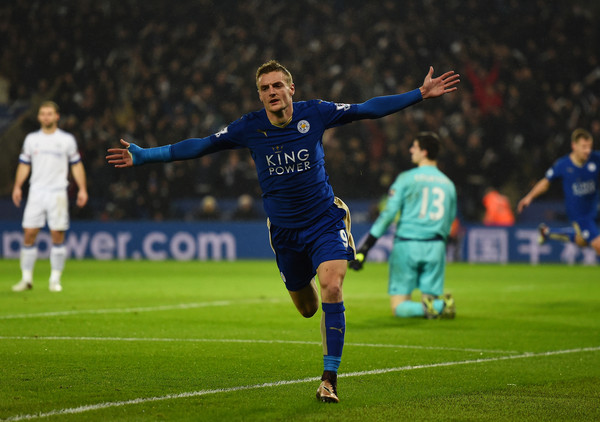 The magical train that is Leicester City continues to chug along.
After defeating reigning English Premier League champion Chelsea on Monday — which led to the subsequent firing of Jose Mourinho — the Foxes visit Everton this Saturday in the hopes of adding towards their lead in the table.
Jamie Vardy, who has tallied 15 of Leicester City's league-best 34 goals on the season, will look to help the Premier League leaders improve upon their 18-9 goal differential on the road and cause havoc for John Stones, Tim Howard and company at Goodison Park. Chelsea, meanwhile, will open a new chapter when it hosts Sunderland.
Elsewhere, French Ligue 1-leading Paris Saint-Germain will travel to fourth-place Caen, with an 18-point gap separating the two. Italian Serie A leader Inter Milan, on the other hand, will host Lazio, while defending champion Juventus looks to extend its six-match winning streak in the league when it visits Carpi.
In Japan, the FIFA Club World Cup comes to a close on Sunday with River Plate and Barcelona set to battle it out for the crown. Lucas Alario's second-half goal on Wednesday was enough to send the Argentine club into the final while Luis Suarez propelled Barça with a hat trick against Guangzhou Evergrande on Thursday morning.
Here is rundown of all the soccer action on TV for this weekend:
FRIDAY
GERMAN BUNDESLIGA
2:30 p.m. — Fox Sports 2/Fox Sports Go/Fox Soccer 2Go — Schalke 04 vs. Hoffenheim
FRENCH LIGUE 1
2:30 p.m. — beIN Sports en Español/beIN Sports Connect — Nice vs. Montpellier
ENGLISH LEAGUE CHAMPIONSHIP
2:45 p.m. — beIN Sports USA/beIN Sports Connect — Birmingham City vs. Cardiff City
SPANISH SEGUNDA DIVISION
2:30 p.m. — beIN Sports Connect — Elche vs. Córdoba
SCOTTISH LEAGUE CHAMPIONSHIP
2:45 p.m. — Fox Soccer 2Go/Fox Soccer Plus – Greenock Morton vs. Raith Rovers
SATURDAY
ENGLISH PREMIER LEAGUE
10 a.m. — USA Network/NBC Sports Live Extra — Manchester United vs. Norwich City
10 a.m. — NBC Sports Live Extra — Everton vs. Leicester City
10 a.m. — NBCSN/NBC Sports Live Extra — Chelsea vs. Sunderland
10 a.m. — NBC Sports Live Extra – Southampton vs. Tottenham
10 a.m. — NBC Sports Live Extra — Stoke City vs. Crystal Palace
10 a.m. — NBC Sports Live Extra — West Bromwich Albion vs. Bournemouth
12:30 p.m. — NBC/NBC Sports Live Extra — Newcastle United vs. Aston Villa
SPANISH LA LIGA
10 a.m. — beIN Sports en Español/beIN Sports Connect — Valencia vs. Getafe
12:15 p.m. — beIN Sports en Español/beIN Sports Connect — Espanyol vs. Las Palmas
2:30 p.m. — beIN Sports en Español/beIN Sports Connect — Real Betis vs. Sevilla
4:05 p.m. — beIN Sports en Español/beIN Sports Connect — Deportivo La Coruña vs. Eibar
GERMAN BUNDESLIGA
9:30 a.m. — Fox Sports 1/Fox Sports Go/Fox Soccer 2Go — Hannover 96 vs. Bayern Munich
9:30 a.m. — Fox Sports 2/Fox Sports Go/Fox Soccer 2Go — Cologne vs. Borussia Dortmund
9:30 a.m. — Fox Deportes/Fox Soccer 2Go — Ingolstadt vs. Bayer Leverkusen
9:30 a.m. — Fox Soccer 2Go — Hamburg SV vs. Augsburg
9:30 a.m. — Fox Soccer 2Go — Eintracht Frankfurt vs. Werder Bremen
12:30 p.m. — Fox Soccer 2Go — VfB Stuttgart vs. VfL Wolfsburg
FRENCH LIGUE 1
11 a.m. — beIN Sports USA/beIN Sports Connect — Caen vs. Paris Saint-Germain
2 p.m. — beIN Sports Connect — Troyes vs. AS Monaco
2 p.m. — beIN Sports Connect — Guingamp vs. Stade de Rennes
2 p.m. — beIN Sports Connect — Lorient vs. Nantes
ITALIAN SERIE A
2:45 p.m. — beIN Sports USA/beIN Sports Connect/RAI International — Bologna vs. Empoli
ENGLISH LEAGUE CHAMPIONSHIP
7:30 a.m. — beIN Sports USA/beIN Sports Connect — Brighton & Hove Albion vs. Middlesbrough
10 a.m. — beIN Sports Connect — Ipswich Town vs. Derby County
DUTCH EREDIVISIE
1:45 p.m. — Univision Deportes — PSV Eindhoven vs. PEC Zwolle
SCOTTISH LEAGUE CHAMPIONSHIP
7:30 a.m. — Fox Soccer 2Go/Fox Soccer Plus — Falkirk vs. Rangers
SUNDAY
ENGLISH PREMIER LEAGUE
8:30 a.m. — NBCSN/NBC Sports Live Extra — Watford vs. Liverpool
11 a.m. — NBCSN/NBC Sports Live Extra — Swansea City vs. West Ham United
SPANISH LA LIGA
10 a.m. — beIN Sports USA/beIN Sports en Español/beIN Sports Connect — Real Madrid vs. Rayo Vallecano
12:15 p.m. — beIN Sports en Español/beIN Sports Connect — Real Sociedad vs. Villarreal
12:15 p.m. — beIN Sports Connect — Athletic Bilbao vs. Levante
12:15 p.m. — beIN Sports Connect — Granada vs. Celta de Vigo
2:30 p.m. — beIN Sports en Español/beIN Sports Connect — Málaga vs. Atlético Madrid
GERMAN BUNDESLIGA
9:30 a.m. — Fox Sports 1/Fox Sports Go/Fox Soccer 2Go — Hertha Berlin vs. Mainz 05
11:30 a.m. — Fox Sports 2/Fox Sports Go/Fox Deportes/Fox Soccer 2Go — Borussia Mönchengladbach vs. Darmstadt 98
FRENCH LIGUE 1
8 a.m. — beIN Sports Connect — Saint-Étienne vs. Angers
11 a.m. — beIN Sports Connect — Gazélec Ajaccio vs. Lyon
3 p.m. — beIN Sports Connect — Bordeaux vs. Marseille
ITALIAN SERIE A
6 a.m. — beIN Sports USA/beIN Sports en Español/beIN Sports Connect — Carpi vs. Juventus
9 a.m. — beIN Sports USA/beIN Sports Connect — AS Roma vs. Genoa
9 a.m. — beIN Sports Connect — Fiorentina vs. Chievo Veronas
9 a.m. — beIN Sports Connect — Atalanta vs. Napoli
9 a.m. — beIN Sports Connect — Hellas Verona vs. Sassuolo
Noon — beIN Sports USA/beIN Sports Connect — Frosinone vs. Milan
Noon — beIN Sports Connect — Sampdoria vs. Palermo
Noon — beIN Sports Connect — Torino vs. Udinese
2:45 p.m. — beIN Sports USA/beIN Sports Connect — Inter vs. Lazio
FIFA CLUB WORLD CUP
2 a.m. — Fox Sports 1/Fox Sports Go/Fox Deportes — Sanfrecce Hiroshema vs. Guangzhou Evergrande (Third Place)
5:30 a.m. — Fox Sports 1/Fox Sports Go/Fox Deportes — River Plate vs. Barcelona (Final)
PORTUGUESE PRIMEIRA LIGA
3:30 p.m. — Univision Deportes — FC Porto vs. Académica
DUTCH EREDIVISIE
10:45 a.m. — Univision Deportes — Ajax vs. De Graafschap