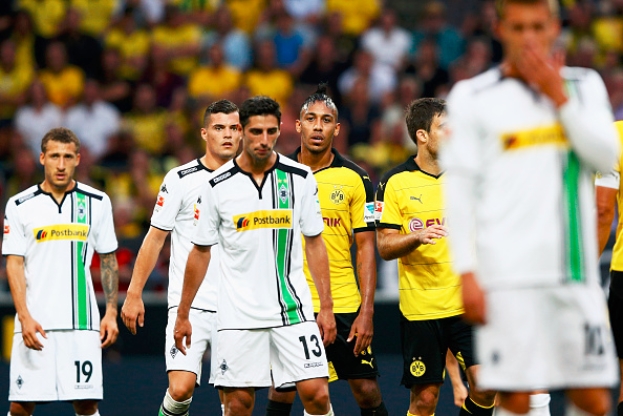 With the return of German Bundesliga action this weekend, all five of Europe's top leagues will be on display for those watching.
After a lengthy hiatus in Germany, two of the league's top sides will do battle on Saturday, when second-place Borussia Dortmund travels to fourth-place Borussia Monchengladbach. U.S. international Fabian Johnson has shined for Monchengladbach this campaign, scoring four goals thus far, although his team will face two of the league's best attackers in Marco Reus and Pierre-Emerick Aubameyang.
The English Premier League season is heating up, and while Arsenal and Leicester City currently sit tied atop the table, both teams face stiff competition over the weekend. The Foxes will host seventh-place Stoke City on Saturday, while Arsene Wenger's side plays host to London rival Chelsea a day later.
In Spain, Atletico Madrid hold a slim lead over Barcelona and Real Madrid at the league's summit, and Diego Simeone's men will need to be up to the task against Sevilla, currently seventh in La Liga.
ENGLISH PREMIER LEAGUE
Fresh off of a massive 2-0 FA Cup win over Leicester, Tottenham travels to eighth-place Crystal Palace on Saturday. Head coach Mauricio Pochettino and his side are currently five points off the pace set by leaders Arsenal and Leicester, and a victory would greatly increase the team's chances of becoming a legitimate title contender.
Manuel Pellegrini's Manchester City will face one of the Premier League's biggest surprises in West Ham United, who occupy the sixth position. The Citizens, led by Sergio Aguero's 10 goals, sit one point out of first place.
SATURDAY
Norwich City vs. Liverpool
Crystal Palace vs. Tottenham Hotspur
Leicester City vs. Stoke City
Manchester United vs. Southampton
Sunderland vs. AFC Bournemouth
Watford vs. Newcastle United
West Bromwich Albion vs. Aston Villa
West Ham United vs. Manchester City
SUNDAY
Everton vs. Swansea City
Arsenal vs. Chelsea
SPANISH LA LIGA
After Lionel Messi and Luis Suarez missed Barcelona's midweek Copa del Rey clash against Athletic Bilbao, Luis Enrique's club will be hopeful that both men can return against Malaga. Suarez is eligible to appear for the Blaugrana, while an injury could keep Messi out of the team for another match.
Meanwhile, Bilbao plays host to Eibar, who currently sits sixth in La Liga. Like Eibar, fellow surprise Celta Vigo will face relegation side Rayo Vallecano, with the opportunity to further solidify its superb 2015-16 season.
FRIDAY
Sporting Gijon vs. Real Sociedad
SATURDAY
Malaga vs. Barcelona
Espanyol vs. Villareal
Granada vs. Getafe
Rayo Vallecano vs. Celta Vigo
SUNDAY
Athletic Bilbao vs. Eibar
Atletico Madrid vs. Sevilla
Deportivo La Coruña vs. Valencia
Real Betis vs. Real Madrid
MONDAY
Levante vs. Las Palmas
GERMAN BUNDESLIGA
Bayern Munich currently holds an eight point advantage at the top of the Bundesliga table, and Pep Guardiola's side will head to Hamburg on Friday to meet the mid-table club. Munich have just one loss on the 2015-16 campaign and boast a +38 goal differential.
Fifth-place Bayer Leverkusen will face relegation side Hoffenheim, currently last in Bundesliga, with the hopes of moving into the fourth and final UEFA Champions League position. The league's bottom seven clubs are all firmly in the relegation battle, as the teams are only separated by six points.
FRIDAY
Hamburg SV vs. Bayern Munich
SATURDAY
FC Cologne vs. Stuttgart
Ingolstadt vs. Mainz
Hanover vs. Darmstadt
Hertha Berlin vs. Augsburg
Hoffenheim vs. Bayer Leverkusen
Borussia Monchengladbach vs. Borussia Dortmund
SUNDAY
Eintracht Frankfurt vs. Wolfsburg
Schalke vs. Werder Bremen
ITALIAN SERIE A
Reigning Serie A champions Juventus, currently second in this year's table, will meet fifth-place Roma, which currently holds the final European competition spot in Italy's top flight. Despite a plethora of vacancies left by last year's team in the attack, Paulo Dybala has filled in admirably for the Bianconeri, scoring 11 goals this campaign.
Two top-five hopefuls will meet on Saturday, when eighth-place Empoli hosts AC Milan. The latter sits two positions above Empoli in the table.
SATURDAY
Frosinone vs Atalanta
Empoli vs. AC Milan
SUNDAY
Fiorentina vs. Torino
Hellas Verona vs. Genoa
Inter Milan vs. Carpi
Lazio vs. Chievo Verona
Palermo vs. Udinese
Sampdoria vs. Napoli
Sassuolo vs. Bologna
Juventus vs. Roma
FRENCH LIGUE 1
League leader Paris Saint-Germain is set to face third-place Angers in a battle of Ligue 1 heavyweights. Despite the team's high standing in the league, Angers currently trails Zlatan Ibrahimovic and PSG by 23 points.
Last place Troyes, currently buried in the relegation zone with eight points, travels to Lille on Saturday. As it stands, the club needs 14 points to climb out of the bottom three, although that feat seems quite unrealistic.
FRIDAY
Stade Rennes vs. Ajaccio
SATURDAY
Paris Saint-Germain vs. Angers
Guingamp vs. Bastia
Lille vs. Troyes
Montpellier vs. Caen
Nantes vs. Bordeaux
Nice vs. Lorient
SUNDAY
Monaco vs. Toulouse
Stade de Reims vs. St Etienne
Lyon vs. Marseille
—
Can Monchengladbach knock off Dortmund? Will Arsenal still lead the Premier League after this weekend?
Share your thoughts below.