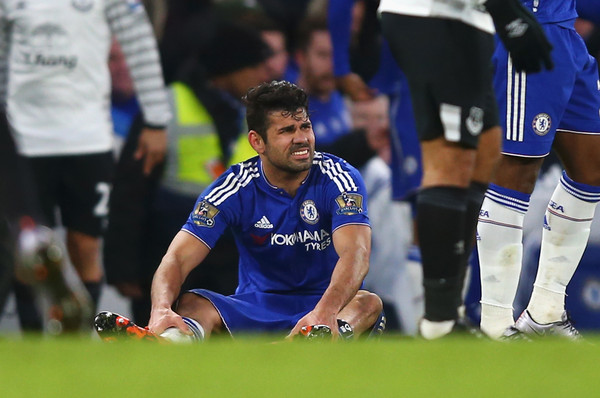 After a slew of knocks were suffered by star players over the weekend, tests on Monday revealed one to be injury free but another may possibly miss an important clash.
Chelsea received partial good news when tests revealed that forward Diego Costa did not fracture his tibia in his shin, but he did suffer a bruise and the club said: "He was at the training ground for treatment on Sunday and it is not known yet whether the striker will miss the Arsenal game." (REPORT)
After tests on Monday, Barcelona confirmed that Argentine star Lionel Messi does not have a hamstring injury, saying: "It is uncertain whether or not he will be available for future matches, but there is nothing major to worry about." (REPORT)
Due to Bolton Wanderers' financial situation, Shola Ameobi will leave the club by the end of the week, with assistant manager Steve Walford saying: "The club is in trouble; we need someone to come in and save it. It's sad…We hope there will be light at the end of the tunnel but I can't see it as the moment." (REPORT)
Bolton has until Feb. 22 to "either close a deal with one of the potential buyers of the club or raise sufficient short-term funds from asset sales" to pay off its debt with HMRC. (REPORT)
Spartak Moscow is reportedly interested in acquiring 29-year-old Chelsea striker Loic Remy after loaning out forward Yura Movsisyan. (REPORT)
Jerome Sinclair, 19, is reportedly set to leave Liverpool when his contract expires in the summer. (REPORT)
Barcelona head coach Luis Enrique said the red card shown to the Athletic Bilbao goalkeeper in the third minute of Sunday's game was an "excessive punishment." (REPORT)
Everton forward Steven Naismith will reportedly undergo a medical ahead of a potential transfer to Norwich City. (REPORT)
FC Copenhagen and Leicester City FC have agreed to a deal for 21-year-old Ghanaian international defender Daniel Amartey. (REPORT)
Newcastle United is reportedly set to increase its offer from $15 million (£10.5 million) for Tottenham winger Andros Townsend. (REPORT)
WEEKEND REWIND
Belgian defender Jelle Van Damme has reportedly come to an agreement with Standard Liège to transfer to the LA Galaxy, and subsequently wrote a farewell message to Standard supporters. (REPORT)
After signing a record-breaking Homegrown class, the New York Red Bulls added two defenders during the MLS Draft and stated their desire to keep defender Matt Miazga for the 2016 season. (REPORT)
AS Roma has reportedly bought out the remaining few months of 32-year-old defender Ashley Cole's contract, and an official announcement of his transfer to the LA Galaxy reportedly could be made by Tuesday. (REPORT)
—
Think Costa will miss the Arsenal clash on Sunday? Glad to see that Messi is not seriously injured?
Share your thoughts below.