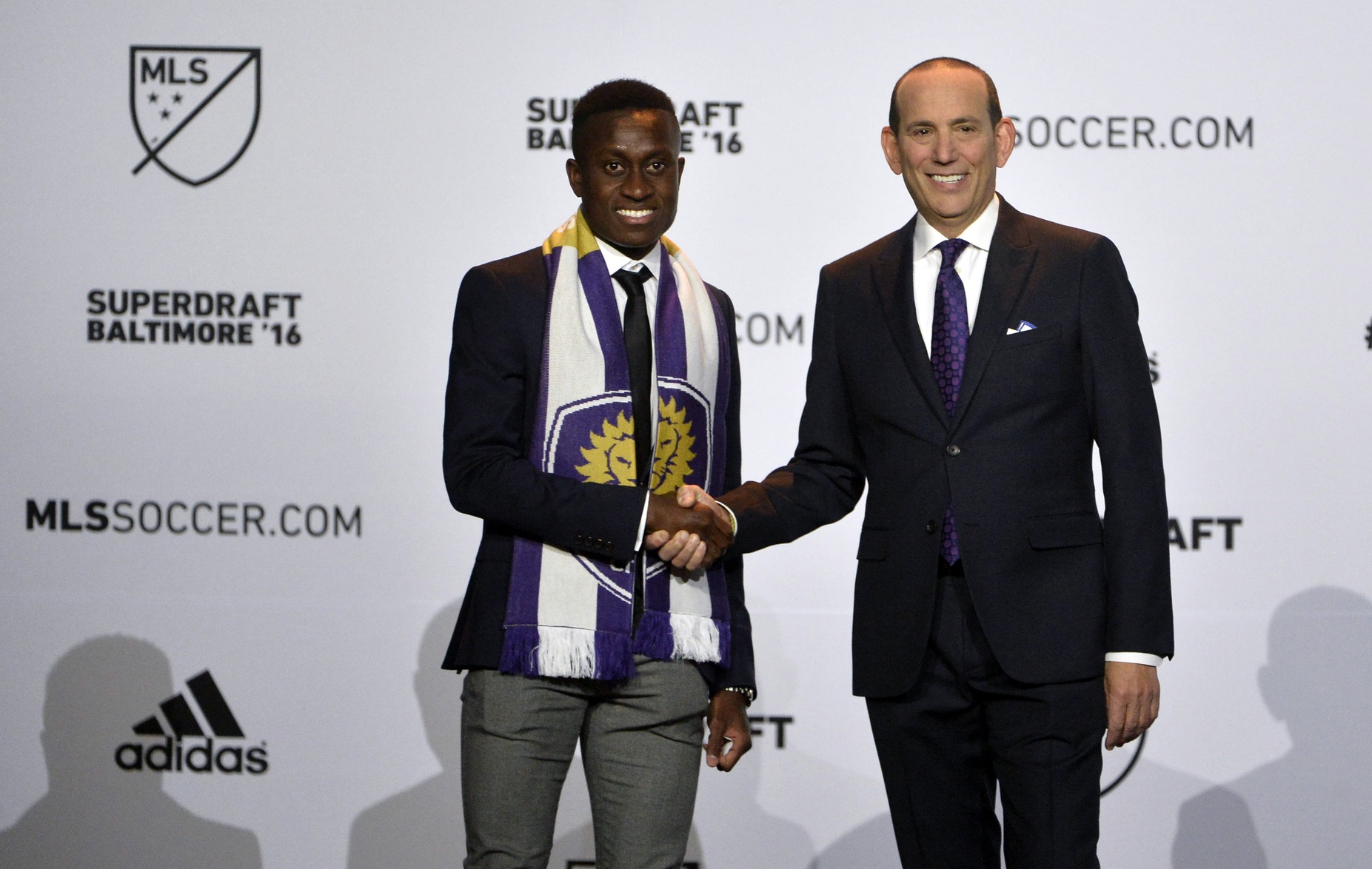 BALTIMORE – Orlando City SC needed to bolster its midfield options going into the 2016 season after a high rate of turnover from their inaugural MLS roster, and the club did so in style with their first selection of the MLS Draft on Thursday.
Akron midfielder Richie Laryea was chosen by the Lions with the seventh overall pick, as interim General Manager Phil Rawlins elected to reunite last year's MLS Rookie of the Year with his best friend from childhood.
"Orlando's one of those teams that I really wanted to go to, so I'm happy," Laryea told the press in Baltimore. "Cyle's been my best friend ever since him and I were little, so it's going to be good. We're very close."
Cyle Larin and Laryea played for rival youth teams in their native Canada, but came together after being handpicked to join the development program at Sigma FC.
"I think we understand each other, ever since we were young," said Laryea on his relationship with Larin. "I've given him a fair amount of assists."
After scoring 11 goals and providing 7 assists in his sophomore season with the Akron Zips in 2015, Laryea was announced as one of seven players to sign a Generation adidas contract last Wednesday.
Head coach Adrian Heath's roster has seen quite a bit of turnover in the midfield since last March, but the boss seemed sure of Laryea's abilities to contribute.
"Down in Fort Lauderdale, we told him then that if he was available at the seventh pick we would take him," Heath said about OC's new addition. "We were a bit nervous, but we eventually got our guy and we're delighted."
But if the jump to MLS proves harder than expected, the head coach is more than willing to wait for the box-to-box midfielder's development.
"Well, let's hope that he does what Cyle did, that'll be the test for him," joked Heath. "He's got a lot of talent, and if we have to wait for him a little bit then we will do so. But we think there's so much more to come from him."
The addition of Orlando City B, which will start USL play in 2016, gives the Lions a new opportunity to keep tabs on players outside of their first team. It's a chance for City's youngsters to earn competitive minutes without leaving the organization in central Florida.
"The most important thing is that every player we bring in this offseason, we want to contribute to the first team, that's why you're bringing him in," said Heath. "But now we've got an avenue to get them some minutes and keep them match fit."
That being said, though, this ambitious youngster has other plans at the moment.
"I'm hoping I'll be in the first team," Laryea told the media. "So I'll work for that."
The young midfielder was full of emotion in Baltimore on Thursday, needing a familiar face to calm his nerves at the peak of his soccer career.
"My heart was racing pretty quickly, I just wanted to see where I was going," said Laryea. "I was crying a bit, but my mom told me to man up. So I wiped my tears and just went up and gave my speech."
The Canadian international prospect has been keeping tabs on his new home, watching Orlando's debut season in MLS after his best friend traveled there with last year's top overall pick.
"I know it's a very good fan base," said Laryea. "I've watched it a lot since Cyle got drafted there. I know it's a great city to be in, and it's a great place to play soccer."