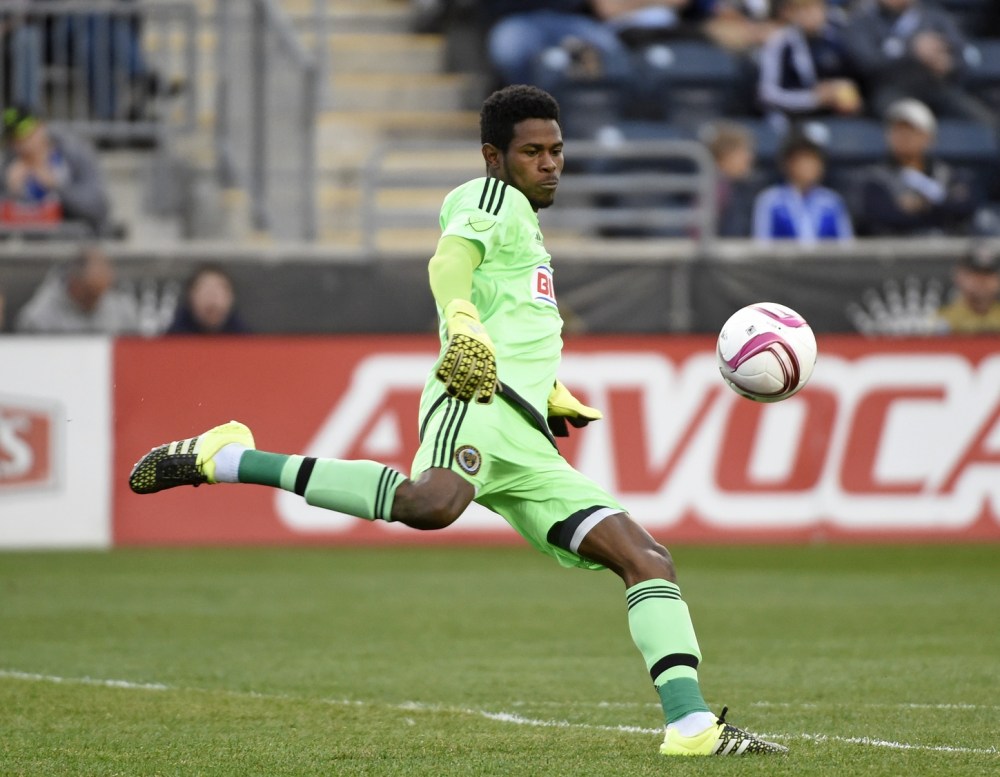 Philadelphia Union goalkeeper Andre Blake would like nothing more than to help the Jamaican national team return to the World Cup for the first time in two decades, and he's hoping a breakout year at the club level assists in that dream.
The 6-foot-4 Jamaican-born netminder grew up in the Caribbean dreaming of playing soccer at the professional level. Fast forward to 2016, Blake has established himself as a starter for the Reggae Boyz and is poised to have a breakout season with the Union.
"It's a dream come true, but I can't focus too much on (being the starting goalkeeper for Jamaica)," Blake told SBI. "I just need to focus on being a better goalkeeper, maintaining that spot and trying to get my country to a World Cup. It's an amazing feeling, but it's something that I can't get too caught up in because there's still a lot of work to do."
Barring a talented late addition to the pool, Blake will be competing for playing time against American goalkeeper John McCarthy, who started in 11 games last season and recorded two shutouts. Injuries limited Blake to six league starts in 2015, but he is considered the favorite in the battle for the Union's starting spot heading into the 2016 season.
"It's huge for Andre to have the peace of mind that he's going to be the guy," head coach Jim Curtin said in training on Thursday. "I think that has made him more comfortable in terms of knowing where he stands with his teammates. You can see it on the field, he's confident, he's made some big saves in training. He's capable of making the save that wins you the game and keeps the zero. We have to get back to getting shutouts and it starts with Andre in the back and his communication. I think it's a big first step for him just knowing he's the guy."
"We're different, we play different," Blake said of his competition with McCarthy. "We have a good relationship in practice, and we try to push each other, and at the end of the day, it's a team sport. At the end of the day, we all want the team to win, whichever one of us plays. We developed that friendship and that relationship, and are pushing each other and supporting each other whenever we go out there."
Growing up in Jamaica, Blake developed a love for the goalkeeping position after those around him saw and encouraged him to build upon his raw talent. He continued to excel at the position right through Clarendon College high school, and UConn coaches were so eager to have him play for their program that they flew to the Caribbean to watch Blake play live.
Blake impressed and spent three years between the pipes for the Huskies before being selected as the No. 1 overall pick in the 2014 MLS Draft. He's now the starter for his nation, but is focused on improving his skill set.
Jamaica and Blake are in what is arguably the toughest fourth round group of CONCACAF qualifying for the 2018 World Cup. The Reggae Boyz will need to finish first or second in their group consisting of Haiti, Panama and Costa Rica in order to advance to the 'Hex.' Blake dressed but did not play in Jamaica's 2-0 loss to Panama at home, but he started and proved to be a difference-maker for his side on the road against Haiti.
Blake made three key saves, including a last-ditch effort (starting at :16 below) to push a deflected shot over the crossbar, to record a 1-0 shutout to help the Reggae Boyz earn three pivotal points.
Blake had previously started in both legs of Jamaica's 4-3 aggregate win against Nicaragua in the third round of qualifying, recording a shutout in the crucial second leg to help his side clinch advancement.
Needless to say, the call-ups and starts for Jamaica have been consistent for Blake, but that hasn't been the case with the Union due to his knee injuries. The 25-year-old underwent successful surgery on his left knee in February 2015 before starting the first four games for the club. Then, Blake tore his right meniscus in May, and couldn't fully regain his starting spot with the Union for the rest of the season.
Starting in the November qualifier allowed Blake the chance to prove he's still got that flair and athleticism that made him the No. 1 pick in MLS. However, while performing well at the international level is important to Blake, he knows that you can only improve if you are regularly playing for your club.
"The experience that I get from the national team is somewhat different even though it's the same soccer and the same principles apply," he said. "The playing style is different at the international level and at the club level. When you go in to your country, you don't get a lot of time. You spend most of your career with your club. So when you go with your country, it's about trying to get as much done in the smallest possible time.
"When I go to my country, there's not much time to change anything so the goalkeeping coach is focusing on getting me sharp, getting me ready, getting me reps and not trying to change anything. The most I will be with my country is maybe two weeks, if it's a tournament, like the World Cup qualifiers."
The Union started preseason training on Monday, and a few fresh faces entered the fray from the 2016 MLS Draft. Joshua Yaro and Keegan Rosenberry have bolstered the defense, and could be likely to factor into the gameday roster come opening day.
Yaro and Rosenberry will try to help shore up a Union defense that conceded 55 goals last year, and Blake thinks they, and the defense as a whole, can do better if they work at it together.
"We're hoping for the best. We'll be working hard in preseason, doing stuff the coaches want us to do and hoping that we can be successful," he said.
"It's going to come down to building good relationships off the field also, getting to know the players better and that will transition onto the field. So then we can hopefully create a great back line and have a great season."
"Time will tell. He still has a minimal amount of MLS starts," Cutin said. "I think he gained confidence with Jamaica and the big games he played there. I'm not guaranteeing that he's going to be the best goalie in MLS this year, but certainly has shown he's more than capable of being talked about in that regard. He needs that consistency and he needs that run of games because it's still an unknown until you put together the 34-game season. His ability speaks for himself."