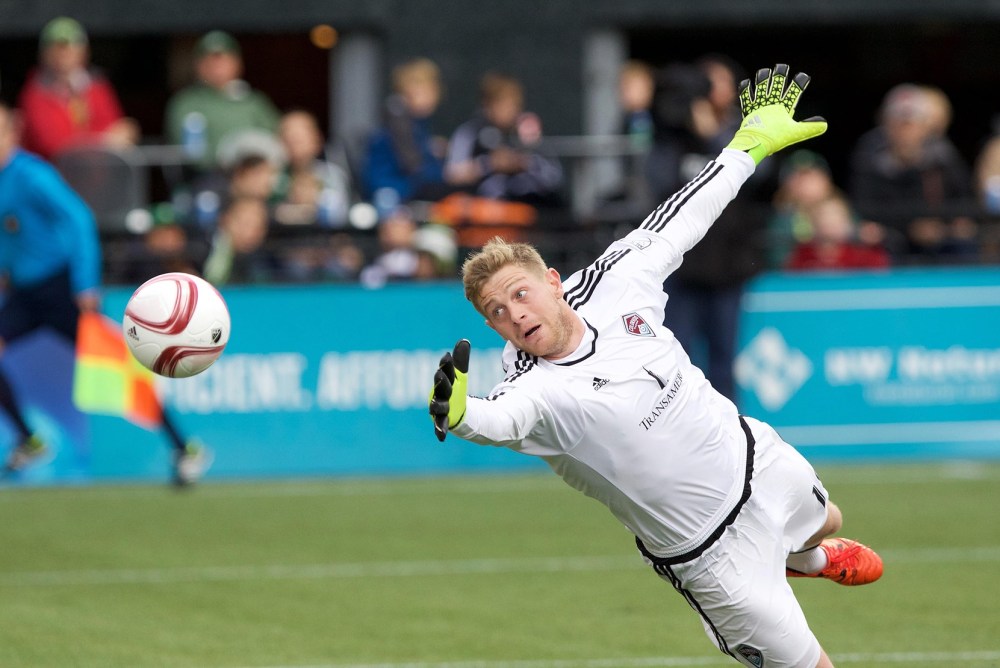 When Algerian goalkeeper Rais M'Bolhi joined the Philadelphia Union in 2014, Zac MacMath knew the door was being shut on his No. 1 spot. Knowing he was good enough for a starting role, MacMath urged the Union to loan him out, instead of filling in as a backup to the new international netminder.
He was given an opportunity to play and fight for a No. 1 spot with the Colorado Rapids last year, while M'Bolhi struggled mightily in the first few months of the MLS season. The Algerian international was subsequently sold midseason, meaning the spot MacMath lost with the Union was suddenly available again.
The problem, though, was that he had already joined the Rapids on loan. Meanwhile, Clint Irwin had beaten out MacMath for the starting spot there, forcing the 24-year-old goalkeeper into only three league appearances the whole season.
"It was kind of an unfortunate situation because it was really out of my hands," MacMath told SBI. "The third year that I was starting when Rais came in the middle of the year, I felt like it was definitely my best year as a pro, and I was having a really good year and to have it halted like that, you know, it sucks, to be honest.
"Fortunately, I got to play six or so more games that year and continued to have a really good year, but obviously they wanted to go in a different direction and that was the writing on the wall, so I went into the offseason asking them to move me."
Prior to MacMath's move to Colorado, he started in 102 games for the Union, recording 28 shutouts in four seasons.
Irwin had been the clear Rapids starter in 2013-14, and while MacMath's addition added competition, Irwin remained in charge.
However, MacMath wasn't going to stop fighting for the No. 1 spot. He started in all three of the Rapids' U.S. Open Cup contests as the year progressed, and often visited the gym to bulk up and improve his fitness in the hopes of reclaiming priority between the pipes.
"Obviously, not playing a lot last season gave me more time to work on my physical attributes, and I've put on probably close to 25 pounds since I first came into the league," MacMath said.
"I think it's really helped me tremendously in my power and my ability to stay fit and stay healthy. I haven't really had a full season at this weight, so I'm excited to see how it helps me this season."
With the added muscle, the 6-foot goalkeeper hopes to be a gamechanger for the Rapids, as well as being more of a presence in and around the 18-year box this year.
"Really coming out and being able to command my box is something big that I hope to improve on this year," he said. "Crossing, in general and also in this league, is very physical. You have to be strong coming out for crosses, making a difference, making it easier on your defenders.
"Hopefully this year you'll see that I can really play with my feet more than people probably think," he added. "I think using my feet has a huge contribution to the team in front of me, and also just my leadership, my organizational skills to really get guys in the right spots to put out fires before they even get started."
The Rapids' preseason training began on Monday, with MacMath eyeing the starting spot for the team. The door has opened for the 24-year-old netminder too, as Irwin made the move to Toronto FC on Jan. 18. MacMath didn't know Irwin would be out of the picture when he joined the Western Conference club on a permanent move from the Union in December, but he set to take the reins anyway.
"I had a really good year, and had a good relationship with the coaching staff," MacMath said. "They pretty much told me they wanted me back, and I said, 'great, let's work something out.'
"I told them that I really wanted to fight for the No. 1 job and have a real chance at it, and they said, 'you will.' Then last week the (Irwin) trade happened, and fortunately for me, that just opened up that window.
"Obviously last year was tough because regardless of preseason I couldn't play in the first game against Philadelphia because I was on loan from them," MacMath added. "So having a clean slate, not having anything hindering or holding me back in preseason and really the rest of the season is just more motivation, and kind of freeing."