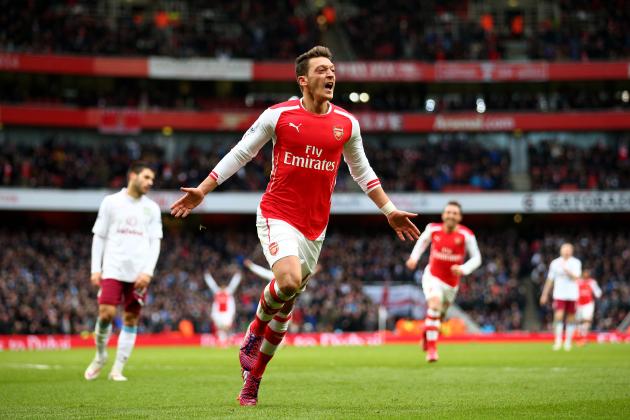 As calendars flip to 2016 this weekend, clubs around the world are hoping the new year will be one filled with success for themselves. Arsenal, for one, has set itself up in an optimal position to achieve just that.
The Gunners are currently tied atop the English Premier League table with Leicester City at the midway point while holding a three-goal lead in goal differential. To begin taking its steps toward securing a league title, Arsene Wenger's club will take on 18th-place Newcastle United on Saturday to kick off the second half of its season.
Leicester City and third-place Manchester City, on the other hand, will face a couple of promotion sides in Bournemouth and Watford, respectively, in hopes of keeping pace. Other enticing matches in the EPL this weekend include Everton taking on fourth-place Tottenham, fifth-place Crystal Palace hosting Chelsea and Manchester United squaring off against Swansea City.
Elsewhere, La Liga leader Barcelona — with Arda Turan and Aleix Vidal finally available after their transfer bans have been lifted — will pay a visit to Espanyol while Atlético and Real Madrid try keep up when they go up against Levante and Valencia, respectively.
Sixth-place Deportivo La Coruña, meanwhile, will try to catch up to the team ahead of itself in the table in Villarreal when the two sides battle at Estadio Riazor.
Also in action this weekend is French powerhouse Paris Saint-Germain, who will participate in Coupe de France action against Wasquehal.
Here is a rundown of all the live soccer action on TV this weekend:
FRIDAY
ENGLISH LEAGUE CHAMPIONSHIP
10 a.m. — beIN Sports USA/beIN Sports en Español — Brighton & Hove Albion vs. Wolverhampton Wanderers
12:15 p.m. — beIN Sports USA/beIN Sports en Español — Queens Park Rangers vs. Hull City
SATURDAY
ENGLISH PREMIER LEAGUE
7:45 a.m. — NBCSN/NBC Sports Live Extra — West Ham United vs. Liverpool
10 a.m. — NBC Sports Live Extra — Arsenal vs. Newcastle United
10 a.m. — NBC Sports Live Extra — Leicester City vs. Bournemouth
10 a.m. — NBC/NBC Sports Live Extra — Manchester United vs. Swansea City
10 a.m. — NBC Sports Live Extra — Sunderland vs. Aston Villa
10 a.m. — NBC Sports Live Extra — Norwich City vs. Southampton
10 a.m. — NBC Sports Live Extra — West Bromwich Albion vs. Stoke City
12:30 p.m. — NBC Sports Live Extra — Watford vs. Manchester City
LA LIGA
10 a.m. — beIN Sports USA/beIN Sports en Español/beIN Sports Connect — Espanyol vs. Barcelona
2:30 p.m. — beIN Sports USA/beIN Sports en Español/beIN Sports Connect — Atlético Madrid vs. Levante
4:05 p.m. — beIN Sports USA/beIN Sports en Español/beIN Sports Connect — Málaga vs. Celta de Vigo
ENGLISH LEAGUE CHAMPIONSHIP
10 a.m. — beIN Sports Connect — Middlesbrough vs. Derby County
SCOTTISH PREMIER LEAGUE
7:30 a.m. — Fox Soccer 2Go — Dundee vs. Dundee United
SCOTTISH LEAGUE CHAMPIONSHIP
12:15 p.m. — Fox Soccer 2Go — Alloa Athletic vs. Falkirk
SUNDAY
ENGLISH PREMIER LEAGUE
8:30 a.m. — NBCSN/NBC Sports Live Extra — Crystal Palace vs. Chelsea
11 a.m. — NBCSN/NBC Sports Live Extra — Everton vs. Tottenham
LA LIGA
6 a.m. — beIN Sports Connect — Rayo Vallecano vs. Real Sociedad
10 a.m. — beIN Sports USA/beIN Sports en Español/beIN Sports Connect — Granada vs. Sevilla
10 a.m. — beIN Sports Connect — Real Betis vs. Eibar
12:15 p.m. — beIN Sports en Español/beIN Sports Connect — Deportivo La Coruña vs. Villarreal
12:15 p.m. — beIN Sports USA/beIN Sports Connect — Athletic Bilbao vs. Las Palmas
2:30 p.m. — beIN Sports USA/beIN Sports en Español/beIN Sports Connect — Valencia vs. Real Madrid
FRENCH CUP
8:15 a.m. — beIN Sports USA/beIN Sports Connect — Wasquehal vs. Paris Saint-Germain
8:15 a.m. — beIN Sports Connect — Limoges vs. Lyon
2:45 p.m. — beIN Sports Connect — Caen vs. Marseille
SCOTTISH PREMIER LEAGUE
7:30 a.m. — Fox Soccer 2Go — St. Johnstone vs. Aberdeen