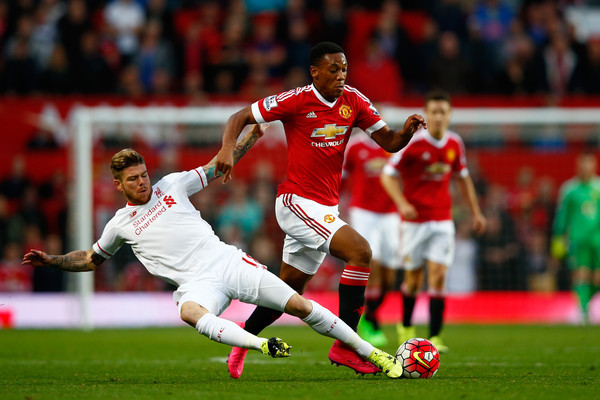 Their first meeting of the season four months ago carried plenty of storylines, but for Manchester United and Liverpool, all that must seem to be ages ago as they prepare for another tilt this weekend at Anfield.
Louis van Gaal's squad was flying high after coming away with a 3-1 victory in that Sept. 12 meeting at Old Trafford, where Anthony Martial scored in his United debut and David De Gea made his season debut following the collapse of the Real Madrid transfer. Liverpool, on the other hand, suffered consecutive losses, which spelled the beginning of the end for Brendan Rodgers.
Fast forward to this week and United, which was sitting among the table leaders at the time, has fallen to sixth place while Jürgen Klopp has taken over for the Reds. The two rivals are separated by three points and both sides are surely hoping to get back into the title race at the expense of one another come Saturday.
As for the table-leading Arsenal and Leicester City, both clubs will travel this weekend to take on Stoke City and Aston Villa, respectively. Second-place Manchester City, meanwhile, will host Crystal Palace with Chelsea taking on Everton at the same time.
In Spain, newly crowned five-time Ballon d'Or winner Lionel Messi will lead Barcelona against Athletic Bilbao, while Real Madrid looks to build off its sparkling debut under Zinedine Zidane in a home fixture against Sporting Gijón. Both sides, however, are still looking up at Atlético Madrid, which will visit 16th-place Las Palmas.
Over in Serie A, Juventus, now in second place after rattling off nine consecutive wins to overcome a poor start to the season, will look to stretch that number to double figures when it takes on Udinese. The table-leading Napoli, meanwhile, looks to hold onto its two-point lead by picking up a result against Sassuolo.
Also in action over the weekend include the Mexican Liga MX, the AFC U-23 Championship and the Florida Cup, which will also feature its All-Star game on Saturday.
Here is a rundown of all the action on TV this weekend:
FRIDAY
MEXICAN LIGA MX
8:30 p.m. — Univision Deportes — Veracruz vs. León
10:30 p.m. — Azteca America — Santos Laguna vs. Chiapas
ENGLISH LEAGUE CHAMPIONSHIP
2:45 p.m. — beIN Sports USA/beIN Sports Connect — Brentford vs. Burnley
FRENCH LIGUE 1
2:30 p.m. — beIN Sports en Español/beIN Sports Connect — Nice vs. Angers
PORTUGUESE PRIMEIRA LIGA
3:30 p.m. — Univision Deportes — Sporting CP vs. Tondela
SCOTTISH PREMIER LEAGUE
2:45 p.m. — Fox Soccer 2Go — Dundee United vs. Celtic
AFC U-23 CHAMPIONSHIP
8:30 a.m. — One World Sports — China vs. Syria
11:30 a.m. — One World Sports — Iran vs. Qatar
SATURDAY
ENGLISH PREMIER LEAGUE
7:45 a.m. — NBCSN/NBC Sports Live Extra — Tottenham vs. Sunderland
10 a.m. — NBCSN/NBC Sports Live Extra/NBC Universo/NBC Deportes en Vivo Extra — Manchester City vs. Crystal Palace
10 a.m. — USA Network/NBC Sports Live Extra — Chelsea vs. Everton
10 a.m. — NBC Sports Live Extra — Southampton vs. West Bromwich Albion
10 a.m. — NBC Sports Live Extra — Newcastle United vs. West Ham United
10 a.m. — NBC Sports Live Extra — Bournemouth vs. Norwich City
12:30 p.m. — NBC/NBC Sports Live Extra — Aston Villa vs. Leicester City
SPANISH LA LIGA
10 a.m. — beIN Sports en Español/beIN Sports Connect — Sevilla vs. Málaga
12:15 p.m. — beIN Sports en Español/beIN Sports Connect — Celta de Vigo vs. Levante
2:30 p.m. — beIN Sports en Español/beIN Sports Connect — Villarreal vs. Real Betis
4:05 p.m. — beIN Sports en Español/beIN Sports Connect — Real Sociedad vs. Deportivo La Coruña
ITALIAN SERIE A
9 a.m. — beIN Sports USA/beIN Sports Connect — Atalanta vs. Inter
2:45 p.m. — beIN Sports USA/beIN Sports Connect — Napoli vs. Sassuolo
FRENCH LIGUE 1
11 a.m. — beIN Sports USA/beIN Sports Connect — Toulouse vs. Paris Saint-Germain
2 p.m. — beIN Sports Connect — Guingamp vs. Nantes
2 p.m. — beIN Sports Connect — Bordeaux vs. Lille
MEXICAN LIGA MX
6 p.m. — Univision Deportes/Univision — Cruz Azul vs. Guadalajara
8 p.m. — Univision Deportes — Tigres UANL vs. Morelia
10 p.m. — ESPN Deportes — Dorados vs. Tijuana
ENGLISH LEAGUE CHAMPIONSHIP
7:30 a.m. — beIN Sports Connect — Sheffield Wednesday vs. Leeds United
10 a.m. — beIN Sports Connect — Blackburn Rovers vs. Brighton & Hove Albion
AFC U-23 CHAMPIONSHIP
8:30 a.m. — One World Sports — Thailand vs. Japan
11:30 a.m. — One World Sports — Korea DPR vs. Saudi Arabia
FLORIDA CUP
6:30 P.M. — WatchESPN/ESPN3 — All-Star Game
SUNDAY
ENGLISH PREMIER LEAGUE
9:05 a.m. — NBCSN/Telemundo/NBC Sports Live Extra/NBC Deportes en Vivo Extra — Liverpool vs. Manchester United
11:15 a.m. — NBCSN/NBC Sports Live Extra/NBC Universo/NBC Deportes en Vivo Extra — Stoke City vs. Arsenal
SPANISH LA LIGA
6 a.m. — beIN Sports en Español/beIN Sports Connect — Valencia vs. Rayo Vallecano
10 a.m. — beIN Sports USA/beIN Sports en Español/beIN Sports Connect — Real Madrid vs. Sporting Gijón
12:15 p.m. — beIN Sports en Español/beIN Sports Connect — Las Palmas vs. Atlético Madrid
12:15 p.m. — beIN Sports Connect — Getafe vs. Espanyol
2:30 p.m. — beIN Sports USA/beIN Sports en Español/beIN Sports Connect — Barcelona vs. Athletic Bilbao
ITALIAN SERIE A
6:30 a.m. — beIN Sports Connect — Genoa vs. Palermo
9 a.m. — beIN Sports USA/beIN Sports Connect — Udinese vs. Juventus
9 a.m. — beIN Sports Connect — AS Roma vs. Hellas Verona
2:45 p.m. — beIN Sports Connect — Milan vs. Fiorentina
FRENCH LIGUE 1
8 a.m. — beIN Sports Connect — Lorient vs. AS Monaco
11 a.m. — beIN Sports Connect — Caen vs. Marseille
PORTUGUESE PRIMEIRA LIGA
3:30 p.m. — Univision Deportes — Vitória Guimarães vs FC Porto
FLORIDA CUP
1:55 p.m. — ESPN Deportes — Atlético Mineiro vs. Corinthians
2 p.m. — ESPN3 — Shakhtar Donetsk vs. Fluminense
4:30 p.m. — ESPN Deportes/ESPN3 — Santa Fe vs. Fort Lauderdale Strikers
MEXICAN LIGA MX
1 p.m. – Univision Deportes/Univision — Pumas UNAM vs. Toluca
6 p.m. — Univision Deportes — Puebla vs. Monterrey
DUTCH EREDIVISIE
8:30 a.m. — Univision Deportes — Feyenoord vs. PSV Eindhoven
SCOTTISH PREMIER LEAGUE
7:15 a.m. — Fox Soccer 2Go — Ross County vs. Aberdeen
SCOTTISH LEAGUE CHAMPIONSHIP
10 a.m. — Fox Soccer 2Go — Falkirk vs. Hibernian
AFC U-23 CHAMPIONSHIP
8:30 a.m. — One World Sports — Vietnam vs. Australia
11:30 a.m. — One World Sports — United Arab Emirates vs. Jordan