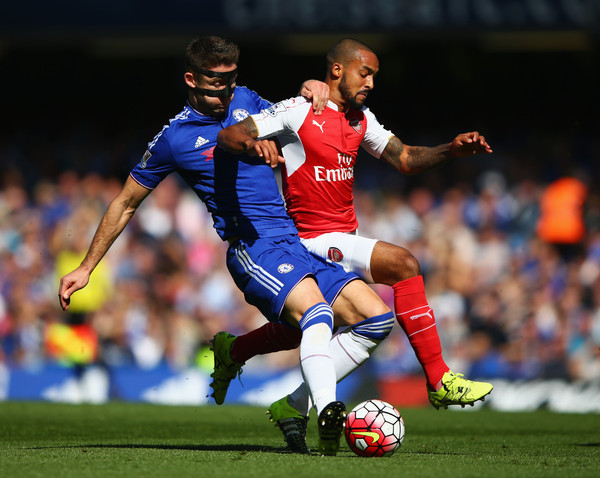 It has been 22 years since this wide of a point gap has separated the two storied London rivals, but for Arsenal and Chelsea, Sunday's London derby still has plenty at stake.
The Gunners, who currently sit atop the table in the English Premier League with 44 points, alongside Leicester City, are 19 points clear of their longtime adversary, which sits in 14th place as defending champion. The last time Arsenal led by this many points against Chelsea prior to a face-off was in January of 1994, when the gap was at 20.
Arsenal will look to create some cushion between itself and Leicester City at the expense of Chelsea at Emirates Stadium on Sunday, but the Blues are surely hoping for a repeat performance from their 2-0 win over the Gunners back in September — a match filled with physicality.
As for Leicester City, it will take on Stoke City at home while the likes of Manchester City, Manchester United and Tottenham go up against West Ham United, Southampton and Crystal Palace, respectively.
Over in Germany, the Bundesliga returns to action after a month of break with table-leading Bayern Munich visiting Hamburg SV. Second-place Borussia Dortmund, on the other hand, will travel to fourth-place Borussia Mönchengladbach.
On the ledger for La Liga this weekend include an enticing fixture between league-leading Atlético Madrid and Sevilla. Barcelona and Real Madrid, meanwhile, will both be on the road to take on Málaga and Real Betis, respectively.
As for Serie A, Juventus looks to keep its 10-match winning streak rolling against rival Roma, while also hoping to overtake first-place Napoli, which will visit Sampdoria.
Not to be lost in the shuffle is a friendly for the U.S. Women's National Team, which will compete in its first match in the post-Abby Wambach era against Ireland.
Here is the full rundown for all the soccer action on TV this weekend:
FRIDAY
SPANISH LA LIGA
2:30 p.m. — beIN Sports en Español/beIN Sports Connect — Sporting Gijón vs. Real Sociedad
GERMAN BUNDESLIGA
2:30 p.m. — Fox Sports 1/Fox Sports Go/Fox Soccer 2Go — Hamburg SV vs. Bayern Munich
FRENCH LIGUE 1
2:30 p.m. — beIN Sports USA/beIN Sports Connect — Stade Rennes vs. Gazélec Ajaccio
MEXICAN LIGA MX
8:30 p.m. — Univision Deportes — Querétaro vs. Dorados
10:30 p.m. — Azteca America — Tijuana vs. Santos Laguna
SCOTTISH PREMIER LEAGUE
2:45 p.m. — Fox Soccer 2Go/Fox Soccer Plus — Aberdeen vs. Dundee
AFC U-23 CHAMPIONSHIP
8:30 a.m. — One World Sports — Japan vs. Iran (quarterfinals)
11:30 a.m. — One World Sports — Qatar vs. North Korea (quarterfinals)
SATURDAY
ENGLISH PREMIER LEAGUE
7:45 a.m. — NBCSN/NBC Sports Live Extra — Norwich City vs. Liverpool
10 a.m. — NBCSN/NBC Sports Live Extra/NBC Universo/NBC Deportes en Vivo Extra — Manchester United vs. Southampton
10 a.m. — USA Network/NBC Sports Live Extra — Crystal Palace vs. Tottenham
10 a.m. — NBC Sports Live Extra — Leicester City vs. Stoke City
10 a.m. — NBC Sports Live Extra — Sunderland vs. Bournemouth
10 a.m. — NBC Sports Live Extra — West Bromwich Albion vs. Aston Villa
10 a.m. — NBC Sports Live Extra — Watford vs. Newcastle United
12:30 p.m. — NBC/NBC Sports Live Extra/NBC Universo/NBC Deportes en Vivo Extra — West Ham United vs. Manchester City
SPANISH LA LIGA
10 a.m. — beIN Sports USA/beIN Sports en Español/beIN Sports Connect — Málaga vs. Barcelona
12:15 p.m. — beIN Sports en Español/beIN Sports Connect — Espanyol vs. Villarreal
2:30 p.m. — beIN Sports en Español/beIN Sports Connect — Granada vs. Getafe
4:05 p.m. — beIN Sports en Español/beIN Sports Connect — Rayo Vallecano vs. Celta de Vigo
ITALIAN SERIE A
Noon — RAI Internazionale/beIN Sports Connect — Frosinone vs. Atalanta
2:45 p.m. — beIN Sports USA/RAI Internazionale/beIN Sports Connect — Empoli vs. Milan
GERMAN BUNDESLIGA
9:30 a.m. — Fox Sports 1/Fox Sports Go/Fox Deportes/Fox Soccer 2Go — Hoffenheim vs. Bayer Leverkusen
9:30 a.m. — Fox Sports 2/Fox Sports Go/Fox Soccer 2Go — Cologne vs. VfB Stuttgart
9:30 a.m. — Fox Soccer 2Go/Fox Soccer Plus — Hertha Berlin vs. Augsburg
9:30 a.m. — Fox Soccer 2Go — Hannover 96 vs. Darmstadt 98
9:30 a.m. — Fox Soccer 2Go — Ingolstadt vs. Mainz 05
12:30 p.m. — Fox Sports 2/Fox Sports Go/Fox Soccer 2Go — Borussia Mönchengladbach vs. Borussia Dortmund
FRENCH LIGUE 1
11 a.m. — beIN Sports USA/beIN Sports Connect — Paris Saint-Germain vs. Angers
2 p.m. — beIN Sports Connect — Montpellier vs. Caen
2 p.m. — beIN Sports Connect — Nantes vs. Bordeaux
2 p.m. — beIN Sports Connect — Nice vs. Lorient
ENGLISH LEAGUE CHAMPIONSHIP
7:30 a.m. — beIN Sports USA/beIN Sports Connect — Queens Park Rangers vs. Wolverhampton Wanderers
10 a.m. — beIN Sports Connect — Fulham vs. Hull City
MEXICAN LIGA MX
6 p.m. — Univision Deportes — Club América vs. Pachuca
8 p.m. — Univision Deportes — Monterrey vs. Atlas
9:06 p.m. — NBC Universo — Club León vs. Cruz Azul
9:30 p.m. — Azteca America — Morelia vs. Toluca
10 p.m. — Univision Deportes — Chiapas vs. Veracruz
FIFA WOMEN'S FRIENDLY
5:30 p.m. — Fox Sports 1/Fox Sports Go — United States vs. Ireland
PORTUGUESE PRIMEIRA LIGA
3:45 p.m. — Univision Deportes — Paços de Ferreira vs. Sporting CP
AFC U-23 CHAMPIONSHIP
11:30 a.m. — One World Sports — United Arab Emirates vs. Iraq (quarterfinals)
SUNDAY
ENGLISH PREMIER LEAGUE
8:30 a.m. — NBCSN/NBC Sports Live Extra — Everton vs. Swansea City
11 a.m. — NBCSN/Telemundo/NBC Sports Live Extra/NBC Deportes en Vivo Extra — Arsenal vs. Chelsea
SPANISH LA LIGA
6 a.m. — beIN Sports Connect — Athletic Bilbao vs. Eibar
10 a.m. — beIN Sports USA/beIN Sports en Español/beIN Sports Connect — Atlético Madrid vs. Sevilla
12:15 p.m. — beIN Sports USA/beIN Sports en Español/beIN Sports Connect — Deportivo La Coruña vs. Valencia
2:30 p.m. — beIN Sports en Español/beIN Sports Connect — Real Betis vs. Real Madrid
ITALIAN SERIE A
6:30 a.m. — beIN Sports USA/beIN Sports en Español/beIN Sports Connect/RAI Internazionale — Fiorentina vs. Torino
9 a.m. — beIN Sports USA/beIN Sports Connect — Sampdoria vs. Napoli
9 a.m. — beIN Sports Connect — Inter vs. Carpi
9 a.m. — beIN Sports Connect — Lazio vs. Chievo Veronas
9 a.m. — beIN Sports Connect — Sassuolo vs. Bologna
9 a.m. — RAI Internazionale — Palermo vs. Udinese
2:45 p.m. — beIN Sports USA/beIN Sports Connect — Juventus vs. Roma
GERMAN BUNDESLIGA
9:30 a.m. — Fox Sports 1/Fox Sports Go/Fox Deportes/Fox Soccer 2Go — Eintracht Frankfurt vs. VfL Wolfsburg
11:30 a.m. — Fox Sports 1/Fox Sports Go/Fox Soccer 2Go — Schalke 04 vs. Werder Bremen
FRENCH LIGUE 1
8 a.m. — beIN Sports Connect — AS Monaco vs. Toulouse
11 a.m. — beIN Sports Connect — Stade Reims vs. Saint-Étienne
3 p.m. — beIN Sports Connect — Lyon vs. Marseille
MEXICAN LIGA MX
1 p.m. — Univision/Univision Deportes — Pumas UNAM vs. Puebla
6 p.m. — UniMás/Univision Deportes — Guadalajara vs. Tigres UANL
DUTCH EREDIVISIE
8:30 a.m. — Univision Deportes — PSV Eindhoven vs. Twente
PORTUGUESE PRIMEIRA LIGA
3:30 p.m. — Univision Deportes — FC Porto vs. Marítimo
SCOTTISH PREMIER LEAGUE
7:45 a.m. — Fox Soccer 2Go/Fox Soccer Plus — Hamilton Academical vs. Heart of Midlothian