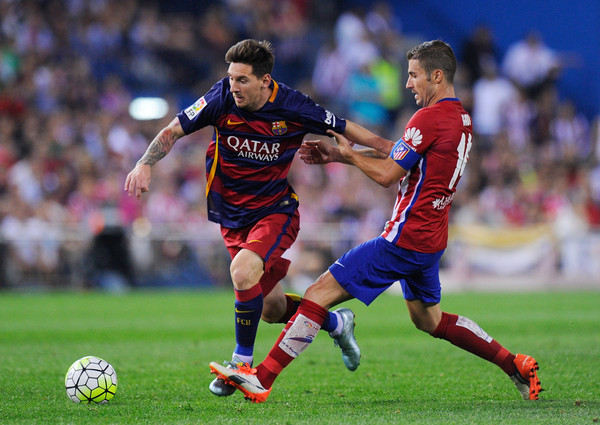 Sitting atop La Liga together with 48 points apiece, Barcelona and Atlético Madrid will square off for sole possession of the league lead on Saturday when the two sides meet at Camp Nou.
Momentum will be on the host's side in this fixture as Barça goes for its eighth consecutive win across all competitions. Atlético, on the other hand, will have to bounce back after a poor week that saw itself go winless in three contests and getting knocked out of the Copa del Rey.
As for Real Madrid, which trails both clubs by four points, it will hope that clash ends in a draw while itself closes the distance by picking three points against Espanyol at home.
Also on the ledger this weekend is the Derby della Madonnina. While neither AC Milan nor Inter are battling for the top spot in Serie A at the moment, the showdown at San Siro will nevertheless be an enticing one as Milan looks to avenge the 1-0 loss earlier in the season as the "home" side this time around.
Serie A leader Napoli, meanwhile, will host Empoli, as second-place Juventus looks to extend its league winning streak to 12 against Chievo Verona.
In England, the Premier League will go on break this weekend to make room for the fourth round of the FA Cup. Manchester United will visit Derby County to kick things off on Friday while Liverpool-West Ham United headlines the Saturday fixtures. On Sunday, Everton will travel to face Carlisle United and Chelsea will pay a visit to Milton Keynes Dons.
To cap the weekend off, Bayern Munich and Paris Saint-Germain will take the pitch to face Hoffenheim and Saint-Étienne in respective league fixtures while the U.S. Men's National Team hosts Iceland in a friendly at StubHub Center in Carson, Calif.
Here is a rundown of all the soccer action on TV for this weekend:
FRIDAY
ENGLISH FA CUP
2:55 p.m. — Fox Sports 1/Fox Sports Go/Fox Deportes/Fox Soccer 2Go — Derby County vs. Manchester United
GERMAN BUNDESLIGA
2:30 p.m. — Fox Soccer 2Go/Fox Soccer Plus — Mainz 05 vs. Borussia Mönchengladbach
FRENCH LIGUE 1
2:30 p.m. — beIN Sports USA/beIN Sport en Español/beIN Sports Connect — Marseille vs. Lille
MEXICAN LIGA MX
10:30 p.m. — Azteca America — Santos Laguna vs. Querétaro
AFC U-23 CHAMPIONSHIP
9:30 a.m. — One World Sports — Qatar vs. Iraq (third-place game)
SATURDAY
SPANISH LA LIGA
10 a.m. — beIN Sports USA/beIN Sport en Español/beIN Sports Connect — Barcelona vs. Atlético Madrid
12:15 p.m. — beIN Sports en Español/beIN Sports Connect — Eibar vs. Málaga
12:15 p.m. — beIN Sports USA/beIN Sports Connect — Getafe vs. Athletic Bilbao
2:30 p.m. – beIN Sports en Español/beIN Sports Connect — Villarreal vs. Granada
4:05 p.m. — beIN Sports en Español/beIN Sports Connect — Real Sociedad vs. Real Betis
ENGLISH FA CUP
7:45 a.m. — Fox Sports 1/Fox Sports Go/Fox Deportes/Fox Soccer 2Go — Colchester United vs. Tottenham
10 a.m. — Fox Sports 1/Fox Sports Go/Fox Deportes — Arsenal vs. Burnley
10 a.m. — Fox Soccer Plus — Nottingham Forest vs. Watford
12:30 p.m. — Fox Sports 2/Fox Sports Go/Fox Deportes/Fox Soccer 2Go — Liverpool vs. West Ham United
ITALIAN SERIE A
9 a.m. — beIN Sports Connect — Carpi vs. Palermo
Noon — beIN Sports Connect — Atalanta vs. Sassuolo
2:45 p.m. — beIN Sports USA/beIN Sports Connect — AS Roma vs. Frosinone
GERMAN BUNDESLIGA
9:30 a.m. — Fox Sports 2/Fox Sports Go/Fox Soccer 2Go — Borussia Dortmund vs. Ingolstadt
9:30 a.m. — Fox Soccer 2Go — Bayer Leverkusen vs. Hannover 96
9:30 a.m. — Fox Soccer 2Go — Darmstadt 98 vs. Schalke 04
9:30 a.m. — Fox Soccer 2Go — Werder Bremen vs. Hertha Berlin
9:30 a.m. — Fox Soccer 2Go — Augsburg vs. Eintracht Frankfurt
12:30 p.m. — Fox Soccer 2Go — VfB Stuttgart vs. Hamburg SV
FRENCH LIGUE 1
11 a.m. — beIN Sports Connect — Angers vs. AS Monaco
2 p.m. — beIN Sports Connect — Lorient vs. Reims
2 p.m. — beIN Sports Connect — Troyes vs. Nantes
2 p.m. — beIN Sports Connect — Bastia vs. Lyon
MEXICAN LIGA MX
6 p.m. — Univision Deportes/Univision — Cruz Azul vs. Chiapas
8 p.m. — Univision Deportes — Tigres UANL vs. León
9:06 p.m. — NBC Universo — Pachuca vs. Monterrey
10 p.m. — ESPN Deportes — Dorados vs. Club América
ENGLISH LEAGUE CHAMPIONSHIP
10 a.m. — beIN Sports Connect — Rotherham United vs. Charlton Athletic
PORTUGUESE PRIMEIRA LIGA
1:30 p.m. — Univision Deportes — Estoril vs. FC Porto
3:45 p.m. — Univision Deportes — Sporting CP vs. Académica
SCOTTISH PREMIER LEAGUE
7:30 a.m. — Fox Soccer 2Go/Fox Soccer Plus — Inverness CT vs. Heart of Midlothian
AFC U-23 CHAMPIONSHIP
9:30 a.m. — One World Sports — Korea vs. Japan (final)
SUNDAY
SPANISH LA LIGA
6 a.m. — beIN Sports Connect — Sevilla vs. Levante
10 a.m. — beIN Sports USA/beIN Sports en Español/beIN Sports Connect — Valencia vs. Sporting Gijón
12:15 p.m. — beIN Sports USA/beIN Sports en Español/beIN Sports Connect — Las Palmas vs. Celta de Vigo
2:30 p.m. — beIN Sports en Español/beIN Sports Connect — Real Madrid vs. Espanyol
ENGLISH FA CUP
8:30 a.m. — Fox Sports 2/Fox Sports Go/Fox Soccer 2Go — Carlisle United vs. Everton
11 a.m. — Fox Sports 1/Fox Sports Go/Fox Soccer 2Go — Milton Keynes Dons vs. Chelsea
ITALIAN SERIE A
6:30 a.m. — beIN Sports USA/beIN Sports en Español/beIN Sports Connect — Chievo Verona vs. Juventus
9 a.m. — beIN Sports USA/beIN Sports Connect — Napoli vs. Empoli
9 a.m. — beIN Sports Connect — Udinese vs. Lazio
9 a.m. – beIN Sports Connect — Genoa vs. Fiorentina
2:45 p.m. — beIN Sports USA/beIN Sports Connect — Milan vs. Inter
GERMAN BUNDESLIGA
9:30 a.m. — Fox Deportes/Fox Soccer 2Go/Fox Soccer Plus — VfL Wolfsburg vs. Cologne
11:30 a.m. — Fox Soccer 2Go/Fox Soccer Plus — Bayern Munich vs. Hoffenheim
FRENCH LIGUE 1
8 a.m. — beIN Sports Connect — Caen vs. Nice
11 a.m. — beIN Sports Connect — Bordeaux vs. Rennes
3 p.m. — beIN Sports Connect — Saint-Étienne vs. Paris Saint-Germain
MEXICAN LIGA MX
1 p.m. — Univision/Univision Deportes — Toluca vs. Puebla
INTERNATIONAL FRIENDLY
3:45 p.m. — ESPN2/Univision Deportes/UniMás — United States vs. Iceland