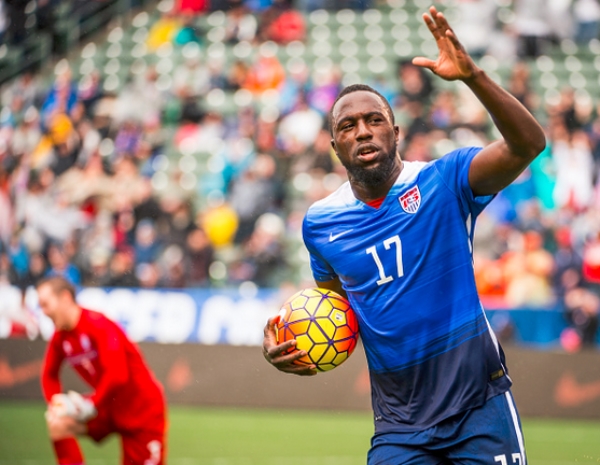 It pains Jozy Altidore to think of what might have been, but the U.S. Men's National Team forward is determined to do his part in making up for lost time.
A frequent contributor to the national team since he was 18 years old, Altidore has surged up the USMNT's all-time goal-scoring charts while maintaining his status as one of the nation's top forward options. Yet, despite all of his successes internationally, Altidore's biggest regrets come from the chances missed to make his mark on international tournaments.
In 2011, it was a hamstring injury that derailed his Gold Cup hopes, while another injury limited a clearly hampered Altidore at the 2015 version of the same tournament. Most notably was the 2014 World Cup, a tournament that saw Altidore stretchered off just 23 minutes into what was supposed to be one of the most important moments of his life.
Now entering year 10 with the national team, Altidore is determined to finally make the most of his opportunities, prompting several changes intended to maximize his chances of being a part of the USMNT's next tournament run at this summer's Copa America.
"It's because, for me, when I look at the past years, the opportunities that I've missed with the national team, they hurt me," Altidore said following Sunday's 3-2 victory over Iceland. "I missed the World Cup. I was looking so forward to that World Cup, so it hurt. The Gold Cup, I didn't miss it, but I wasn't fit for it, so that hurt as well. I have the Copa America coming up and I feel like I've always missed the big tournament. It will be a good opportunity. I owe it to myself and the team to try and be there and be fit for it.
"The injuries killed me. I had the injury at the worst time," Altidore added of his most recent setback. "I felt really good and I had it, I think it was against New England, and it threw me off the whole summer. I never could get my rhythm back. For me, the biggest thing is just staying healthy. I want to do that as much as I can."
To that aim, Altidore has taken several steps to ensure that he starts 2016 in the best shape of his career.
The forward says that he entered the 2016 January camp lighter than ever before, dropping 10 pounds in an effort to be quicker on his feet. With that goal in mind, Altidore has shifted everything from his diet to his sleep schedule while also adding more yoga and stretching to his routine than ever before.
Fitter and leaner than in previous years, Altidore says the goal is to remain light enough to avoid the muscle injuries that have plagued his career. Still, the change in body type presents its share of challenges. Several times throughout Sunday's friendly, the forward was pushed off the ball in atypical fashion, which Altidore admits is a facet he will need to adjust to as time goes on.
But overall, the reviews of Altidore's recent efforts to improve his fitness have been positive, and the forward was rewarded for it with a goal in his first appearance of 2016.
"I think 'change' might be a little bit exaggerated," said USMNT head coach Jurgen Klinsmann. "We see definitely a Jozy maturing, a Jozy realizing that, 'I actually belong to the established older guys,' and he also knows that time goes by very fast. I always, especially when players get maybe 26 or 28, I always remind them, 'guys, you've got to maximize your career now. Don't kind of look back in six or eight years from now and and say, 'oh, shoot. If I would have known I should have done more, whatever, differently.' I always tell them maximize your time right now, and I think Jozy's at a point in his career where he really kind of now becomes an adult, saying 'I've got to get the most out of this whole thing. I play in a Copa America this summer.' 
"Maybe that's the only Copa America you're going to play, especially in our home country. So he came into this camp in a very good shape, in a very positive and good spirit and worked. He was here from day one committed to work, and I think they proved the first hour. All of them are not 90-minute players right now, none of them. Some have to stay 90 minutes on the field because we only have 'X' amount of subs, but Jozy was determined to come here and get going, get this year, 2016, started in the right way, which he did, and build. Now obviously with every day he needs to build more fitness, build more stability, build more confidence and so on. It's fun to have him."
Altidore is hoping that the fun extends through the 2016 calendar year, which got off to a positive start with his goal-scoring performance on Sunday. With a new training system in place with both the USMNT and Toronto FC, Altidore is in this for the long haul as he looks to rebound from a 2015 season that was admittedly one of the toughest of his career.
Now, 2015 is firmly in the past, as another major tournament sits on the horizon. For Altidore, this summer's Copa America represents yet another chance to solidify his status on the international stage, and the forward will do whatever it takes to make sure he is ready when the time comes.
"I've always had to mature from Day 1 when I turned professional," Altidore said. "You go through different things in life that test you, definitely. For me, I definitely see things differently and I think I take things with more importance.
"For me, the biggest thing is my health," he added. "I don't want to get injured this year. I want to keep the injuries at the minimum. I feel like, if I could stay healthy, I could have a strong season."