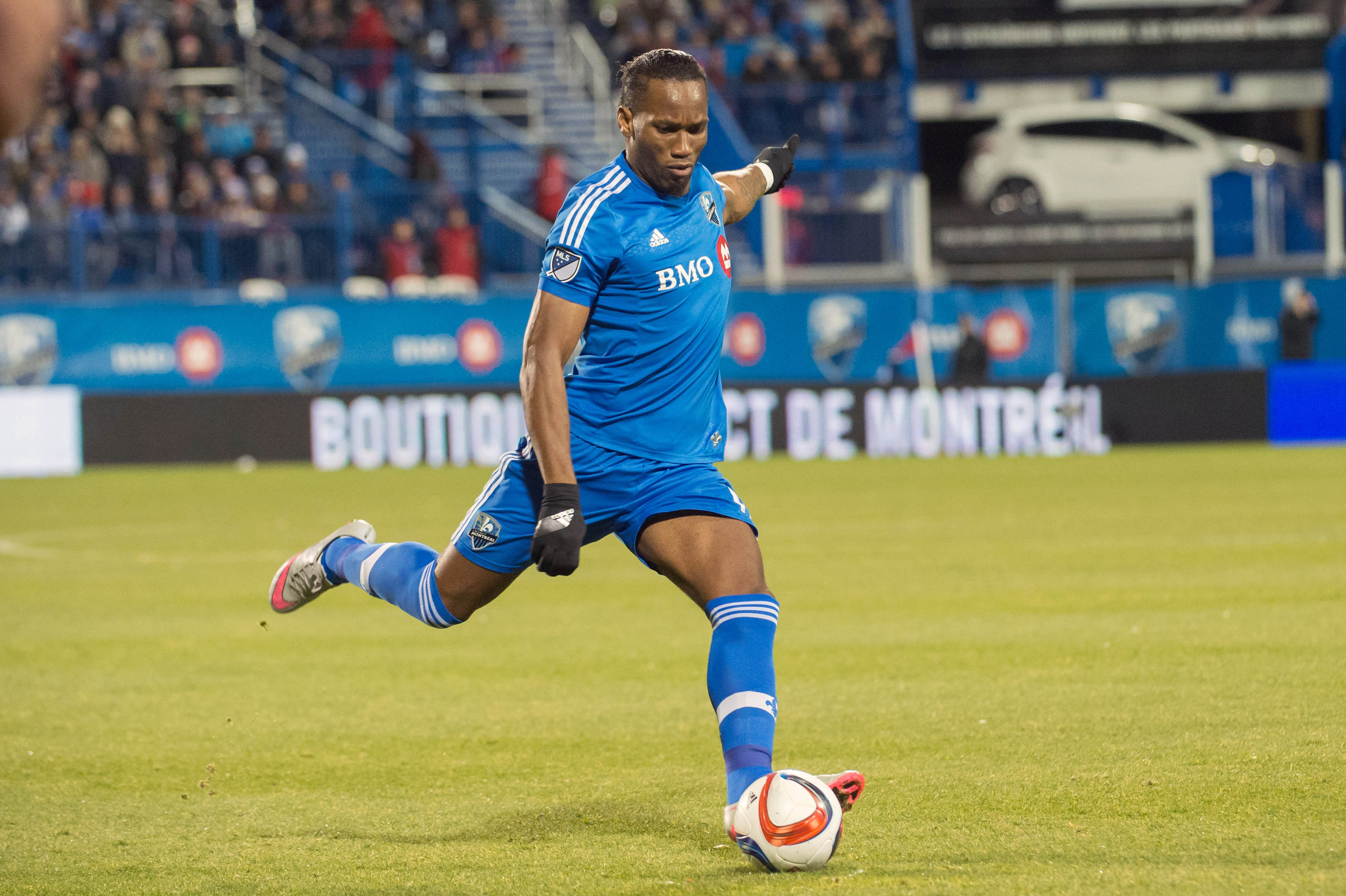 A cloud of uncertainty hung over the Montreal Impact's plans for 2016 throughout much of the offseason, but in the end, they got the commitment they were looking for and are now ready to build on what they accomplished last year.
The Impact are heading into the upcoming MLS campaign with plenty of expectations given how strongly they closed out 2015. The club was one of the hottest in all of the league during the final months of the season, and was at times utterly dominant due to the impressive play of summer acquisition Didier Drogba.
Drogba finished last season with 11 goals in 11 regular season games, but his return to the club was no sure thing as he weighed whether to retire or not this winter. That complicated matters for the Impact, but he ultimately chose to continue playing, which allowed them to move along with their primary plans of attacking the season with much of the same roster that took the league by storm last fall.
"I think you want to have that continuity, and sometimes building the team takes time," Impact head coach Mauro Biello told SBI. "I think (in 2014) we didn't have a good season. We made a lot of changes to rebuild the team and (in 2015) we had some success. You don't want to now make too many changes. You want to build on what you achieve the year before so you can continue to improve the team. We've added a couple of interesting pieces that will definitely help the team."
Biello might have a lot of last season's pieces back, but he is also facing his first full season in charge of the Impact. How he manages his squad, including the soon-to-be 38-year-old Drogba, will play a large part in determining how the Impact do and whether or not they can surpass last year's accomplishments.
Here's a closer look at the 2016 Montreal Impact:
MONTREAL IMPACT SEASON PREVIEW
2015 FINISH: 15-13-6, 51 points (3rd in Eastern Conference)
KEY ACQUISITIONS: Harry Shipp, Lucas Ontivero, Kyle Fisher
KEY LOSSES: Justin Mapp, Dilly Duka, Eric Miller, Nigel Reo-Coker
NEWCOMER TO WATCH: Harry Shipp. The attacking youngster has made an immediate impression on his new club by performing well in training and matches, and the club will be hoping he can replicate that over the course of the season. He figures to be an integral part of the Impact's front line, especially after the departures of wide duo Justin Mapp and Dilly Duka.
PRESSURE IS ON: Didier Drogba. He may have made it look easy at times in 2015, but playing at a high level for three months isn't the same as doing so over the course of an entire campaign. The Impact are relying heavily on Drogba to produce again via goals and stellar hold-up play, but it likely will not be easy for the star striker given that he turns 38 soon.
OUTLOOK
Apart from getting Drogba back, the Impact have the added benefit of not having to deal with the CONCACAF Champions League during the opening months of the season. The Impact made a deep run to the competition's finals last year, but in doing so, sacrificed some results in league play during the spring.
It still took a while for the Impact to get into the groove of things once they were able to turn all of their attention towards the MLS campaign, but it was not until Biello replaced Frank Klopas and Drogba arrived in August that the club improved drastically and became a serious contender.
The Impact may have shown in 2015 that they can overcome a slow start and finish strong, but would rather not fall in the same type of hole this season.
"We know the importance of getting off to a good start," said Biello. "It's so difficult in this league, especially with our schedule (because) sometimes we have to start games on the road because of the situation of the weather back home. But it's about trying to get some points early on and be able to be in the middle of that pack come the middle of the summer when it's time to start finding our rhythm."
It might not even take that long for the club to find its rhythm. Almost all of last year's roster was brought back for the 2016 campaign, with the real notable exceptions being wide attackers Justin Mapp and Dilly Duka, veteran midfielder Nigel Reo-Coker and young defender Eric Miller.
To help make up for the loss of Mapp and Duka, the Impact made a surprise trade for creative youngster Shipp in February. The early returns from preseason camp are that Shipp has fit right in, and there is plenty expected of him given that he is likely to start on the right wing from Day 1.
The rest of the lineup should be more or less the same as in 2015. Evan Bush is a lock to be in goal, and the back line should comprise of familiar faces Ambroise Oyongo, Laurent Ciman, Victor Cabrera and Donny Toia. The midfield might look a little different, but should consist mostly of players like Eric Alexander and Marco Donadel that were on the Impact roster a year ago.
Then there is Ignacio Piatti on the left wing, and the inimitable Drogba leading the charge up top. After much offseason uncertainty, Drogba decided to return to Montreal rather than retire to join Chelsea's coaching staff. The star striker only recently joined the Impact for preseason training, but he is expected to provide plenty from early on in the campaign.
"It's great that Didier is back, not just for us but for MLS," Piatti told SBI. "It's really good and important because of what he means for the team. We needed a striker of great quality last year and he came and scored 11 goals in 11 games. We needed a forward with his capabilities, and we're all happy that he's back. He's getting fit right now, and he'll be ready in no time to start playing."
While the Impact may be stressing continuity, they also are planning to count on some new pieces to contribute. Argentine midfielder Ontivero was brought over on loan from Galatasaray, and he should play a key role in the Impact's midfield. There is also Costa Rica international Johan Venegas, who showed flashes after joining the Impact midway through last season and is expected to do even more this year.
Even with the handful of new pieces, the Impact anticipate to play largely the same way that they did during those successful months in 2015. Improvements can be made, of course, especially on the defensive side.
"We still have got to work on closing down the direct channel to the goal and being more compact from front to back, not giving the teams space to play," said Biello. "I think that's key in our league, where you've got to be that team that is difficult to break down all the time. I think it's a mindset and mentality that we're working on."
What the Impact want to do is take another step forward and build on last season's success. Some of the club's fans may already be dreaming of winning the MLS Cup, but the Impact are staying focused on the process.
They want to maintain a consistently good level throughout the course of the campaign, and then turn it up a notch or two once again when the final months of the season come.
"There's so much parity in this league and we see it every year: teams that do well and then the next year they have trouble," said Biello. "You want to be a team that year after year is competing with the better teams in that division. I know it's difficult and it requires a lot of work, but this is the goal, for us to be in there, to give ourselves that opportunity to make that run come the year end."
PROJECTED STARTING LINEUP