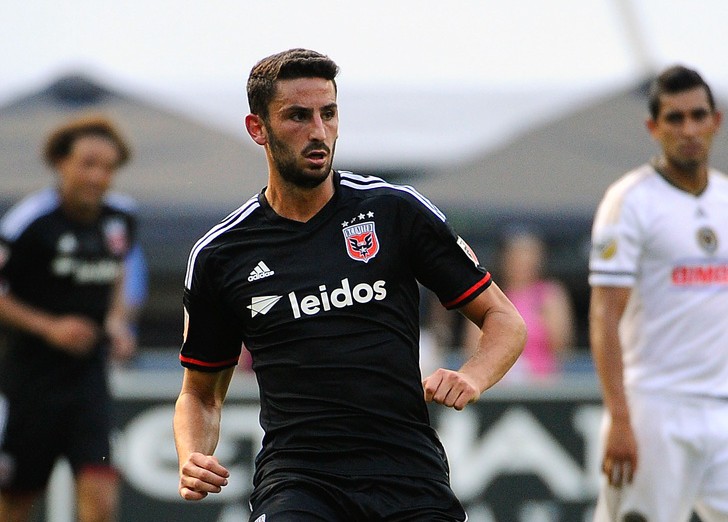 It's not easy to stand out from the crowded field of potential U.S. Men's National Team centerbacks, but Steve Birnbaum made a strong case for himself on Sunday.
Birnbaum scored the game-winning goal and assisted another in the 3-2 win over Iceland. The match was just his second at the international level, and it comes a full year after his first.
That's partly because of Birnbaum's battle with injuries, but also a sign of just how tough it is to break into the national team's back line.
"(2015) was an up-and-down year," Birnbaun told reporters after the game at StubHub Arena. "Getting called into the first camp and then getting my first cap was great, and then I got injured and it was downhill."
Birnbaum wasn't even called into this year's January camp originally. Days before it began, a pair of injuries left head coach Jurgen Klinsmann short-handed, and Birnbaum got the call.
"A couple days before he just said, 'can you be in on Monday?'" said Birnbaum. "I was like, 'alright, I'm in.' I was running the whole offseason so I was semi-fit coming into camp."
Despite being a late addition to the roster, Birnbaum quickly turned heads.
"He came in very determined," said Klinsmann after the game. "He said, 'I'm ready, I've worked a lot over Christmas, New Year's, over the winter period, and (I'm ready) whenever you need me.'"
By the time Sunday's game rolled around, Birnbaum had earned himself some playing time. He checked in at the half, just minutes before disaster struck as the U.S. gave up a second goal.
"It was an interesting play," said Birnbaum postgame. "We almost thought it was a foul on them, and everyone stopped, and they had a breakaway."
Despite a shaky first few minutes, Birnbaum found his footing and eventually left his impact on the match in a huge way.
It started in the 59th minute, when Jozy Altidore sent a cross to the far post. Birnbaum headed the ball back across the goalmouth, where it found an eager-and-waiting Michael Orozco. Orozco tied up the game, and Birnbaum notched an assist.
What followed was a grueling and scoreless half hour. Towards the final minutes of the game, a tie looked all but certain, but when Michael Bradley lined up a free kick from the edge of Iceland's goal area, Birnbaum saw his chance.
"They were playing a zone defense, so it's easier for attackers to run in and get a head start on the ball," said Birnbaum. "I knew that if Michael was going to float it up there, I could win it over a guy standing still."
And that's exactly what Birnbaum did, leaping above the Iceland defenders to head home the difference-maker.
"It was cool to be able to do that in front of my hometown, basically," said Birnbaum, who's from Irvine, California. "Mom was here, Grandma, everyone. It was awesome."
Teammate Jozy Altidore spoke highly of his performance, especially coming off a tough year.
"It's great for a guy like Steve," said Altidore after the game. "For him to come back in this year, keep his head down, and work hard, I'm pleased for him to get that moment."
Whether or not it will be enough to move Birnbaum up the depth chart remains to be seen. In a postgame press conference, Klinsmann was quick to point out that the U.S. has a healthy pool of centerbacks, who are all "very, very close to each other."
But Birnbaum made the most of the minutes he was given, and according to his coach, that's what counts.
"We always encourage them just to, when they get the opportunity on the field, make the most out of it," said Klinsmann. "And he did."