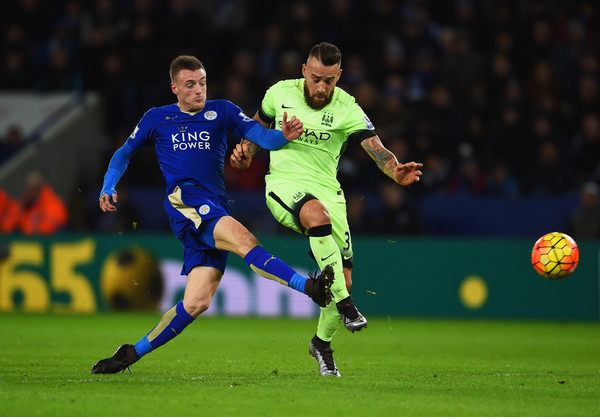 The English Premier League title race will feature a crucial fixture this weekend when table-topping Leicester City visits second-place Manchester City.
Manuel Pellegrini's squad is trailing by three points heading into Saturday's contest, but a win would give City the goal-differential tiebreaker for the temporary table lead.
Meanwhile, Chelsea and Manchester United will tangle on Sunday at Stamford Bridge. There may be a lack of luster surrounding this storied rivalry this season, but any contest between these two clubs is almost always sure to make for some entertainment.
As for the action in Germany, the top four Bundesliga clubs this season will clash against each other on Saturday, with first-place Bayern Munich visiting fourth-place Bayer Leverkusen and third-place Hertha Berlin hosting Borussia Dortmund.
Serie A sides Napoli and Juventus, on the other hand, will get a chance to continue their respective league winning streaks of seven and 13 when they take on bottom-feeders Carpi and Frosinone.
Other enticing matches this weekend include the international friendly between the U.S. and Canada, Barcelona-Levante, Stoke City-Everton, Granada-Real Madrid and Marseille-PSG.
Here is a rundown of all the soccer action on TV this weekend:
FRIDAY
SPANISH LA LIGA
2:30 p.m. — beIN Sports en Español/beIN Sports Connect — Málaga vs. Getafe
GERMAN BUNDESLIGA
2:30 p.m. — Fox Sports 2/Fox Sports Go/Fox Soccer 2Go — Borussia Mönchengladbach vs. Werder Bremen
MEXICAN LIGA MX
8:30 p.m. — Univision Deportes — Querétaro vs. Veracruz
10:30 p.m. — Azteca America — Tijuana vs. Cruz Azul
ENGLISH LEAGUE CHAMPIONSHIP
2:45 p.m. — beIN Sports USA/beIN Sports Connect — Brighton & Hove Albion vs. Brentford
PORTUGUESE PRIMEIRA LIGA
3:30 p.m. — Univision Deportes — Belenenses vs. Benfica
INTERNATIONAL FRIENDLY
10:15 p.m. — Fox Sports 1/Fox Sports Go/Fox Soccer 2Go/UniMás/Univision Deportes — United States vs. Canada
SATURDAY
ENGLISH PREMIER LEAGUE
7:45 a.m. — NBCSN/NBC Sports Live Extra/NBC Universo/NBC Deportes en Vivo Extra — Manchester City vs. Leicester City
10 a.m. — NBCSN/NBC Sports Live Extra/NBC Universo/NBC Deportes en Vivo Extra — Tottenham vs. Watford
10 a.m. — NBC Sports Live Extra — Stoke City vs. Everton
10 a.m. — NBC Sports Live Extra — Liverpool vs. Sunderland
10 a.m. — NBC Sports Live Extra — Aston Villa vs. Norwich City
10 a.m. — NBC Sports Live Extra — Swansea City vs. Crystal Palace
10 a.m. — NBC Sports Live Extra — Newcastle United vs. West Bromwich Albion
12:30 p.m. — NBCSN/NBC Sports Live Extra — Southampton vs. West Ham United
SPANISH LA LIGA
10 a.m. — beIN Sports USA/beIN Sports en Español/beIN Sports Connect — Atlético Madrid vs. Eibar
12:15 p.m. — beIN Sports en Español/beIN Sports Connect — Rayo Vallecano vs. Las Palmas
2:30 p.m. — beIN Sports en Espanõl/beIN Sports Connect — Athletic Bilbao vs. Villarreal
4:05 p.m. — beIN Sports en Español/beIN Sports Connect — Sporting Gijón vs. Deportivo La Coruña
GERMAN BUNDESLIGA
9:30 a.m. — Fox Sports 1/Fox Sports Go/Fox Soccer 2Go — Hertha Berlin vs. Borussia Dortmund
9:30 a.m. — Fox Deportes/Fox Soccer 2Go/Fox Soccer Plus — Eintracht Frankfurt vs. VfB Stuttgart
9:30 a.m. — Fox Soccer 2Go — Hannover 96 vs. Mainz 05
9:30 a.m. — Fox Soccer 2Go — Schalke 04 vs. VfL Wolfsburg
9:30 a.m. — Fox Soccer 2Go — Ingolstadt vs. Augsburg
12:30 p.m. — Fox/Fox Deportes/Fox Soccer 2Go — Bayer Leverkusen vs. Bayern Munich
ITALIAN SERIE A
Noon — RAI Internazionale/beIN Sports USA/beIN Sports Connect — Bologna vs. Fiorentina
2:45 p.m. — RAI Internazionale/beIN Sports USA/beIN Sports Connect — Genoa vs. Lazio
FRENCH LIGUE 1
8 a.m. — beIN Sports Connect — AS Monaco vs. Nice
11 a.m. — beIN Sports Connect — Angers vs. Lyon
2 p.m. — beIN Sports Connect — Caen vs. Stade de Reims
2 p.m. — beIN Sports Connect — Toulouse vs. Nantes
MEXICAN LIGA MX
6 p.m. — Univision/Univision Deportes — Club América vs. Santos Laguna
8 p.m. — Univision Deportes — Monterrey vs. Dorados
9:06 p.m. — NBC Universo/NBC Deportes en Vivo Extra — Club León vs. Morelia
10 p.m. — UniMás/Univision Deportes — Guadalajara vs. Toluca
ENGLISH LEAGUE CHAMPIONSHIP
10 a.m. — beIN Sports Connect — Fulham vs. Derby County
SUNDAY
ENGLISH PREMIER LEAGUE
8:30 a.m. — NBCSN/NBC Sports Live Extra/NBC Universo — Bournemouth vs. Arsenal
11 a.m. — NBCSN/NBC Sports Live Extra/Telemundo — Chelsea vs. Manchester United
SPANISH LA LIGA
6 a.m. — beIN Sports USA/beIN Sports en Español/beIN Sports Connect — Levante vs. Barcelona
10 a.m. — beIN Sports en Español/beIN Sports Connect — Real Betis vs. Valencia
12:15 p.m. — beIN Sports en Español/beIN Sports Connect — Celta de Vigo vs. Sevilla
2:30 p.m. — beIN Sports USA/beIN Sports en Español/beIN Sports Connect — Granada vs. Real Madrid
GERMAN BUNDESLIGA
9:30 a.m. — Fox Sports 1/Fox Sports Deportes/Fox Sports Go/Fox Soccer 2Go — Hamburg SV vs. Cologne
11:30 a.m. — Fox Sports 1/Fox Sports Go/Fox Soccer 2Go — Hoffenheim vs. Darmstadt 98
ITALIAN SERIE A
6:30 a.m. — RAI Internazionale/beIN Sports USA/beIN Sports en Español/beIN Sports Connect — Hellas Verona vs. Inter
9 a.m. — beIN Sports USA/beIN Sports Connect — Frosinone vs. Juventus
9 a.m. — beIN Sports USA/beIN Sports Connect — Napoli vs. Carpi
Noon — beIN Sports Connect — Atalanta vs. Empoli
FRENCH LIGUE 1
11 a.m. — beIN Sports Connect — Bordeaux vs. Saint-Étienne
3 p.m. — beIN Sports Connect — Marseille vs. Paris Saint-Germain
MEXICAN LIGA MX
1 p.m. — Univision/Univision Deportes — Pumas UNAM vs. Pachuca
DUTCH EREDIVISIE
10:45 a.m. — Univision Deportes — Utrecht vs. PSV Eindhoven