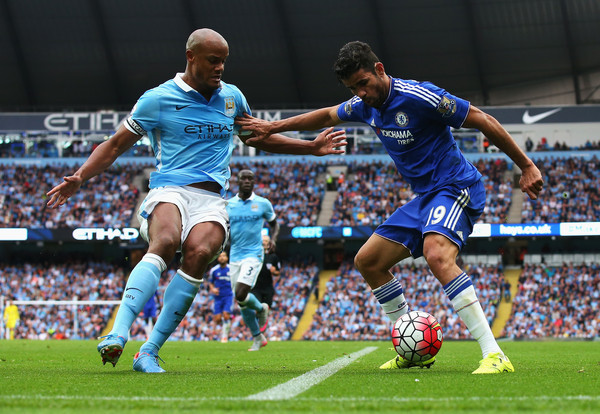 The English FA Cup field will shrink again this weekend and a matchup between Chelsea and Manchester City will headline the fifth-round fixtures.
Chelsea dropped a 2-1 decision at Paris Saint-Germain in its UEFA Champions League round of 16 matchup earlier in the week, but the Blues should still have some momentum left from their 5-1 thrashing of Newcastle United at home last weekend in Premier League action. Man City, meanwhile, will try to regroup after losing its second consecutive match in a 2-1 result to Tottenham at Etihad Stadium. Considering winning the league title — and the UCL — is somewhat a long shot for either side, capturing the FA Cup is now probably the best chance for these two clubs to pick up some silverware this season.
In other intriguing FA Cup matchups, Tottenham will draw Crystal Palace at White Hart Lane while Everton visits Bournemouth. The two-time defending champion Arsenal, meanwhile, will take on Hull City at Emirates Stadium.
As for league competition across Europe, the most enticing one this weekend is perhaps the tilt between Bundesliga second-place side Borussia Dortmund and third-place Bayer Leverkusen. Other major clubs like Barcelona, Real Madrid and Juventus, will have rather easy tasks in Las Palmas, Málaga and Bologna, respectively.
Not to be forgotten is the CONCACAF Women's qualifying games for the 2016 Olympics. The U.S., which beat Puerto Rico 10-0 on Monday, will take on Trinidad and Tobago on Friday night for a spot in the final against either Canada or Costa Rica.
Capping the weekend off is a must-see event in the 2016 Copa America Centenario draw. The procedures will take place on Sunday at 7:30 p.m. on Univision as the U.S., Brazil, Mexico and Argentina find out which countries will join them in groups A, B, C and D, respectively, in this summer's tournament.
Here is a rundown of all the soccer action on TV this weekend:
FRIDAY
SPANISH LA LIGA
2:30 p.m. — beIN Sports Connect — Levante vs. Getafe
ITALIAN SERIE A
2:45 p.m. — beIN Sports USA/beIN Sports en Español/beIN Sports Connect — Bologna vs. Juventus
GERMAN BUNDESLIGA
2:30 p.m. — Fox Sports 2/Fox Sports Go/Fox Deportes/Fox Soccer 2Go — Eintracht Frankfurt vs. Hamburg SV
FRENCH LIGUE 1
2:30 p.m. — beIN Sports Connect — Bordeaux vs. Nice
MEXICAN LIGA MX
8:30 p.m. — Univision Deportes — Querétaro vs. Tigres UANL
10:30 p.m. — Azteca America — Tijuana vs. Morelia
WOMEN'S OLYMPIC QUALIFYING
5:30 p.m. — NBC Sports Live Extra/NBC Deportes en Vivo Extra — Costa Rica vs. Canada
8:30 p.m. — NBCSN/NBC Deportes en Vivo Extra — United States vs. Trinidad and Tobago
SCOTTISH PREMIER LEAGUE
2:45 p.m. — Fox Soccer Plus/Fox Soccer 2Go — Partick Thistle vs. Aberdeen
SATURDAY
SPANISH LA LIGA
10 a.m. — beIN Sports USA/beIN Sports en Español/beIN Sports Connect — Las Palmas vs. Barcelona
12:15 p.m. — beIN Sports en Español/beIN Sports Connect — Espanyol vs. Deportivo La Coruña
2:30 p.m. — beIN Sports en Español/beIN Sports Connect — Real Betis vs. Sporting Gijón
4:05 p.m. — beIN Sports en Español/beIN Sports Connect — Celta de Vigo vs. Eibar
ITALIAN SERIE A
Noon — beIN Sports Connect — Hellas Verona vs. Chievo Verona
2:45 p.m. — beIN Sports USA/beIN Sports Connect — Inter vs. Sampdoria
GERMAN BUNDESLIGA
9:30 a.m. — Fox Soccer Plus/Fox Soccer 2Go — Bayern Munich vs. Darmstadt 98
9:30 a.m. — Fox Soccer 2Go — Hertha Berlin vs. VfL Wolfsburg
9:30 a.m. — Fox Soccer 2Go — Borussia Mönchengladbach vs. Cologne
9:30 a.m. — Fox Soccer 2Go — Ingolstadt vs. Werder Bremen
9:30 a.m. — Fox Soccer 2Go — Hoffenheim vs. Mainz 05
FRENCH LIGUE 1
8 a.m. — beIN Sports Connect — Bastia vs. Nantes
2 p.m. — beIN Sports Connect — Angers vs. Montpellier
PORTUGUESE PRIMEIRA LIGA
1:30 p.m. — Univision Deportes — Paços de Ferreira vs. Benfica
ENGLISH FA CUP
7:45 a.m. — Fox Sports 1/Fox Sports Go/Fox Deportes/Fox Soccer 2Go — Arsenal vs. Hull City
10 a.m. — Fox Sports 2/Fox Sports Go/Fox Soccer 2Go — Reading vs. West Bromwich Albion
10 a.m. — Fox Deportes/Fox Soccer 2Go — Watford vs. Leeds United
12:15 p.m. — Fox Sports 2/Fox Sports Go/Fox Deportes/Fox Soccer 2Go — Bournemouth vs. Everton
ENGLISH LEAGUE CHAMPIONSHIP
7:30 a.m. — beIN Sports/beIN Sports Connect — Cardiff City vs. Brighton & Hove Albion
10 a.m. — beIN Sports Connect — Burnley vs. Rotherham United
MEXICAN LIGA MX
6 p.m. — Univision/Univision Deportes — Club América vs. Cruz Azul
8 p.m. — Univision Deportes — Monterrey vs. Veracruz
9:06 p.m. — NBC Universo — Club León vs. Toluca
10 p.m. — Univision Deportes — Chiapas vs. Guadalajara
SUNDAY
COPA AMÉRICA CENTENARIO DRAW
7:30 p.m. — Fox Sports 2/Fox Sports Go/Univision/Univision Deportes
SPANISH LA LIGA
6 a.m. — beIN Sports Connect — Rayo Vallecano vs. Sevilla
10 a.m. — beIN Sports USA/beIN Sports en Español/beIN Sports Connect — Málaga vs. Real Madrid
12:15 p.m. — beIN Sports en Español/beIN Sports Connect — Athletic Bilbao vs. Real Sociedad
12:15 p.m. — beIN Sports en Español/beIN Sports Connect — Granada vs. Valencia
2:30 p.m. — beIN Sports en Español/beIN Sports Connect — Atlético Madrid vs. Villarreal
ITALIAN SERIE A
9 a.m. — beIN Sports Connect — Sassuolo vs. Empoli
9 a.m. — beIN Sports Connect — Torino vs. Carpi
9 a.m. — beIN Sports Connect — Genoa vs. Udinese
Noon — beIN Sports USA/beIN Sports Connect — Frosinone vs. Lazio
2:45 p.m. — beIN Sports USA/beIN Sports Connect — AS Roma vs. Palermo
GERMAN BUNDESLIGA
9:30 a.m. — Fox Deportes/Fox Soccer Plus/Fox Soccer 2Go — Bayer Leverkusen vs. Borussia Dortmund
11:30 a.m. — Fox Soccer Plus/Fox Soccer 2Go — Schalke 04 vs. VfB Stuttgart
11:30 a.m. — Fox Soccer 2Go — Hannover 96 vs. Augsburg
FRENCH LIGUE 1
8 a.m. — beIN Sports Connect — Marseille vs. Saint-Étienne
11 a.m. — beIN Sports Connect — Caen vs. Rennes
3 p.m. — beIN Sports Connect — Lille vs. Lyon
ENGLISH FA CUP
8:30 a.m. — Fox Sports Go/Fox Sports Go/Fox Soccer 2Go — Blackburn Rovers vs. West Ham United
10 a.m. — Fox Soccer 2Go — Tottenham vs. Crystal Palace
11 a.m. — Fox Sports 2/Fox Sports Go/Fox Soccer 2Go — Chelsea vs. Manchester City
MEXICAN LIGA MX
1 p.m. — Univision/Univision Deportes — Pumas UNAM vs. Santos Laguna
6 p.m. — Univision Deportes — Puebla vs. Dorados
WOMEN'S OLYMPIC QUALIFYING
10 a.m. — NBCSN/NBC Deportes en Vivo Extra — TBD vs. TBD (CONCACAF Women's final)
DUTCH EREDIVISIE
8:30 a.m. — Univision Deportes — Ajax vs. Excelsior
SCOTTISH LEAGUE CHAMPIONSHIP
8:30 a.m. — Fox Soccer 2Go — Hibernian vs. Alloa Athletic
11 a.m. — Fox Soccer 2Go — Queen of the South vs. Rangers