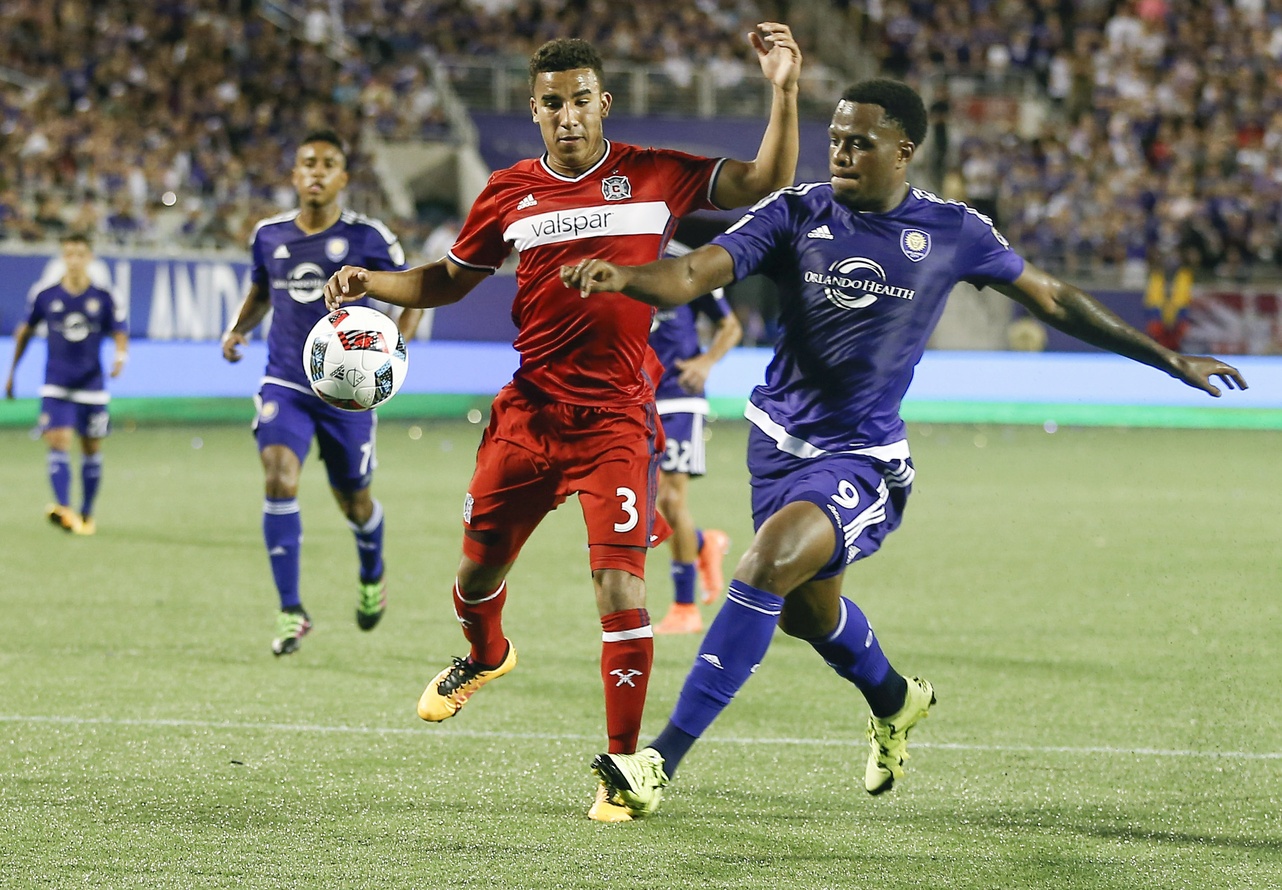 Less than a week after stoppage-time heroics saw Orlando City snatch an improbable draw from the jaws of defeat, the Lions nearly worked late-game magic again. Unfortunately for Orlando City, a penalty claim went ignored in the match's final minutes.
Cyle Larin appeared to be dragged down in the penalty area in the 92nd minute, but referee Ted Unkel failed to whistle the infraction on Chicago Fire defender Johan Kappelhof, allowing the Fire to escape the Citrus Bowl with a 1-1 draw in a match that saw the Fire play nearly two-thirds of the match a man down.
Larin and David Accam traded early goals, but Orlando City looked to be the team in line for a victory when Fire defender Michael Harrington was issued a red card for a high-footed challenge on Brek Shea. The man advantage didn't translate into a lead though, as the Fire defense stiffened up and held off the Orlando City attack.
Larin nearly scored a second goal in the 79th minute, but his hard shot rattled off the left post.
Fire goalkeeper Matt Lampson made his second straight start ahead of Sean Johnson, and made four saves to help the Fire earn their first point under new head coach Velko Paunovic.
The draw leaves Orlando City with two points from two home matches, both without injured star Kaka. The Lions did signal the debut of Italian midfielder Antonio Nocerino, who started and played 63 minutes in his first match for Orlando City since transferring from AC Milan.
Orlando City hits the road next week to take on New York City FC at Yankee Stadium on Friday, while the Chicago Fire return to Toyota Stadium to play host to the Columbus Crew on March 19.
MAN OF THE MATCH
Orlando City striker Cyle Larin scored the opening goal, hit the post with a shot and should have been awarded a penalty kick in stoppage time.
MOMENT OF THE MATCH
Referee Ted Unkel's decision not to call a penalty on Johan Kappelhof's clear pulldown of Cyle Larin in stoppage time was mind boggling and a game-changer.
MATCH TO FORGET
Michael Harrington merits this spot for his first-half red card, but Seb Hines deserves mention after being terrorized by David Accam.
——————
What did you think of the match? Feel like Orlando City was robbed by the late no-call? Think the Fire deserved a point?
Share your thoughts below.