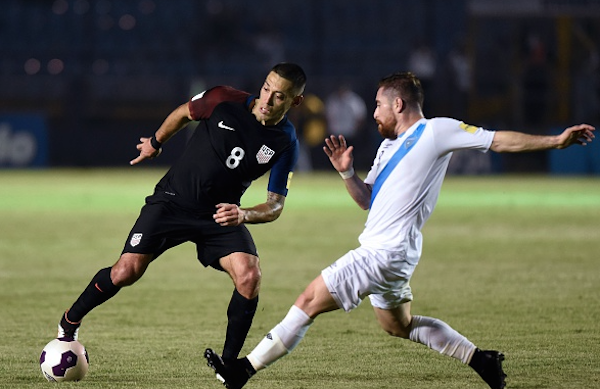 Uninspired. Unimaginative. Unbelievable.
The U.S. Men's National Team suffered one of its worst losses in recent memory on Friday night, suffering a stunning 2-0 loss on the road at the hands of Guatemala in a World Cup qualifier that was never really a contest.
Guatemala took advantage of some shoddy defending to score twice inside of the first 15 minutes and never looked back, leaving the shell-shocked U.S. under intense pressure to try and conjure up a response. The Americans made a change at halftime and managed to look less inept after the break, but never were able to find the breakthrough en route to their first loss to Guatemala since 1988.
There was enough blame to go around for the disastrous display that sunk the U.S. to third place in its World Cup qualifying group. Head coach Jurgen Klinsmann certainly shoulders some responsibility for his head-scratching lineup decisions and his group's overall lack of focus, and the players themselves are also guilty of failing to properly deal with what transpired in the match at Estadio Mateo Flores in Guatemala City.
All in all, it was a drab effort that only raised further questions about the direction the U.S. is heading in. The future has looked grim for quite a while now, and this embarrassing performance and loss only served to underline that.
Here are four takeaways from the Americans' 2-0 defeat to Guatemala:
KLINSMANN IS LOSING THE PLOT
Poor performances and bad results happen to even the best mangers and teams in the world, but this type of underwhelming and abysmal showing has become far too common under Klinsmann.
Whether he is being too stubborn in his ways, overcomplicating things or simply running out of ideas, Klinsmann has had the Americans looking lost on the field ever since the 2014 World Cup. There seems to be no real identity to how they want to play or break down opponents, and that looked obvious from the onset against Guatemala as the U.S. failed to do much of anything when it had the ball. Possession without production.
Klinsmann's odd lineup decisions come into play here. When have Michael Bradley and Mix Diskerud truly worked well as a tandem, and why play Michael Orozco who has not played in a league game this year when the more in-form Steve Birnbaum was available? That is not the only factor, however.
Klinsmann continues to tinker far too heavily with his lineups, and that is causing chemistry issues. Injuries may have hampered him this time, but Klinsmann nonetheless needs to stop changing things so drastically so that there can be a better understanding between players and so that awful performances and results like this can be avoided.
Oh, and it is not exactly a ringing endorsement to hear a coach have no response for why his players lacked focus from early on.
PLAYERS DIDN'T HANDLE THE PRESSURE WELL
All that is not to say the U.S. players are without guilt.
The Americans were the ones who repeatedly made bad decisions on the field against Guatemala, whether it was Tim Howard deciding not to have a man on the front post of the corner kick that led to the opening goal or Bradley's decision to not head the ball on the goal kick that resulted in Carlos Ruiz's insurance tally.
There was also the fact the U.S. did not handle pressure well. The Americans know full well and have stated for years how important it is to manage moments in games, but it seemed like they forget that once the tension amped up at 2-0. Passes went astray, ambitious and hopeful shots were taken from distance and there was a whole lot of unorganized chasing on the defensive side.
The U.S. looked far too frenetic and was far too sloppy in trying to force a response, and that allowed the Guatemalans to feed off their frenzied crowd and move the ball with relative ease. So much so that they looked the more dominant side for large stretches despite being the less talented one.
Still, when a team as a whole doesn't show up like this, the coach bears responsibility.
TOUGHNESS MISSING FROM USMNT
Struggling in Central America is not a new development, but getting this outplayed by an inferior opponent is. The U.S. was outworked and outhustled throughout much of the night in Guatemala City, and what Klinsmann's side could have desperately used was a dose of toughness.
With usual enforcer Jermaine Jones suspended, the Americans needed someone to step up and set a tone or strike fear in Guatemala via a crunching sliding tackle or verbal jabs. No one did.
The Guatemalans were able to just dilly-dally on the ball without much problem far too many times, and it allowed them to grow in confidence in all aspects of the game. That is why you saw players like Marco Pappa go at and cleanly nutmeg Bradley without concern, and why other Guatemala attackers were seen toying with the U.S. by pulling off back heels, flicks and tricks.
Part of this can be explained by the lack of a true holding midfielder in the lineup, but the U.S. as a collective used to be tougher to play against. No, the Americans were never a nasty or dirty team, but they used to have the right amount of grit that would let opponents know that things would not come easy.
You did not see that on Friday. The Guatemalans more or less had their way with the U.S., as evidenced by the 'Ole' chants in the second half, and there was little resistance.
SPOT IN HEX STILL LIKELY
As bad as things might seem right now, the truth is that the U.S. will likely still reach the Hexagonal round of CONCACAF World Cup qualifying when all is said and done.
The Americans are returning home for a Tuesday rematch with Guatemala, and should have a spirited crowd at MAPFRE Stadium in Columbus, Ohio, to push them on. What's more is the fact that Ruiz is set to miss the game, leaving the Guatemalans without their savvy veteran striker with the nose for goal.
If the U.S. takes care of business and triumphs on Tuesday, it will move into second place in its qualifying group. Two very winnable games follow on the road vs. St Vincent & the Grenadines and at home vs. Trinidad and Tobago, and there is a scenario that could see the Americans clinch advancement to the Hex before the final round of matches.
Those on the outside might not have much confidence in seeing the U.S. accomplish that after witnessing Friday's debacle, but Klinsmann and company smashed Guatemala, 4-0, the last time they met in the U.S. less than a year ago. A repeat of that game or even just an improved performance from Friday that leads to a win should all but assure the Americans advance.
Such are the forgiving ways of CONCACAF World Cup qualifying.