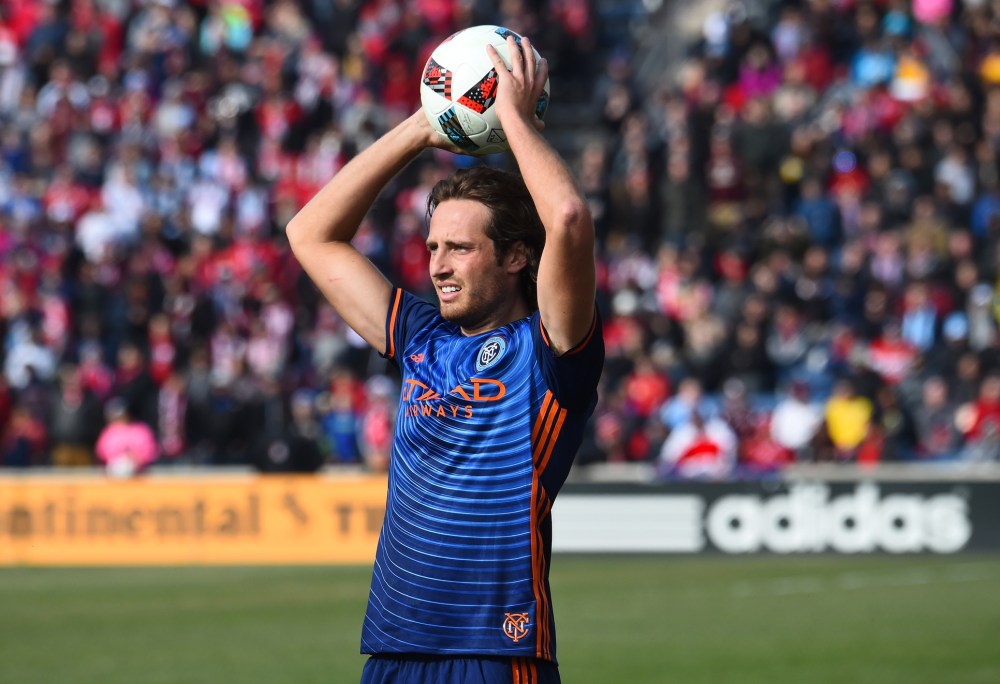 NEW YORK — Mix Diskerud was fielding questions during New York City FC's 2016 MLS Media Day on Thursday when he was asked what he learned about himself during the trying 2015 season.
Without hesitation, Diskerud replied.
"I learned that I want to play central midfield, and not on the wing," said Diskerud. "That's a start."
Diskerud chuckled at the end of his statement, but, make no mistake, he was being serious. The 25-year-old midfielder's debut MLS season with NYCFC a year ago was marred by mixed performances, and a major reason for that was because he was used mostly out of position as a right winger by then-head coach Jason Kreis.
Enter, Patrick Vieira. The new NYCFC manager has pushed Diskerud back to where the U.S. Men's National Team regular feels more comfortable, and the initial returns from Week 1 show that Diskerud might be in store for an improved campaign if not a big bounce-back season.
"I want to do anything that's good for the team, what the coach wants me to do, so that's no problem there whatsoever," said Diskerud. "But, for me personally, I want to play more the center of the field. I know that's where I can contribute the most, and playing out wide and kind of being the runner and going to dribble and cross and everything, that's not what I'm best at.
"I definitely feel more comfortable being involved in the center of the field, and that's what I've been doing from the start as a professional soccer player."
Under Kreis last year, Diskerud started playing centrally and scored NYCFC's historic first goal in the club's season-opening draw vs. Orlando City. Diskerud was eventually moved out wide, however, in an effort to make room for the summer arrivals of Designated Player duo Frank Lampard and Andrea Pirlo.
Diskerud played good soldier and did what was asked of him, but his performances on the right were largely and noticeably indifferent. Much was expected of Diskerud from the moment he signed with NYCFC in January 2015, but he failed to live up to the expectations. The year ended with more criticism than praise. A lot more.
"I don't think that's his position, play of winger, and the last year, he has a lot of problems for playing in one position," said NYCFC captain David Villa. "It was not good for him."
Diskerud never complained, at least not publicly, but it was easy to tell he was not comfortable on the right. Whereas in the middle, he has shown throughout his career he can use his technical skills to combine with quick, short- to medium-range passes, out wide he was largely stuck having to go at defenders to try and whip in service to Villa.
Needless to say, that was not his forte. He finished the 2015 season with just three goals and one assist, statistics that were far less than what was expected from him and that saw a growing number of detractors criticize him and question his place in the team going forward.
Ever the optimist, Diskerud never allowed any of that to get to him. He still labels the experience as a right midfielder a "fun" one because he was able to learn "different things" in that position. In fact, if there was any disappointment for him in 2015, it was simply because NYCFC did not deliver on what it had promised to its fans in the Big Apple.
"The hardest part for me was that my team didn't reach their goals, and that's all I kind of care about," said Diskerud. "I don't really rate myself or anything like that. For me, it's not about that. It's just about the team and how we want to perform. Last year wasn't good enough and we want to get better.
"As I said, I was playing out wide and trying to do what was the best for the team, but now it's a different story."
A different story because Diskerud is now being used centrally in Vieira's preferred 4-3-3 formation. He is not operating as the de facto playmaker for NYCFC, but has been given a box-to-box midfielder role, tucking in away from the sideline rather than having to try and hug it like he did in 2015.
Having Diskerud operate more in the middle paid immediate dividends both for he and the club this past Sunday. Diskerud not only scored the game-winner in New York City FC's 4-3 road win over the Chicago Fire, but he also set up a Khiry Shelton goal in the first half.
Those contributions and the overall impact he had on the match could be a sign of things to come from Diskerud in 2016. NYCFC is certainly hoping so.
"I believe the way we try to play will suit Mix's strengths and he showed it in the first game," said Vieira. "I think he was fantastic, and I still believe that he can do more, much more than what he's doing at the moment. But for a first game, he played at a really good level."
No coincidence then that Diskerud did so in his preferred and more natural spot.
"Confidence is a lot in soccer. Like a lot," said Diskerud. "If you're feeling good and playing well, it's just a whole different vibe in training and in games, and you just have an aura around you."