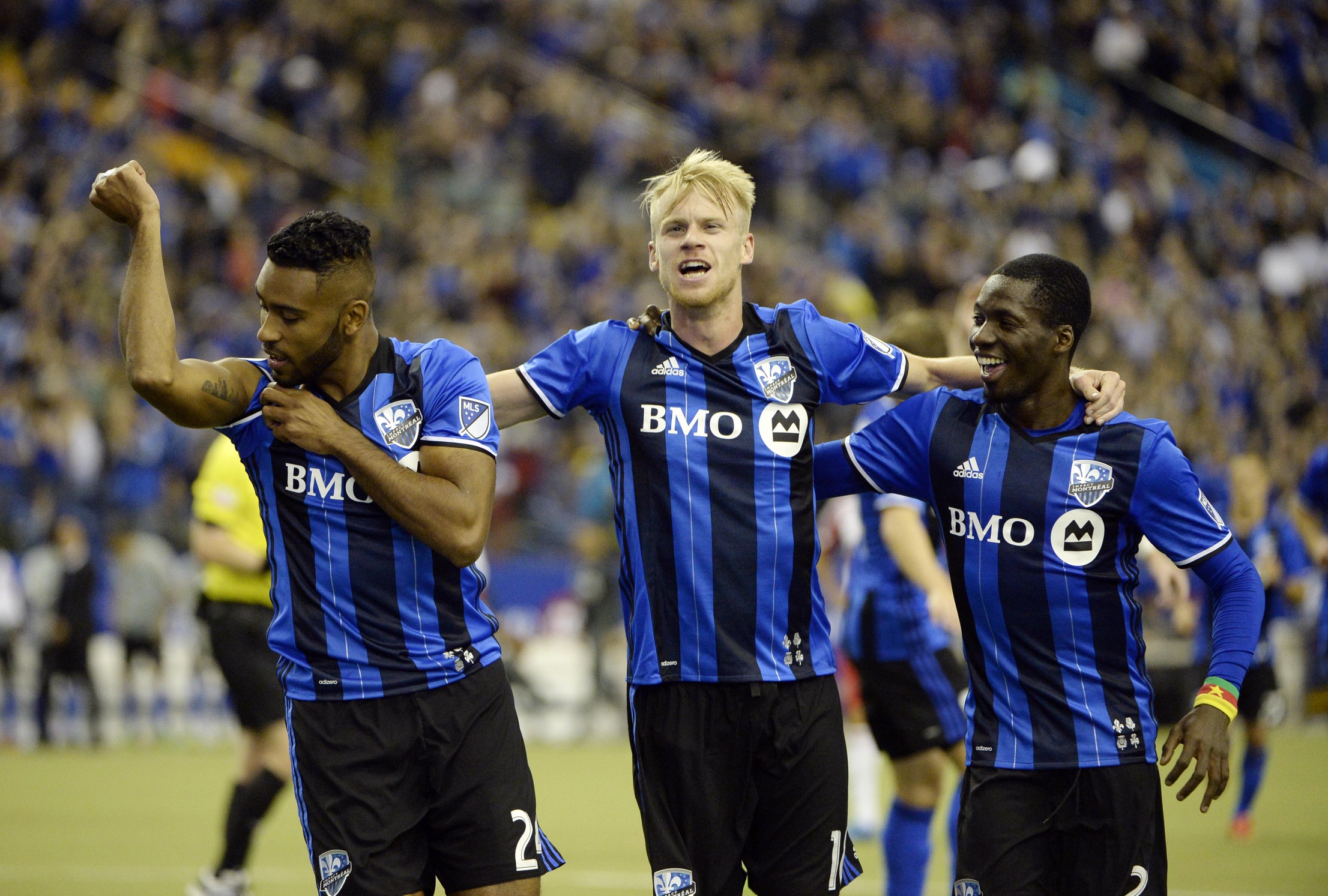 Entering the third week of MLS play, several teams will put their unbeaten record on the line against playoff contenders.
The Montreal Impact have arguably looked the most impressive throughout the first two weeks. With Didier Drogba set to potentially make his season debut, the Impact now face an FC Dallas team looking for a statement win following a 5-0 drubbing against the Houston Dynamo last week.
Both Toronto FC and Sporting Kansas City enter the weekend without a loss, but the two sides will collide on Sunday at Children's Mercy Park. The San Jose Earthquakes have earned two straight victories, but face off with the LA Galaxy in a California Clasico.
Elsewhere, New York City FC hosts Orlando City, while the Dynamo visit the New York Red Bulls, and the Seattle Sounders battle the Vancouver Whitecaps in a Cascadia clash.
Here's a closer look at MLS Week 3:
NEW YORK CITY FC vs. ORLANDO CITY (Friday, 7 p.m., UniMas)
Orlando City could head to Yankee Stadium without the services of its biggest star.
Kaka's status is very much in doubt ahead of Friday's clash with NYCFC. Antonio Nocerino is expected to feature yet again, as is forward Cyle Larin, who has scored twice in as many games.
Frank Lampard is also expected to miss out for NYCFC, which debuted a new 3-4-3 formation last time out. It's unknown if Patrick Vieira will continue with the new tactical setup, but NYCFC will look for continued positive displays from players like Tommy McNamara, Andrea Pirlo and Ronald Matarrita.
CHICAGO FIRE vs. COLUMBUS CREW (Saturday, 5 p.m., MLS Live)
It's been a less-than-ideal start for the Crew, and a matchup with the also-winless Fire may be just what the doctor ordered.
The Crew will be given a chance to shake things up entering Week 3 as wingers Justin Meram and Cedrick Mabawati could return to the starting lineup after being limited to substitute appearances. The aim will be putting together a performance that is slightly sharper, as the Crew have maintained a bulk of possession in each of their two losses.
On the other side, the Fire enter Saturday with one point through two games. The Fire have participated in two very different games this season with a goalfest to start the season followed by a much tamer draw against Orlando City. Michael Harrington's red card could mean a debut for offseason signing Rodrigo Ramos at centerback.
NEW YORK RED BULLS vs. HOUSTON DYNAMO (Saturday, 7 p.m., MLS LIVE)
The Red Bulls have had a tough start to the season, and the reigning Supporters' Shield winners will face yet another challenge when the surging Dynamo come to Red Bull Arena.
Two losses in as many games have produced as many goals as points for the Red Bulls. Aiding the struggling attacking unit may be DP forward Gonzalo Veron, who could return to the lineup after training with the team this week.
In the Red Bulls' path sits a Dynamo team that is fresh off of a 5-0 shellacking of in-state rivals FC Dallas. Andrew Wenger has been in fine form for his new club, but the Dynamo could be without Giles Barnes and Cristian Maidana due to injury.
FC DALLAS vs. MONTREAL IMPACT (Saturday, 9 p.m., MLS Live)
Even without Didier Drogba, the Impact have looked like one of the league's best, and they can prove it on Saturday in a clash with a fellow contender in FC Dallas.
Through two weeks, the Impact have looked spectacular with wins over the Whitecaps and Red Bulls. Drogba could be line to make his debut on the grass, giving the Impact an added advantage alongside the red-hot Ignacio Piatti.
FC Dallas will be looking for a bounce-back performance following a trouncing against the Dynamo. After conceding five goals last time out, FC Dallas will look to bounce back from the worst shutout loss in club history.
SEATTLE SOUNDERS vs. VANCOUVER WHITECAPS (Saturday, 10 p.m., MLS Live)
A Cascadia clash pits two Western Conference contenders in need of a momentum-boosting win.
Following back-to-back losses, the banged-up Sounders will be looking for points against the Whitecaps. Brad Evans and Erik Friberg look set to miss out on Saturday's clash, while Stefan Frei, Jordan Morris and Nelson Valdez are all looking to play despite injury issues of their own.
The Whitecaps are facing several lineup issues of their own. Kekuta Manneh is battling an injury, while Jordan Smith and Kianz Froese will be suspended for Saturday's clash at CenturyLink Field.
PORTLAND TIMBERS vs. REAL SALT LAKE (Saturday, 10:30 p.m., MLS Live)
For the first time in 10 games, the Timbers settled for defeat last week, and the reigning MLS Cup champions are looking to bounce back against another Western Conference foe.
The Timbers were knocked off at the hands of the Earthquakes last time out. Making things a bit more difficult moving forward will be the absence of Liam Ridgewell, who will join Andy Thoma on the injured list for several weeks.
Real Salt Lake enters Saturday's clash unbeaten with four points through two games following a win over the Sounders. Joao Plata has emerged as the club's primary option with two goals and two assists in as many games played.
LA GALAXY vs. SAN JOSE EARTHQUAKES (Saturday, 10:30 p.m., MLS Live)
Saturday provides a derby clash between Western Conference playoff contenders as the Galaxy host the year's first California Clasico.
The Earthquakes enter Saturday's clash with two wins through two games following a defeat of the Timbers. The Galaxy are riding a loss to the Rapids after thrashing D.C. United in their opening game.
Both sides come into Week 3 with various injuries, as Dan Kennedy, Giovani Dos Santos Alan Gordon, Jeff Larentowicz and Leonardo are set to miss out for the Galaxy. The Earthquakes enter without six players of their own, although last week's goalscorers, Chris Wondolowski and Quincy Amarikwa will certainly feature.
PHILADELPHIA UNION vs. NEW ENGLAND REVOLUTION (Sunday, 2:30 p.m., MLS Live)
The Union are riding a statement win over one of the East's elite, and Jim Curtin's side is set for another test on Sunday afternoon.
A win over the Crew served as a major result for the new-look Union, who will look to start a mini-win streak without the injured Maurice Edu and Tranquillo Barnetta. Helping to ease the blow will be Chris Pontius, who netted twice last time out.
The Revolution will be without a goalscorer of their own in Charlie Davies following a lackluster 0-0 draw against D.C. United last time out.
D.C. UNITED vs. COLORADO RAPIDS (Sunday, 5 p.m., ESPN 2)
D.C. United's goalkeeper crisis has taken a major turn ahead of Sunday's clash with the Rapids.
Andrew Dykstra has joined Bill Hamid on the injury list, as DCU will turn to either Travis Worra or newcomer Charlie Horton in goal. Through two games, D.C. United has scored just once, and it will be paramount for the team's attacking core to provide more of a spark than last week's scoreless draw with the Revolution.
The Rapids shocked the Galaxy last week on a late goal from new addition Marco Pappa. While goal-scoring has been hard to come by, the team's stellar defending has continued with just one goal allowed in two games.
SPORTING KC vs. TORONTO FC (Sunday, 7 p.m., Fox Sports 1)
In Sunday's marquee matchup, both Sporting KC and Toronto FC will put their unbeaten records on the line in the third game of the season.
Jozy Altidore remains unlikely to appear due to a recent hamstring injury, although the play of Sebastian Giovinco has been plenty for TFC to find a positive start. The Italian star provided a goal and an assist last time out, leading TFC to a come-from-behind 2-2 draw in a visit to NYCFC.
Sporting KC will benefit from the return of a star of its own, as Benny Feilhaber returns to the lineup. Following a brace from Dom Dwyer in last week's victory, Sporting KC has now won two one-goal games to start 2016 with six points.