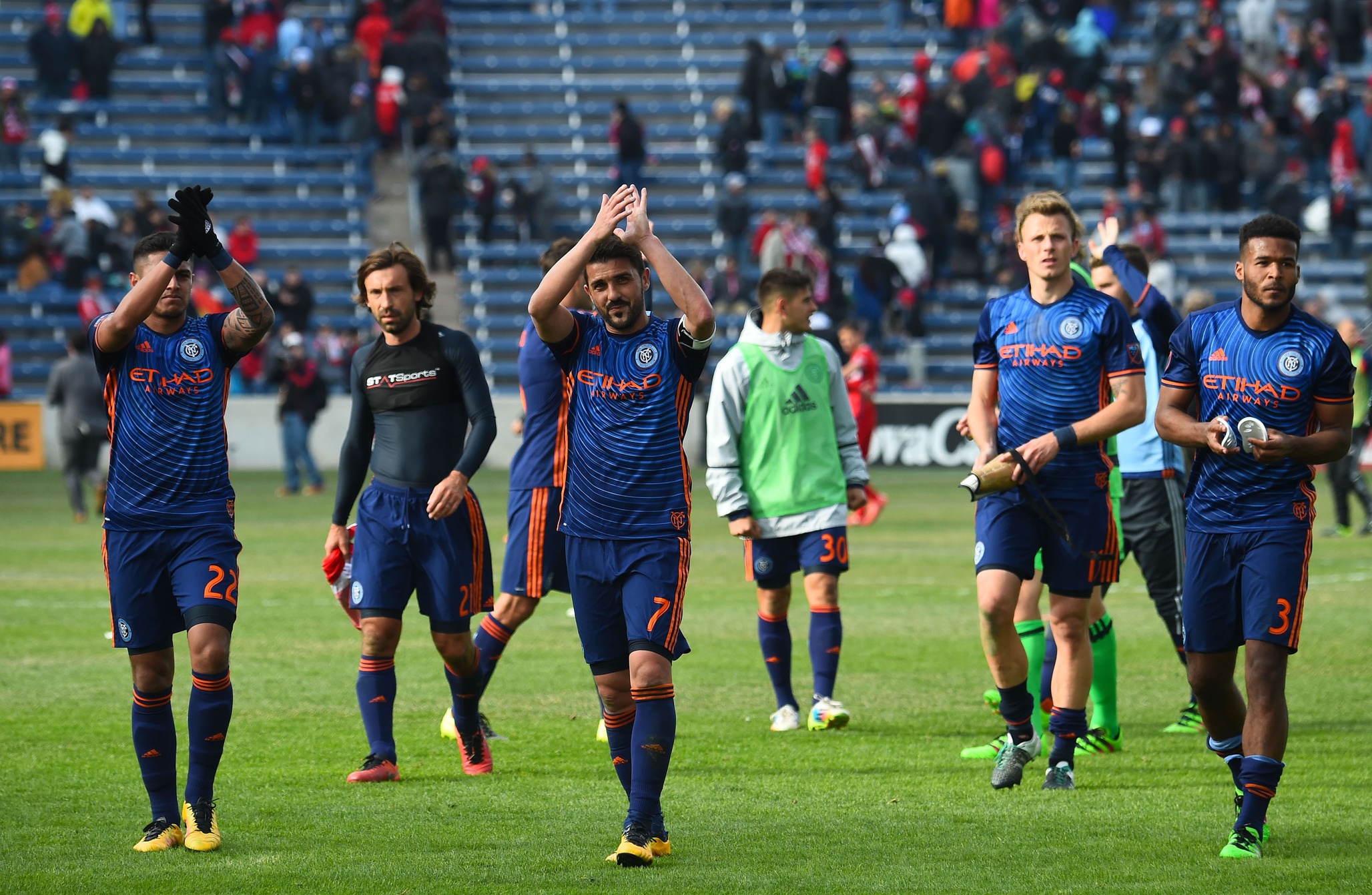 Patrick Vieira had to have liked what he saw from his first game in charge of New York City FC. It was a performance that was electrifying, fact-paced and exhilarating. Most importantly, it produced three points.
However, it was also a highlight of just how far this NYCFC team has to go if it is to catch up to the teams that currently call themselves postseason contenders.
In the first game of the Vieira era, NYCFC emerged from Toyota Park with a 4-3 victory over the Chicago Fire. It was a generally positive, if not heart attack-inducing, result as the team kickstarted the season by scoring the joint most goals in Week 1.
Yet, the team's defense, the Achilles heel of last season, also leaked three goals to the lowly Fire, a team in rebuilding mode. The defense conceded three separate times to a team that scored just 43 goals in 34 games all of last season.
It was a familiar theme for an NYCFC team that finished tied for the league lead in goals allowed last season. NYCFC competed in similar shootouts a year ago — vs. Orlando City and Toronto FC. Week 1's win proved to the rest of the field that NYCFC should be taken seriously this year, but it also showed the league this team still is in need of tuning.
With Mix Diskerud, Andrea Pirlo and Tommy McNamara stationed in the middle, NYCFC had next to no presence in the defensive midfield. None of the trio are where they are because of their defending, even if Diskerud has proven he can do a job defensively during his time with the U.S. Men's National Team. McNamara, the least renowned of the opening day trio, put forth a Man of the Match performance while staking his claim for more opportunities going forward. Attack-minded stars like Frank Lampard and Kwadwo Poku await on the sidelines, while more defensive options like Andrew Jacobson, Mikey Lopez and Federico Bravo will need to battle for anything more than substitute appearances.
Given next to no shielding by the midfield, NYCFC's back line was left exposed to counter attacks time and time again. The speed of David Accam and Kennedy Igboananike proved to be a handful throughout, as the returning Jason Hernandez and Frederic Brillant struggled to cope in their first game as a pairing. as NYCFC's lack of pace was exploited much like it was last season. Ethan White, another centerback option, was forced out right due to the absence of Andoni Iraola.
On the Fire's opener, the run of Razvan Cocis was left unchecked by Diskerud or either centerback, giving the Fire midfielder a canyon to run through in the middle of the defense. On the second, Brillant was inexcusably stripped following a goal kick, leaving Josh Saunders helpless on Igboananike's finish.
That's not to say there weren't bright spots. Saunders is still an underrated goalkeeper, who tends to deserve better than his defense gives him. Costa Rican fullback Ronald Matarrita looked like the real deal in both the attacking and defensive ends. A potential breakout star, the young fullback has the ability to be a game-changer for NYCFC for years to come.
The play on the attacking end was also vastly improved to that of last season. Out wide, Khiry Shelton and Tony Taylor provide pace that was unseen last season. Both contributed goals on Sunday, as the duo threatened repeatedly while alleviating pressure from the back of star striker David Villa. The Spanish forward, who either scored or assisted over half of NYCFC's goals last season, wasn't forced to carry the club like he did for stretches last season. Rather, he was just another piece in an attack that looked as fluid and dynamic as any in action on Sunday.
With that being said, the defensive pieces will need to catch up if NYCFC are to contend. The midfield logjam may never fully be solved given the players that make up the roster, leaving pressure on the back four to stand strong and disciplined. If they can, NYCFC has the potential to be a real contender on the back of a roster that appears destined for better things in 2016.