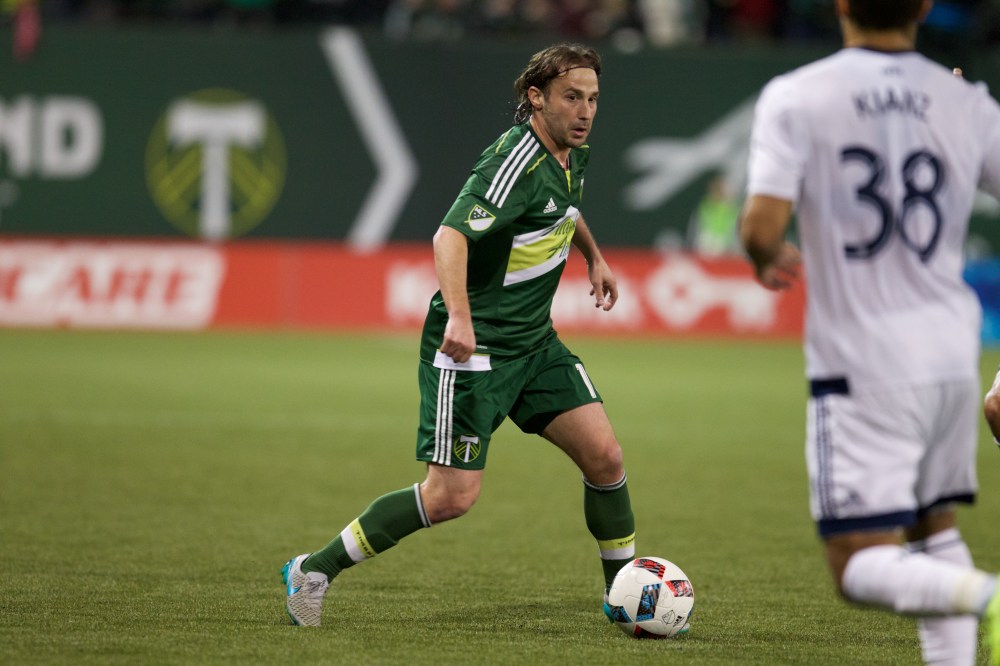 Ned Grabavoy has been around Major League Soccer long enough to know what he wants. Following a trying season with New York City FC, the veteran midfielder found exactly what he was searching for this offseason: a chance to win another MLS Cup.
Given more freedom than prior years due to the league's new free agency process, Grabavoy began his offseason by opening up dialogues with several clubs. The veteran midfielder gauged interest while narrowing down what he was looking for with his new potential team. In the end, Grabavoy found himself a home with the Portland Timbers, a club coming off of an MLS Cup victory.
The 32-year-old midfielder, a two-time MLS Cup winner himself, took the first step by reaching out to former Real Salt Lake teammate and current Timbers centerback Nat Borchers. Following a glowing review from his former teammate, Grabavoy's mind was set on what he thinks might just be his last chance at reaching the top of the mountain.
"I felt like in speaking with different teams after gaining perspective over the course of my career, but last year more than anything, I really took the time and was patient," Grabavoy told SBI, "and I tried to figure out what was most important for me as a player at the stage I'm at in my career. I've always felt like winning championships has been the most important thing for me. That's never changed, so I wanted to have something different than I have in the past with the decision to join one of the better clubs in MLS on a lot of different levels.
"It's not just on the field, but obviously the support that they have from the fans and the city. They all just added up and made me feel very comfortable looking into the last little window of my career."
The most recent window of Grabavoy's time in MLS was one of the more difficult periods of his career. Selected via the expansion draft, Grabavoy joined former RSL head coach Jason Kreis and several of his old running mates with New York City FC. Given the familiarity of the staff and the challenge ahead, Grabavoy says he was among the players most passionate in seeking out the chance at a new beginning with the expansion club.
However, things did not go according to plan. NYCFC showed several signs of expansion struggles throughout a difficult season. In the end, NYCFC missed the playoffs, leading to the dismissal of Kreis and a rebuild of the roster.
"It was difficult for everyone," Grabavoy said. "I'm sure if you ask anyone who was a part of it, it was difficult because we did have higher expectations. I felt like we had good players, and I still think that that club has some very good talent, but I think it reminded me a little bit of what I already knew with how hard it is to get things right and how much parity there is in MLS and really the small, small details that you might not think about from the outside looking in. They add up and make the difference in not being close to making the playoffs or, for some other teams, getting close to winning an MLS Cup.
"I don't look at it and regret going there. Honestly, I look at it as more of a learning experience, but for me not just a learning experience," Grabavoy said. "It really solidified a lot of what I already knew about myself and already know about this league and sports in general. I think it was a great learning experience. It was difficult, but sometimes you learn more from losing and failing. Ultimately, you need that side and the education of that as well to be successful as a person and as a player. I do now, especially since I'm not in that situation and I'm far removed from last season, I look at it as a learning experience."
Now with the Timbers, Grabavoy understands the sacrifices he is going to have to make in joining a club looking to repeat as MLS Cup champions.
Heading into their title defense, the Timbers return early every key player from 2015. In the midfield, Darlington Nagbe, Diego Chara and Diego Valeri are a unit Grabavoy says are among the best in each of their individual positions. Usurping them will be a near-impossible task, but Grabavoy never really was looking for that anyway.
Ultimately, Grabavoy is a player. One who thrives on game time just as much as the next guy. However, what the midfielder craves more at this point is team success that has eluded him for the past several years. To that aim, Grabavoy says he is looking to contribute any way he can from any role that make sense.
With the MLS season, the U.S. Open Cup and CONCACAF Champions League action on the horizon, Timbers head coach Caleb Porter says players like Grabavoy will prove vital as the Timbers look to add to their trophy cabinet.
"We have a lot of guys that, if we play with a double pivot, can play in that role," Porter told SBI. "Our starting lineup, we play with a single pivot with Nagbe and Valeri ahead of Chara. My thought with Ned was that, if we want to keep a point down triangle and keep that single pivot, Ned allows us if, for instance Nagbe is with the national team or if we, knock on wood, take an injury to Valeri or Nagbe, it allows us to slot him in and continue to play with a point-down triangle. I think he brings more of an attacking mid and another No. 10 type playmaker. It gives us some depth."
"I really felt like it was still a place where I could be very involved and get a lot of time," Grabavoy added. "Obviously you need to be sharp and compete, and I also felt like I needed that as well. I need strong competition, and maybe for me it's better to be somewhat on the outside looking in, where I haven't necessarily had that scenario in the past six or seven seasons."
Although he has only been in camp for several weeks, Grabavoy already sees some similarities between the current Timbers team and some of his past successes. When looking at the style, Grabavoy says the Timbers have a lot of RSL in them, as the group moves the ball as a unit while attacking from a variety of different areas. However, Grabavoy also says the Timbers current group has the individual talent much like the 2005 LA Galaxy squad that captured MLS Cup with players like Landon Donovan and Cobi Jones leading the charge.
With all of that talent around him, Grabavoy just wants to continue doing what he has always done. Joining a new group, Grabavoy is just hoping to contribute while making himself a fixture with a Timbers team he believes is once again on the precipice of something special.
"I definitely feel the difference in having that stable group that's familiar with one another," Grbavoy said. "A coaching staff that has now been here for awhile, an organization that seems to all be on the same page. The transition has been, for me, somewhat seamless. The guys have been great on and off the field. It's a great group and I've been very pleased in preseason with the group.
"They've built around that core group of guys and have guys that won't just be here for a season or a season-and-a-half but for five or six seasons. You look at our team and you look at some of the guys that have been successful individually and collectively, they have a good amount of guys that have been in MLS for three, four, five seasons and a lot of these guys are in their prime.
"I look at that as a similarity to RSL," Grabavoy said. "We had that as well where we went, went and couldn't get over the hump a lot of the time and you start to find that consistent success on a year to year basis. You're seeing that with this group here in Portland."