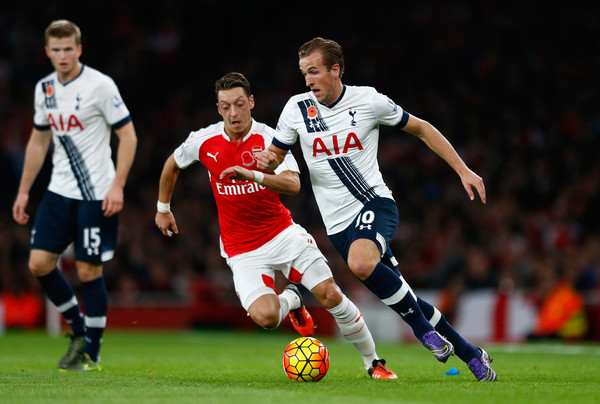 Both North London sides failed to capitalize on Leicester City's stumble earlier in the week and now Tottenham and Arsenal must battle each other in hopes of catching the English Premier League leader.
After the Foxes drew 2-2 with West Bromwich Albion on Tuesday, Tottenham dropped a 1-0 decision to West Ham United while Arsenal lost, 2-1, to Swansea at home on Wednesday to stay three and six points behind first place, respectively.
The two sides last met in a Nov. 8 Premier League meeting at Emirates Stadium where they played to a 2-2 draw, but Arsenal did defeat Tottenham in a Capital One Cup match on Sept. 23 at White Hart Lane, where this edition of the derby will take place on Saturday.
For Leicester City, it will be a golden chance to stretch its lead as it visits Watford after previously defeating the promotion side by the score of 2-1 at home in November.
Chelsea, meanwhile, suddenly has an opportunity to jump to seventh place with a win against Stoke City at home after winning three consecutive in the Premier League. Manchester United, on the other hand, will look to keep pace with the top four with a result at West Brom.
Elsewhere, the German Bundesliga features a top-of-the-table clash with Borussia Dortmund hosting Bayern Munich. Five points separate the two sides, but a win for Dortmund would make what has been an otherwise mundane Bundesliga race a lot more interesting down the stretch.
To cap the weekend off — apart from Major League Soccer returning — the U.S. Women's National Team will face France in the 2016 SheBelieves Cup, while the U.S. U-17 Women's National Team will take the field against Mexico in the CONCACAF Under-17 Championship.
Here is all of this weekend's soccer action on TV:
FRIDAY
ITALIAN SERIE A
2:45 p.m. — beIN Sports USA/beIN Sports en Español/beIN Sports Connect — AS Roma vs. Fiorentina
FRENCH LIGUE 1
2:30 p.m. — beIN Sports Connect — Caen vs. AS Monaco
MEXICAN LIGA MX
10:30 p.m. — Azteca America — Tijuana vs. Club León
ENGLISH LEAGUE CHAMPIONSHIP
2:45 p.m. — beIN Sports Connect — Middlesbrough vs. Wolverhampton Wanderers
WOMEN'S INTERNATIONAL FRIENDLY
7 a.m. — Fox Soccer 2Go — United States U-20 vs. England U-23
CONCACAF WOMEN'S U-17 CHAMPIONSHIP
Noon — Fox Soccer 2Go/Fox Soccer Plus — Mexico vs. Costa Rica
SATURDAY
ENGLISH PREMIER LEAGUE
7:45 a.m. — NBCSN/NBC Sports Live Extra/NBC Universo/NBC Deportes en Vivo Extra — Tottenham vs. Arsenal
10 a.m. — NBCSN/NBC Sports Live Extra/NBC Universo/NBC Deportes en Vivo Extra — Manchester City vs. Aston Villa
10 a.m. — NBC Sports Live Extra/NBC Deportes en Vivo Extra — Chelsea vs. Stoke City
10 a.m. — NBC Sports Live Extra — Everton vs. West Ham United
10 a.m. — NBC Sports Live Extra — Newcastle United vs. Bournemouth
10 a.m. — NBC Sports Live Extra — Southampton vs. Sunderland
10 a.m. — NBC Sports Live Extra — Swansea City vs. Norwich City
12:30 p.m. — NBCSN/NBC Sports Live Extra/NBC Universo/NBC Deportes en Vivo Extra — Watford vs. Leicester City
GERMAN BUNDESLIGA
9:30 a.m. — Fox Sports 1/Fox Sports Go/Fox Deportes/Fox Soccer 2Go — Augsburg vs. Bayer Leverkusen
9:30 a.m. — Fox Sports 2/Fox Sports Go/Fox Soccer 2Go — VfL Wolfsburg vs. Borussia Mönchengladbach
9:30 a.m. — Fox Soccer 2Go — VfB Stuttgart vs. Hoffenheim
9:30 a.m. — Fox Soccer 2Go/Fox Soccer Plus — Eintracht Frankfurt vs. Ingolstadt
9:30 a.m. — Fox Soccer 2Go — Werder Bremen vs. Hannover 96
9:30 a.m. — Fox Soccer 2Go — Cologne vs. Schalke 04
12:30 p.m. — Fox Soccer 2Go/FX — Borussia Dortmund vs. Bayern Munich
SPANISH LA LIGA
10 a.m. — beIN Sports USA/beIN Sports en Español/beIN Sports Connect — Real Madrid vs. Celta de Vigo
12:15 p.m. — beIN Sports en Español/beIN Sports Connect — Villarreal vs. Las Palmas
2:30 p.m. — beIN Sports en Español/beIN Sports Connect — Getafe vs. Sevilla
4:05 p.m. — beIN Sports en Español/beIN Sports Connect — Deportivo La Coruña vs. Málaga
ITALIAN SERIE A
Noon — beIN Sports Connect — Hellas Verona vs. Sampdoria
2:45 p.m. — beIN Sports USA/beIN Sports Connect — Napoli vs. Chievo Verona
FRENCH LIGUE 1
11 a.m. — beIN Sports Connect — Paris Saint-Germain vs. Montpellier
2 p.m. — beIN Sports Connect — Angers vs. Saint-Étienne
2 p.m. — beIN Sports Connect — Bordeaux vs. Gazélec Ajaccio
2 p.m. — beIN Sports Connect — Lille vs. Stade de Reims
MEXICAN LIGA MX
6 p.m. — Univision Deportes/Univision — América vs. Morelia
7:30 p.m. – UniMás — Querétaro vs. Guadalajara
8 p.m. — Univision Deportes — Monterrey vs. Tigres UANL
9:06 p.m. — NBC Universo/NBC Deportes en Vivo Extra — Pachuca vs. Dorados
10 p.m. — Univision Deportes — Chiapas vs. Toluca
ENGLISH LEAGUE CHAMPIONSHIP
7:30 a.m. — beIN Sports USA/beIN Sports Connect — Burnley vs. Blackburn Rovers
10 a.m. — beIN Sports Connect — Sheffield Wednesday vs. Rotherham United
PORTUGUESE PRIMEIRA LIGA
3:45 p.m. — Univision Deportes — Sporting CP vs. Benfica
CONCACAF WOMEN'S U-17 CHAMPIONSHIP
Noon — Fox Soccer 2Go — Haiti vs. Guatemala
2:30 p.m. — Fox Soccer 2Go — Canada vs. Grenada
SUNDAY
MAJOR LEAGUE SOCCER
1:30 p.m. — MSG/MLS Live — New York Red Bulls vs. Toronto FC
2 p.m. — MLS Live/MLS Direct Kick — Orlando City SC vs. Real Salt Lake
2 p.m. — YES Network/CSN Chicago/MLS Live/MLS Direct Kick — Chicago Fire vs. New York City FC
3 p.m. — TCN Philadelphia/MLS Live/MLS Direct Kick — FC Dallas vs. Philadelphia Union
3 p.m. — CSN New England/MLS Live/MLS Direct Kick — Houston Dynamo vs. New England Revolution
3 p.m. — CSN California/MLS Live/MLS Direct Kick — San Jose Earthquakes vs. Colorado Rapids
4:30 p.m. — ESPN/ESPN Deportes/WatchESPN — Portland Timbers vs. Columbus Crew
5:30 p.m. — MLS Live — Vancouver Whitecaps vs. Montreal Impact
7 p.m. — Fox Sports 1/Fox Sports Go/Fox Deportes/Fox Soccer 2Go/MLS Live — Seattle Sounders vs. Sporting Kansas City
10 p.m. — UniMás/Univision Deportes/MLS Live — LA Galaxy vs. D.C. United
ENGLISH PREMIER LEAGUE
8:30 a.m. — NBCSN/NBC Sports Live Extra/NBC Deportes en Vivo Extra/Telemundo — Crystal Palace vs. Liverpool
11 a.m. — NBCSN/NBC Sports Live Extra/NBC Deportes en Vivo Extra/Telemundo — West Bromwich Albion vs. Manchester United
SPANISH LA LIGA
6 a.m. — beIN Sports Connect — Real Betis vs. Granada
10 a.m. — beIN Sports USA/beIN Sports Connect — Eibar vs. Barcelona
12:15 p.m. — beIN Sports en Español/beIN Sports Connect — Sporting Gijón vs. Athletic Bilbao
12:15 p.m. — beIN Sports en Español/beIN Sports Connect — Real Sociedad vs. Levante
2:30 p.m. — beIN Sports en Español/beIN Sports Connect — Valencia vs. Atlético Madrid
ITALIAN SERIE A
6:30 a.m. — beIN Sports Connect — Torino vs. Lazio
9 a.m. — beIN Sports Connect — Bologna vs. Carpi
9 a.m. — beIN Sports Connect — Genoa vs. Empoli
9 a.m. — beIN Sports Connect — Atalanta vs. Juventus
9 a.m. — beIN Sports Connect — Sassuolo vs. Milan
2:45 p.m. — beIN Sports USA/beIN Sports Connect — Inter vs. Palermo
GERMAN BUNDESLIGA
9:30 a.m. — Fox Sports 1/Fox Sports Go/Fox Deportes/Fox Soccer 2Go — Mainz 05 vs. Darmstadt 98
11:30 a.m. — Fox Sports 1/Fox Sports Go/Fox Soccer 2Go — Hamburg SV vs. Hertha Berlin
FRENCH LIGUE 1
8 a.m. — beIN Sports Connect — Marseille vs. Toulouse
11 a.m. — beIN Sports Connect — Stade Rennes vs. Nantes
3 p.m. — beIN Sports Connect — Lyon vs. Guingamp
PORTUGUESE PRIMEIRA LIGA
3:30 p.m. — Univision Deportes — Sporting Braga vs. Porto
MEXICAN LIGA MX
1 p.m. — Univision/Univision Deportes — Pumas UNAM vs. Cruz Azul
6 p.m. — Univision Deportes — Puebla vs. Veracruz
WOMEN'S INTERNATIONAL FRIENDLY
3 p.m. — ESPN3 — United States vs. France (2016 SheBelieves Cup)
CONCACAF WOMEN'S U-17 CHAMPIONSHIP
Noon — Fox Soccer 2Go — Costa Rica vs. Jamaica
2:30 p.m. — Fox Soccer 2Go/Fox Soccer Plus — United States vs. Mexico
DUTCH EREDIVISIE
8:30 a.m. — Univision Deportes — Willem II vs. Ajax