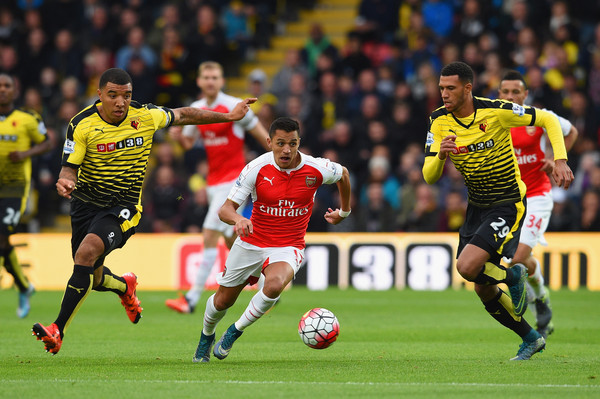 The English Premier League title might be slipping away from Arsenal, but the FA Cup is inching closer to its reach.
The two-time defending champion will host Watford on Sunday in a quarterfinals matchup after getting past Hull City in a replay in the previous round. The Gunners picked up a 3-0 victory against the Hornets back in October in league play and will hope for a similar result this time after seeing their Premier League gap with leader Leicester City widen to eight points following a 2-2 draw last weekend against second-place Tottenham.
In the other FA Cup contests, Reading will try to remain the lone Championship team standing as it hosts Crystal Palace, while Everton takes on Chelsea, and Manchester United faces West Ham United at Old Trafford.
Meanwhile in the Premier League fixtures, Tottenham will have a chance to gain temporary ground on Leicester City when it visits last-place Aston Villa. Manchester City, on the other hand, looks to make up ground in the top four when it travels to Norwich City.
Shifting the action over to Spain, La Liga leaders Barcelona, Atlético Madrid and Real Madrid will each face rather easy tasks in Getafe, Las Palmas and Deportivo La Coruña, respectively, while other top clubs like Juventus, Bayern Munich and Paris Saint-Germain will also have light assignments in Sassuolo, Werder Bremen and Troyes, in that order.
Stateside, MLS gets into its second week of contests with Orlando City-Chicago, New York City FC-Toronto FC and San Jose Earthquakes-Portland Timbers getting the national coverage this time.
Here is a rundown of all the soccer action on TV this weekend:
FRIDAY
MAJOR LEAGUE SOCCER
7 p.m. — UniMás/Univision Deportes/MLS Live — Orlando City SC vs. Chicago Fire
SPANISH LA LIGA
2:30 p.m. — beIN Sports en Español/beIN Sports Connect — Málaga vs. Sporting Gijón
GERMAN BUNDESLIGA
2:30 p.m. — Fox Deportes/Fox Soccer 2Go/Fox Soccer Plus — Hertha Berlin vs. Schalke 04
ITALIAN SERIE A
2:45 p.m. — beIN Sports USA/beIN Sports Connect/RAI Internazionale — Juventus vs. Sassuolo
ENGLISH FA CUP
2:55 p.m. — Fox Sports 2/Fox Sports Go/Fox Soccer 2Go — Reading vs. Crystal Palace
MEXICAN LIGA MX
10:30 p.m. — Azteca America — Santos Laguna vs. Pachuca
FRENCH LIGUE 1
2:30 p.m. — beIN Sports Connect — AS Monaco vs. Stade de Reims
SATURDAY
MAJOR LEAGUE SOCCER
3 p.m. — CSN New England/MLS Live — New England Revolution vs. D.C. United
4 p.m. — MSG+/MLS Live — Montreal Impact vs. New York Red Bulls
4 p.m. — MLS Live — Real Salt Lake vs. Seattle Sounders
7 p.m. — Altitude/MLS Live — Colorado Rapids vs. LA Galaxy
7:30 p.m. — TWCSC-OH/MLS Live — Columbus Crew vs. Philadelphia Union
8:30 p.m. — MLS Live — Sporting Kansas City vs. Vancouver Whitecaps
8:30 p.m. — ROOT Sports SW/MLS Live — Houston Dynamo vs. FC Dallas
ENGLISH PREMIER LEAGUE
7:45 a.m. — NBCSN/NBC Sports Live Extra/NBC Universo/NBC Deportes en Vivo Extra — Norwich City vs. Manchester City
10 a.m. — NBC Sports Live Extra/NBC Universo/NBC Deportes en Vivo Extra — Stoke City vs. Southampton
10 a.m. — NBC Sports Live Extra/NBC Deportes en Vivo Extra — Bournemouth vs. Swansea City
ENGLISH FA CUP
12:30 p.m. — Fox Sports 2/Fox Sports Go/Fox Deportes/Fox Soccer 2Go — Everton vs. Chelsea
ENGLISH LEAGUE CHAMPIONSHIP
10 a.m. — beIN Sports Connect — Huddersfield Town vs. Burnley
SPANISH LA LIGA
10 a.m. — beIN Sports USA/beIN Sports en Español/beIN Sports Connect — Barcelona vs. Getafe
12:15 p.m. — beIN Sports en Español/beIN Sports Connect — Celta de Vigo vs. Real Sociedad
2:30 p.m. — beIN Sports en Español/beIN Sports Connect — Atlético Madrid vs. Deportivo La Coruña
4:05 p.m. — beIN Sports en Español/beIN Sports Connect — Rayo Vallecano vs. Eibar
GERMAN BUNDESLIGA
9:30 a.m. — Fox Sports 2/Fox Sports Go/Fox Deportes/Fox Soccer 2Go — Borussia Mönchengladbach vs. Eintracht Frankfurt
9:30 a.m. — Fox Soccer 2Go/Fox Soccer Plus — Hoffenheim vs. VfL Wolfsburg
9:30 a.m. — Fox Soccer 2Go — Hannover 96 vs. Cologne
9:30 a.m. — Fox Soccer 2Go — FC Ingolstadt vs. VfB Stuttgart
9:30 a.m. — Fox Soccer 2Go — Darmstadt 98 vs. FC Augsburg
12:30 p.m. — Fox Soccer 2Go/Fox Soccer Plus — Bayern Munich vs. Werder Bremen
ITALIAN SERIE A
Noon — beIN Sports USA/beIN Sports Connect/RAI Internazionale — Empoli vs. Sampdoria
2:45 p.m. — beIN Sports USA/beIN Sports Connect/RAI Internazionale — Inter vs. Bologna
FRENCH LIGUE 1
11 a.m. — beIN Sports Connect — Lorient vs. Marseille
2 p.m. — beIN Sports Connect — Montpellier vs. Nice
2 p.m. — beIN Sports Connect — Gazélec Ajaccio vs. Caen
2 p.m. — beIN Sports Connect — Toulouse vs. Bordeaux
MEXICAN LIGA MX
6 p.m. — Univision Deportes/Univision — Cruz Azul vs. Puebla
8 p.m. — Univision Deportes — Tigres UANL vs. Pumas UNAM
9:06 p.m. — NBC Universo/NBC Deportes en Vivo Extra – Club León vs. Querétaro
9:30 p.m. — Azteca America — Morelia vs. Monterrey
10 p.m. — Univision Deportes — Chiapas vs. Tijuana
PORTUGUESE PRIMEIRA LIGA
1:30 p.m. — Univision Deportes — Estoril vs. Sporting CP
3:45 p.m. — Univision Deportes — FC Porto vs. União Madeira
SCOTTISH PREMIER LEAGUE
7:30 a.m. — Fox Soccer 2Go/Fox Soccer Plus — Partick Thistle vs. Celtic
SUNDAY
MAJOR LEAGUE SOCCER
5 p.m. — ESPN2/ESPN Deportes/WatchESPN/MLS Live — New York City FC vs. Toronto FC
7 p.m. — Fox Sports 1/Fox Sports Go/Fox Deportes/MLS Live — San Jose Earthquakes vs. Portland Timbers
ENGLISH PREMIER LEAGUE
Noon — Telemundo/NBC Sports Live Extra/NBC Deportes en Vivo Extra — Aston Villa vs. Tottenham
ENGLISH FA CUP
9:30 a.m. — Fox Soccer 2Go — Arsenal vs. Watford
Noon — Fox Sports 1/Fox Sports Go/Fox Deportes/Fox Soccer 2Go — Manchester United vs. West Ham United
ENGLISH LEAGUE CHAMPIONSHIP
9:15 a.m. — beIN Sports Connect — Wolverhampton Wanderers vs. Birmingham City
11:30 a.m. — beIN Sports Connect — Charlton Athletic vs. Middlesbrough
SPANISH LA LIGA
7 a.m. — beIN Sports en Español/beIN Sports Connect — Levante vs. Valencia
11 a.m. — beIN Sports en Español/beIN Sports Connect — Sevilla vs. Villarreal
1:15 p.m. — beIN Sports en Español/beIN Sports Connect — Athletic Bilbao vs. Real Betis
3:30 p.m. — beIN Sports USA/beIN Sports en Esapñol/beIN Sports Connect — Las Palmas vs. Real Madrid
GERMAN BUNDESLIGA
10:30 a.m. — Fox Sports 2/Fox Sports Go/Fox Deportes/Fox Soccer 2Go — Bayer Leverkusen vs. Hamburg SV
12:30 p.m. — Fox Sports 2/Fox Sports Go/Fox Soccer 2Go — Borussia Dortmund vs. Mainz 05
ITALIAN SERIE A
7:30 a.m. — beIN Sports Connect/RAI Internazionale — Chievo Verona vs. Milan
10 a.m. — beIN Sports Connect — Carpi vs. Frosinone
10 a.m. — beIN Sports Connect — Fiorentina vs. Hellas Verona
10 a.m. — beIN Sports USA/beIN Sports Connect — Udinese vs. AS Roma
10 a.m. — beIN Sports Connect — Genoa vs. Torino
3:45 p.m. — beIN Sports Connect — Lazio vs. Atalanta
3:45 p.m. — beIN Sports Connect — Palermo vs. Napoli
FRENCH LIGUE 1
9 a.m. — beIN Sports en Español/beIN Sports Connect — Troyes vs. Paris Saint-Germain
Noon — beIN Sports Connect — Nantes vs. Angers
4 p.m. — beIN Sports Connect — Stade Rennes vs. Lyon
MEXICAN LIGA MX
2 p.m. — Univision Deportes/Univision — Toluca vs. Dorados
9:30 p.m. — Univision/UniMás — Guadalajara vs. Club América
SCOTTISH LEAGUE CUP
11 a.m. — Fox Soccer 2Go/Fox Soccer Plus — Hibernian vs. Ross County
SWISS SUPER LEAGUE
8:45 a.m. — beIN Sports Connect — FC Basel vs. St. Gallen