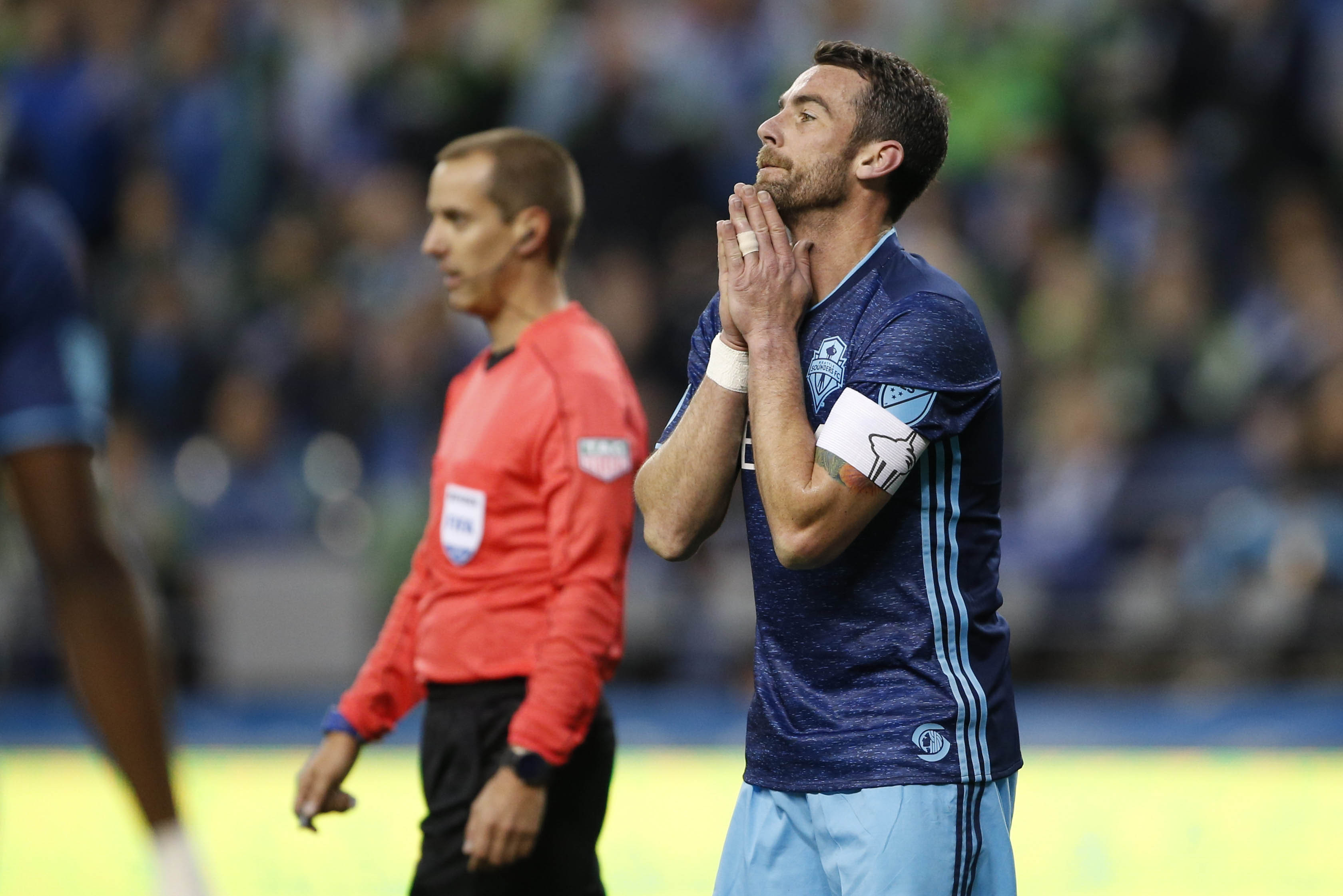 SEATTLE — The Seattle Sounders entered 2016 hoping to make their first trip to an MLS Cup. While that goal is certainly still well within reach, the team has thus far achieved a far less distinguished club record: three straight losses to start a season.
Yet while signs point to a fervent fan base growing increasingly unsettled, the Sounders themselves are taking some solace in a simple fact: they're playing decent soccer.
"I can't walk into that locker room and say, 'You guys didn't put an effort in,' or, 'You guys didn't control the pace of the game,'" said head coach Sigi Schmid after Saturday's loss to the Vancouver Whitecaps. "Because that would be lying to them. They put the effort in and controlled the pace of the game."
The Sounders were arguably the better team in a Week 1 loss to Sporting Kansas City until defender Oniel Fisher earned a straight red card for a rash tackle in the 41st minute. They likewise outplayed Real Salt Lake for long stretches on the road in Week 2. Or at least they did until rugged center back Jamison Olave — at 34 still a load in the air if a step slower in the field — outleapt and outmuscled goalkeeper Tyler Miller for the game winner in the 86th minute.
And Seattle undeniably controlled the match in Saturday's loss to the Whitecaps. The Sounders outshot the visitors 19-9 and earned more than 60 percent of possession — but were undone by two penalties, the first a blown call by referee Mark Geiger.
"It seems like right now we're not catching a break in any way, shape, or form," Schmid said. "Obviously it's got to be better for us to win, at the end of the day. But it's not like I can say that the other team is steamrolling us or things like that."
"That's just the story of our season so far," center back Zach Scott said. "(It) isn't an impossible hole to climb out of. It's definitely not one you want to be in, but ­­you want to be in a situation where at least you know you are playing good soccer."
The start of the 2016 campaign was always going to be a learning process. The team lost Obafemi Martins, its offensive anchor and arguably its best player, to the Chinese Super League mere weeks before the season. It is also deploying a new 4-3-3 formation. If anything, the Sounders have looked surprisingly confident and comfortable for long stretches.
But the learning curve shows in the through-ball anticipating a slightly different run, the extra beat before a pass, the spacing on Saturday night when Chad Marshall and Nelson Valdez nearly collided while attempting to head a corner kick into the back of the net. Clint Dempsey often drifts even deeper than he has in years past, sometimes by design, sometimes seemingly just trying to find his way into the game.
The result has been just two goals in three games.
"A couple times we got in each other's own way in the box," said Schmid. "We had two players challenging for the same ball … There are times the cross isn't missing by that much. We will continue to work on that, and we will continue to work on that this week. I didn't think we were sending hopeful balls in."
Injuries have played their part, as well. Fisher earned his red card while filling in for Tyrone Mears, a pedigreed veteran not known for unintentional bookings. Miller lost his aerial battle with Olave while filling in for the bigger, stronger and considerably more experienced Stefan Frei.
Midfielder Erik Friberg has also missed two matches after undergoing concussion protocol, while 35-year-old Zach Scott — who many assumed would retire before the season — has been pressed into starting duty for two straight matches after captain Brad Evans injured his shoulder late in the season opener. Evans himself was starting for Roman Torres, still months away from returning after tearing an anterior cruciate ligament last season.
An upcoming bye week should give players time to heal before an April 2 home tilt against the suddenly formidable Montreal Impact.
"It's still a long, long season," said Frei. "We're not getting destroyed in games. We're getting unfortunate (breaks), you know? We made a couple mistakes here and there, and that's what so far has prevented us from walking away from games with points. We're going to keep our heads high, and use this bye week to get on the training field and work our butts off, just try to get better. But I know we have enough talent here. Once we find the back of the net a little bit more, I think the floodgates will open. We have enough creativity, enough firepower, and our defense is solid enough. So I'm not worried at all."
Perhaps Frei isn't worried, but Schmid knows there comes a time when bad breaks and understandable mistakes become unacceptable excuses, when learning curves need end.
"It's a result-oriented business," Schmid said. "I know that as well as anybody. At the end of the day, we've got to start getting some results, or quite a few of us could be looking for new jobs."